Faculty
Elaine Faustman and John Kissel, DEOHS Graduate Student Advisory Committee's Outstanding Faculty Mentor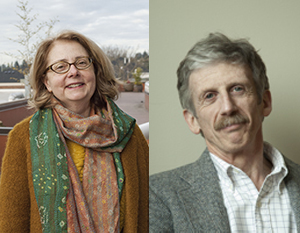 The department's Graduate Student Advisory Committee (SAC) awarded the 2015 Outstanding Faculty Mentor to Professor John Kissel and Professor Elaine Faustman. SAC created the award in 2006 to recognize faculty members who have gone above and beyond their commitment to mentor students in research and in professional development. This is the first year DEOHS students have chosen to give the award to two members of our faculty who each represent different styles of mentoring beneficial to students. Both of these faculty members were nominated with overwhelming support from students, highlighting their mentoring strengths. Professor Kissel dives into the details of students' work in order to help them better understand concepts and better their research. One student noted "He has stayed late to assist students with problems they are having with their projects (even with students that do not work for him), and he has spent full afternoons troubleshooting issues with us." Professor  Faustman fosters professional navigation and development as another student commented that  "…her knowledge, experience, and advice have truly helped me grow in my career and as a person." While different in their strengths, students agree that their mentoring abilities are exemplary and that these two styles should be encouraged throughout the department. Their mentoring allows students to grow personally and professionally into research scientists. While their commitment to quality science and the development of new research is nationally and internationally recognized, it's their care and dedication to their students that make them exemplary mentors.
Joel Kaufman, School of Public Health Outstanding Faculty Mentor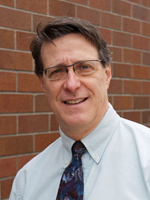 Joel Kaufman is a physician-epidemiologist, and has been a full-time faculty member at the University of Washington since 1997. The award for Outstanding Faculty Mentor recognizes excellence in academic and personal mentoring, career mentoring, advocacy, and leadership. An outstanding mentor respects student's goals and helps students work toward them while providing a good model of professionalism, demonstrated awareness, and a respect for difference. Kaufman currently holds appointments in the Departments of Environmental and Occupational Health Sciences, and Medicine (General Internal Medicine), and Epidemiology. He directs the academic program and research in Occupational and Environmental Medicine, which is split between our department and the Division of General Internal Medicine. His current research activities are primarily focused on environmental factors in cardiovascular and respiratory disease. Kaufman's research integrates the disciplines of epidemiology, exposure sciences, toxicology, and clinical medicine, and he mentors students and trainees in each of these disciplines.
Staff
Alison Laing, DEOHS Distinguished Staff Award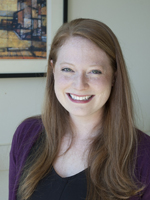 Alison Laing, a program operations specialist in our department's Institute for Risk Analysis and Risk Communication, has a reputation for pitching in and helping with any task, however complex or simple, large or small. She started in the department as a student assistant. Then after graduating from the University of Washington with a BA in International Studies, she started working full time in the Institute. She has assumed more and more responsibilities over the years. She is now responsible for grant planning. She administers budgets, coordinates meetings, and organizes webinars and research symposia. She helped develop the new website for the Center for Child Environment Health Risks Research. Last year, Laing shepherded a multi-million dollar grant through a new federal submission system online, despite a technical glitch that could have jeopardized the whole application. As a result of her experience, she now mentors others to use the system.
Eric Vigoren, SPH Outstanding Community Service by Staff Award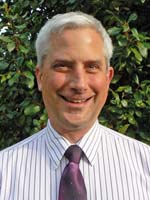 Eric Vigoren, associate director of the Continuing Education Programs in our department, is the treasurer for the Seattle International Randonneurs, a long distance bicycling organization. As a long-time volunteer for this popular club, he is responsible for fiscal and compliance matters. He organizes events, manages finances, coordinates fellow volunteers, and pedals thousands of miles every year. Vigoren shares his passion for the sport by mentoring other riders and people interested in the sport. His leadership and efforts in building a welcoming community motivate others in the organization to give back.
Student
Elisabeth Lara, DEOHS Outstanding Undergraduate Student Award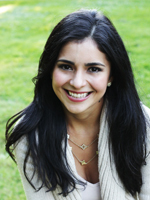 Elisabeth Lara transferred to UW from Cascadia Community College in Autumn 2013, and quickly found her academic home in the Environmental Health Undergraduate Program. She completed her internship at Microchem Laboratories, a microbiology facility that tests foods and edible products for microorganisms and allergens to help the food industry make the food supply safer and more shelf-stable. Lara was offered a permanent position as a laboratory technician. She worked part-time while she completed her B.S. in Environmental Health. During the past year, she worked in Professor Marilyn Roberts' laboratory, investigating whether the MRSA found on samples were community or hospital-acquired strains. This summer she will intern in the food/shellfish division at the Washington State Public Health Laboratory as a laboratory assistant. In addition to being a strong student academically, Lara has made a lasting impression both inside and outside the classroom. Her internship supervisor described her as "exceptionally intelligent and mature." The department's nominating committee all commented on her inquisitive and thoughtful engagement with faculty and other students in the classroom.
Madison McInnis, Jack Hatlen Scholar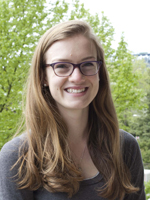 Undergraduate Madison McInnis's leadership, maturity, and professionalism were all factors in her selection for this prestigious award. McInnis joined the Environmental Health major and the Student Environmental Health Association (SEHA) in 2013, and currently serves as SEHA's co-leader. This year, she was also chosen to serve as the student representative for the department's nationwide Instructor Candidate search. McInnis was selected to participate in the 2015 Summer Undergraduate Program in Environmental Health with the Centers for Disease Control and Prevention (CDC) and Agency for Toxic Substances and Disease Registry at the CDC's National Center for Environmental Health in Atlanta. Interns participate in activities with the Environmental Health Services Branch in order to gain a variety of experiences and an understanding of environmental health work at the local, state, tribal, and federal levels. McInnis will also work on her own Environmental Health research project.
Jonathan Nagata, DEOHS Outstanding Master's Student Award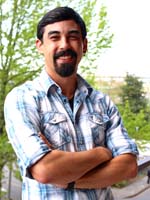 Jonathan Nagata is graduating from the concurrent degree program with a Master of Science in Environmental Health and a Master of Public Administration. During his time at UW, Nagata served as president of the School's Student Public Health Association, president of Rainbow Grads, and student representative on the School's Executive Committee. He was an active member of the School's Deans' Advisory Council for Students, the department's Student Advisory Committee, and the University's Graduate and Professional Student Senate. Nagata interned with Snohomish County and worked with the Washington State Department of Health to develop and lead a training series for water treatment operators and managers. His thesis examined the health risks associated with apple contamination from irrigation water. Faculty who nominated him for the award noted that Nagata is an exceptionally well-spoken and outstanding student, who has a tremendous future in public and environmental health.
Trevor Peckham, Gilbert S. Omenn Award for Academic Excellence
(Master's student category)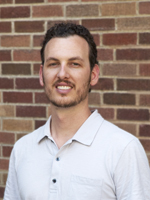 Trevor Peckham will graduate this spring with two Master's degrees: Environmental Health and Public Administration. His research looks at dermal exposures to a carcinogenic combustion product found in soil, with implications for workers cleaning up contaminated sites. Trevor won the 2014 School of Public Health Outstanding Teaching Assistant Award. He founded and served as co-chair of the Dean's Advisory Council for Students and has been active in the department's Student Advisory Council. He was vice president of the School's Student Public Health Association. Peckam presented to Senator Patty Murray's staff, and was selected to participate in the Surgeon General's visit to campus. He helped plan and presented at the Worker Memorial Day event in April. In addition, he has mentored both undergraduate and elementary school students interested in science careers. In 2014, Peckam was chosen to be a guest researcher at the National Center for Environmental Health in Atlanta. Peckham has published three academic papers, with another two in preparation. His academic and civic achievements reflect his potential to significantly contribute to public health and public policy.
Alex Walton, Gonfaloniere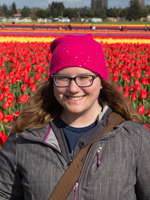 Undergraduate Alex Walton was diagnosed with type-1 juvenile diabetes at a young age. Her passion for health studies stems from living with this disease. At the University of Washington, she majored in Environmental Health. During her sophomore and junior years, she worked in Associate Professor Maitreya Dunham's lab in the Department of Genome Sciences, estimating that she probably cleaned 10,000 test tubes and autoclaved glassware 200 times during her time there. She chose a career in industrial hygiene and occupational safety because it was a natural fit for her interests in health studies and her strong desire to help people. With the knowledge she has obtained at UW, Walton hopes she can continue to improve safety and industrial hygiene practices in the workplace, especially for private industry. Immediately after graduating, she will begin a second internship in occupational health and safety with Boeing Commercial Airplanes in Everett, Washington. Gonfalonieres lead their degree candidates in the procession at the University of Washington's Commencement Ceremony. These students are called gonfalonieres because they carry the school's gonfalon, a banner that hangs down from a crosspiece and bears that school's name and symbol.
Sheldwin Yazzie, DEOHS Outstanding Doctoral Student Award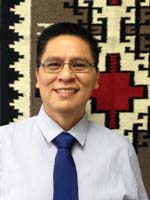 Sheldwin Yazzie—a PhD student in the Department of Environmental and Occupational Health Sciences—demonstrates a commitment to public health in researching indoor radon exposure in the Navajo Nation. A colorless, ordorless gas, radon comes from uranium, and is the second leading cause of lung cancer. Members of Yazzie's own family are former Navajo uranium miners. In order to develop a predictive model to estimate individual radon exposure, he worked closely with and had the support of community members to collect radon data from Navajo homes. Yazzie has a strong academic record, including one published paper and another in preparation. In his nomination, a faculty mentor wrote that "his research will have far-reaching implications for tackling radon exposure in the Navajo Nation and for better understanding of environmental radon exposure in general." After earning his degree, he will continue to promote public health in the Navajo Nation.