Graduate Program Manager Rory Murphy received the UW Graduate School's first annual Graduate Program Assistant Service Award. Murphy was the unanimous choice by the selection committee who chose a single candidate from across all departments at the UW. Chair Dave Kalman at the department's graduation ceremony called her "a tireless worker on behalf of students."

Brian High, a computing support specialist, won the department's 2009 Distinguished Staff Award. In addition to his extensive expertise, the department nominations noted his strong service ethic. "He is always on call and is willing to make time to ensure a positive outcome. He likes his "customers" to be happy." The department appreciates his dedication, professionalism, and the priority he places on security. Other nominees were Eric Vigoren, Dianne Botta, Mike Espinoza, Cody Tuthill, Venetia Runnion, Helen Murphy, Phillip Buff, Khoi Dao, Catherine Alexander, Cathi Carol, Marty Cohen, and Jeff Shirai.

Rick Neitzel was given the 2009 Gilbert S. Omenn Award for Academic Excellence for a doctoral student from the UW School of Public Health. Neitzel, who is also a full-time research scientist in the department, has distinguished himself in the field of noise exposure since he began his master's degree in 1997. Among other accomplishments, Neitzel has published numerous articles in peer-reviewed journals and served as a leader in national organizations as well as a teacher and mentor in the department. This fall, Neitzel will receive his PhD in Environmental and Occupational Hygiene.

Undergraduate Michael Rommen received the Jack Hatlen Scholarship. The scholarship of $1000 is given to an undergraduate student who demonstrates a strong connection to environmental health. Jack Hatlen was in the first graduating class from the department in 1949, and soon returned to direct the undergraduate program for over forty years. In 2008, Rommen was selected as one of 10 students nationwide to participate in the inaugural class of the Collegiate Leaders for Environmental Health program, a 10-week summer internship at the Centers for Disease Control and Prevention's National Center for Environmental Health and Agency for Toxic Substances and Disease Registry. He also served as an ensign in the U.S. Public Health Service Commissioned Corps during the program.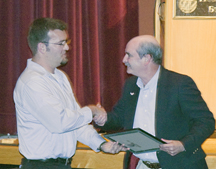 Zach Guerette (left) presents award to
Terry Kavanagh (right)
Professor Terrance Kavanagh was awarded the 2009 Outstanding Faculty Mentor by the department's Student Advisory Committee. Zach Guerrette presented the award to Kavanagh and explained that the Committee initiated the award to recognize faculty who address the needs of students, which includes providing information and advice to students on research as well as on professional development. The Committee noted that Kavanagh is helpful, dedicated to students, and concerned about the student's well-being. "He's always available to all students, even to students outside his lab."

Doctoral student Tingting Li received the department's Outstanding Graduate Student Award. Li, who received a PhD in Toxicology, was featured speaker at the Superfund Research Program's 2008 annual meeting in Pacific Grove, California. Li also received an MPH degree in Epidemiology. She is featured on the National Institute of Environmental Health Sciences' website as a "Student Success Story" because of her contributions to the field of toxicology. She works now for Axio Research, LLC in Seattle.

Eric Tanenbaum received the department's Outstanding Undergraduate Student Award. Tanenbaum, who was also the undergraduate program speaker at the department's graduation ceremony, received the highest cumulative grade point average in the department's recent history, a 3.92 GPA. Professor John Kissell wrote that Tanenbaum not only demonstrated "superlative classroom success" but also "graduate level research skills."

Laurel Jennings received the Student Community Service Award from the School of Public Health. Jennings, who also works for the National Oceanic and Atmospheric Administration, was honored for her volunteer work. Since she became a student in 1997, she has recruited volunteers to clean up the area around the Duwamish River in order to restore the habitat for fish, wildlife as well as for people to enjoy. The work parties Jennings organized pulled weeds, planted native species, picked up trash and collected recyclables. In August, Jennings will receive her master's degree in Environmental Health.

Undergraduate Emily Cane received the 2008 Cind M. Treser Memorial Undergraduate Student Scholarship last fall. Named in memory of the late wife of faculty member Chuck Treser, the scholarship is awarded by the Washington State Environmental Health Association. The scholarship honors outstanding students who plan to work in the field of environmental health in Washington state.

Lecturer Rick Gleason was nominated for a UW Distinguished Contribution to Lifelong Learning Faculty Award.

Research Scientist Xiaozhong Yu was nominated for the 2009 UW Distinguished Staff Awards.