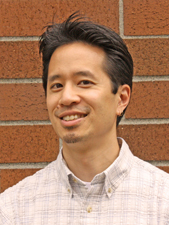 Jeffrey Shirai, a research scientist in Professor John Kissel's laboratory, won the department's Distinguished Staff Award. The Nomination Committee were impressed by the strength of his recommendations, and that they came from a group of students who cited his exemplary mentorship and guidance. As the sole staff member in the Kissel Lab, he juggles multiple responsibilities. He exemplifies a superior staff member by supporting our department; serving as a resource to students, staff, and faculty; building a strong community within the Kissel Lab; and maintaining strong connections with alumni. He has been nominated 6 times in the 13 years he has worked for the department, which speaks to the impact he has and continues to make. Other Distinguished Staff Award nominees were Jacqui Ahmad, Nicky Beck, Dianne Botta, Mike Espinoza, Kit Galvin, Marcy Harrington, Brian High, Jim Hogan, Stacey Holland, Susan Inman, Lisa McConnachie, Elliot Norwood, Alison Scherer, Cathy Schwartz, Maria Tchong-French, Collin White, Jianbo Yu, and Megan Zadworny.
The department's Graduate Student Advisory Committee (SAC) awarded the 2010 Outstanding Faculty Mentor to Professor Michael Yost. Exposure Sciences master's degree students, Yuh-Chi Niou and Christine Kim, presented the award on behalf of SAC. Niou and Kim spoke about Yost's dedication to mentoring students. Despite his many commitments, Niou said, "Professor Yost always has time to help," citing her experience working with Yost on her research project as an example. Kim also talked about Yost's mentorship. "Whenever I would go into his office nervous, tense, or stressed out about my research, I always came out relaxed, and at ease knowing what I had to do to finish my thesis." SAC created the award in 2006 to recognize each year a faculty member's commitment to advise students in research and in professional development.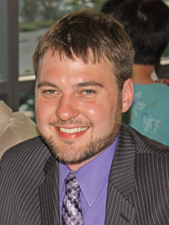 Alexander Domesle, a master's degree student in Environmental Health, received the department's Outstanding Graduate Student Award. Domesle has an outstanding record of academic achievements. He received our department's 2008 Top Scholar Award, which is funded through the UW Graduate School. His research on how chemicals get absorbed through the skin will contribute to better understanding human exposure to certain compounds and could affect consumer product regulation. Recently, he won a 2010 Presidential Management Fellowship. The prestigious federal service program attracts outstanding students from a variety of academic disciplines interested in pursuing careers leading and managing public policies and programs. Domesle has also been active in the department's Student Advisory Committee. With Julie Wagner, a master's student in Exposure Sciences, Domesle gave the Graduate Program Address at the department's graduation ceremony on June 13, 2010.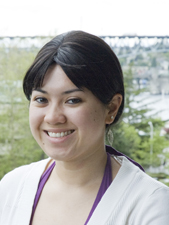 Alyssa Vivas received the department's Outstanding Undergraduate Student Award. She has a strong academic record, held a number of leadership positions, and been involved in significant research projects. Last summer, Vivas worked in Ethiopia as part of the Multidisciplinary International Research Training Program, a national program that encourages students to pursue careers in biomedical and behavioral research and supports their health-related population-based research and training in developing countries. In February, Vivas presented her research on hygiene and rural school children in Angolela, Ethiopia at the American Association for the Advancement of Science Conference in San Diego, California and at the First Annual Pacific Northwest Louis Stokes Alliance for Minority Participation Conference at the University of Washington. In addition, Vivas was awarded a Mary Gates Research Scholarship for her research on adverse outcomes associated with placental abruption in Peruvian women. She plans to pursue a MD/MPH degree and educate patients and the community on environmental factors that can affect health.