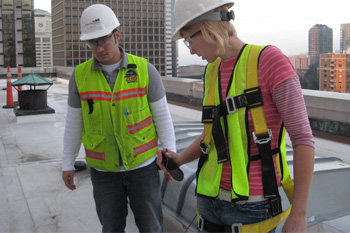 In contrast to the MS degree options, which are discipline-specific and more specialized, the MPH-EOH degree bridges the scientific and health policy worlds. It provides a broader perspective on environmental and occupational health, with emphasis on applications and policy implications. The curriculum includes courses in the supporting sciences of biostatistics and epidemiology, as well as foundational courses in exposure science and environmental health. In addition, the MPH-EOH degree provides a great deal of flexibility for students to design and pursue a learning emphasis area through a set of thematically linked courses, field practicum, and thesis work. For example, the MPH-EOH degree can be used to explore of wide variety of human health related topics, such as emerging infectious diseases, climate change, food systems, water systems, and the built environment. Students in the this degree program also have the opportunity to work with faculty and staff in a variety of DEOHS-affiliated research centers, including the Center for One Health Research, the Center for Health and the Global Environment, and the Pacific Northwest Center for Agricultural Safety and Health. This degree option also requires a research thesis and 120 hours of practicum experience.
Questions about our degree programs?
Career paths of recent graduates
Graduates from the MPH in Environmental and Occupational Health program pursue careers in environmental health practice, research, or consulting, or continue on to doctoral work in the field. Recent graduates from this degree option are currently working as:
Current student profile
Daira Melendez
"While I was studying abroad in the Galapagos Islands during my sophomore year, I learned about water quality research and how it impacts environmental and public health. Since then, I've been involved in and passionate about research in microbiology, genetics, and molecular sciences. My current research focuses on antimicrobial resistance and analyzing whole genome sequencing (WGS) data from Escherichia coli (E. coli) samples isolated from scat of the Southern Resident Killer Whale population. The project is very dear to my heart as these endangered whales are currently facing threats that are impacting their health and viability, and understanding their microbial prevalence could provide beneficial insights and help identify long-term solutions.
During my time here at UW, I've been fortunate enough to have a wonderful faculty advisor who not only supports my academic and professional development, but is also invested in me as a person and cares about my emotional and mental health. I'm also grateful to have found a thesis project that I'm so passionate about! After graduation, I plan to either apply for a position with a local or state agency doing environmental health work, or continue my studies by seeking a PhD degree."
Recent student research projects
Meeting the Challenges of Reaching Low-Wage Workers Using Community Health and Safety Trainings
Student: Allyson O'Connor (2017)
Faculty Advisor: Noah Seixas
An Analysis of the Association between Obesity and Work Productivity Impairment among King County Workers
Student: Eric Barton (2017)
Faculty Advisor: Sverre Vedal
Method Validation for Bacterial and Viral Analysis of Geoducks
Student: Victoria Balta (2016)
Faculty Advisor: Scott Meschke
Explore more MPH in Environmental and Occupational Health student research projects.
Degree options
Students enrolled in the MPH in Environmental and Occupational Health degree option can elect to pursue the standard degree track, or pursue additional specialized training in Occupational and Environmental Health Nursing (OEHN). Both tracks typically take two years to complete and require a research thesis as a culminating experience.
Standard degree track
The 2-year MPH in Environmental and Occupational Health degree option is ideal for students interested in gaining the expertise and skills necessary to solve environmental health problems in a variety of settings, including governmental agencies, private industry, and academia. Students in this degree option propose and conduct an original research project and write and defend a master's thesis as a culminating experience in year two. A complete list of course requirements for the MPH in Environmental and Occupational Health is available here.
With specialized training in OEHN
The MPH-EOH with specialized training in Occupational and Environmental Health Nursing (OEHN) option is intended for nurses with a bachelor's degree in nursing (BSN) who wish to gain additional expertise in the field of occupational and environmental health sciences. The curriculum prepares nurses to practice as advanced professionals and responsible leaders in the delivery of health and safety services to worker populations and communities. Professional Occupational & Environmental Health Nurses focus on preventing and treating work-related injuries and illnesses and blend healthcare expertise with organizational understanding to create safe and healthful work environments. Graduates from this program may be eligible for testing for board certification by the American Board of Occupational Health Nurses (ABOHN). A complete list of course requirements for the MPH in Environmental and Occupational Health with Specialized Training in OEHN is available here.