What is Exposure Science?
Exposure science studies the transfer of hazardous agents from the workplace and the general environment into our bodies, through measurement of environmental concentrations of the hazardous agents, and the length and duration of our contact with these hazards. Exposure science also seeks to mitigate the adverse effects of contact with hazardous agents, by elucidating critical pathways of exposure, and by designing interventions that interrupt or minimize those exposure pathways. Typical activities of the Exposure Scientist include:
Identify hazards and potential dangers in the workplace and the ambient environment
Make recommendations on improving the safety of workers and the community at large
Conduct scientific research to provide data on possible harmful conditions in the workplace and the ambient environment
Develop new techniques to quantify and control potentially dangerous situations in the workplace and the community
Train and educate workers and community members about hazards on the job and in our communities
Advise government officials and participate in the development of Environmental and Health and Safety Regulations
Enforce Environmental and Health and Safety Regulations
Develop Health and Safety training programs
The diagram below, reprinted with permission from the National Research Council's 2012 report "Exposure Science in the 21st Century: A Vision and a Strategy", illustrates the central role of Exposure Science in understanding the relationship between the presence of hazardous agents in the environment, and their effects on human health.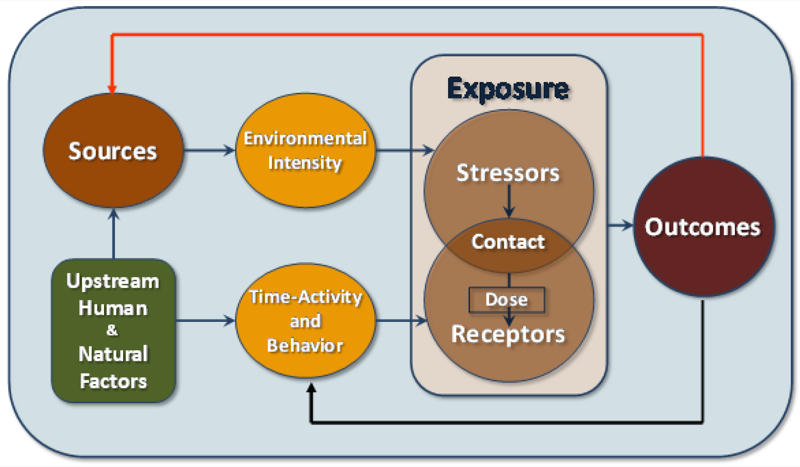 Why Get a Degree in Exposure Science?
In the video below, students, faculty, and alumni describe how our program inspires and prepares them for a rewarding career in environmental and occupational health.
To learn more about our faculty, students and alumni, click on the photos below.
Heather Fowler
Current Doctoral Student

Oteri Oghoghomeh
Recent Graduate

Chris Simpson
Exposure Science Faculty
Our Exposure Science Related Degree Options
Our department offers two related degrees: