Health Impact Assessment: Proposed Cleanup Plan for the Lower Duwamish Waterway Superfund Site
[caption align=right]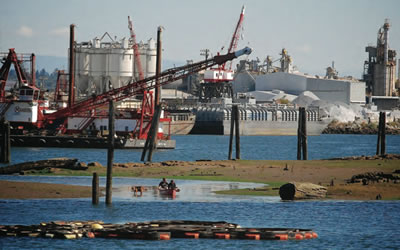 Photo: Patrick Robinson[/caption]
Researchers in our department partnered with two nonprofit groups, Just Health Action and the Duwamish River Cleanup Coalition/Technical Advisory Group, to assess the potential health impacts of the Duwamish River Cleanup on Tribes and people who use the Duwamish River or live or work nearby.
The health impact assessment (HIA) focuses on health changes that may result from the proposed cleanup and makes recommendations about how to minimize health impacts, maximize health benefits, and reduce health disparities in the affected populations.
Background
More than a century of industrial and urban wastes have contaminated water, sediments, beaches, fish, and shellfish in the lower Duwamish River with a mix of 41 toxic chemicals. In 2001, the EPA placed 5.5 miles of the lower Duwamish River on the Superfund National Priorities List. A risk assessment identified four chemicals of most concern for human health: polychlorinated biphenyls (PCBs), carcinogenic polycyclic aromatic hydrocarbons (cPAHs), arsenic, and dioxins and furans. The major pathways of concern are resident fish or shellfish consumption and shoreline  or sediment contact.
The EPA released its Proposed Cleanup Plan for overall site cleanup on February 28, 2013, and accepted public comment on the Plan until June 13, 2013. The EPA expects to issue a final cleanup order in 2014.
Reports
The HIA is being reported in three stages:
The research team also produced technical reports on the methods used in the Health Impact Assessment and for each of the four populations potentially impacted by the Duwamish Cleanup
HIA Public Comment Report
Advance HIA Report
Technical Reports
HIA-Duwamish Cleanup Plan Project Authors
University of Washington School of Public Health
William Daniell, Associate Professor
Jonathan Childers, graduate student
Amber Lenhart, graduate student
BJ Cummings, Community Health Projects Manager
Linn Gould, Executive Director
Acknowledgments and Disclaimer
This project and report is supported by a grant from the Health Impact Project, a collaboration of the Robert Wood Johnson Foundation and The Pew Charitable Trusts; and also by the Rohm & Haas Professorship in Public Health Sciences, sponsored by the Rohm & Haas Company of Philadelphia.
The views expressed are those of the authors and do not necessarily reflect the views of the Health Impact Project, The Pew Charitable Trusts, the Robert Wood Johnson Foundation, or the Rohm & Haas Company.
Additional Resources
Find Out More about Health Impact Assessment