Our Involvement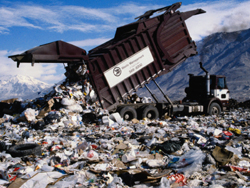 Superfund Research Program
Scientists at the University of Washington's Superfund Research Program are refining methods that use trees and bacteria to clean up toxic waste, and studying how exposure to chemicals that commonly occur at Superfund waste sites, such as mercury and trichloroethylene, may affect humans and wildlife.
The program, funded by the National Institute of Environmental Health Sciences, is a collaboration between our department and the UW departments of Civil Engineering, Biochemistry, Forestry, and Epidemiology.
Hazardous Waste Training
The department's continuing education program provides courses for federal, state and local agency personnel and other professionals engaged in handling and managing hazardous substances. The program also works with local agencies to coordinate their responses to hazardous materials incidents.
The 40-hour Hazardous Waste Operations (HAZWOPER) class trains workers for jobs at hazardous waste sites. Other courses include hazardous materials transportation, process safety management, and sampling for hazardous materials.
These and other courses are listed.
For more than 20 years, our faculty has taught a multidisciplinary risk assessment course, which was the first of its kind in the United States. In 1997, this course became the foundation of our department's Risk Emphasis certificate program.
Our Institute for Risk Analysis and Risk Communication (IRARC) is committed to improving public health through research that strengthens the scientific methods used in risk assessment and risk communication. IRARC conducts molecular and cellular laboratory research, develops mechanistic models of toxicity, and translates findings into effective education and intervention programs. Website
Faculty
Courses
Services
Other Resources