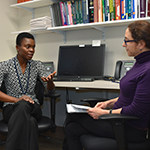 "OK, who do we have next?"
Dr. Esi Nkyekyer leans forward, listening intently as a medical fellow describes her next patient.
The case: A middle-aged man who washed cars for a living but has been unemployed since developing carpal tunnel syndrome on the job. He feels numbness and tingling in both hands even after surgery.