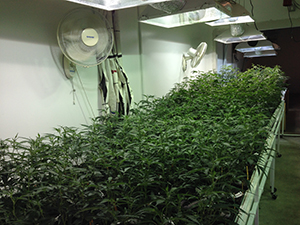 About
Cultivation and processing of marijuana for recreational and medicinal use is a rapidly growing industry in Washington State. The demand for cannabis products, the volume of products produced and the number cannabis grower operations (CGOs) continues to increase substantially. Because the legal industry is relatively new, there is limited quantitative information available about health and safety hazards that workers may face. Potential hazardous exposures in this industry include UV radiation, mold, volatile organic compounds, particulate matter and ergonomic injuries.
Ongoing Research
Needs Assessment
Researchers at the University of Washington's Department of Environmental and Occupational Health Sciences, in collaboration with The Cannabis Alliance, are conducting a study of occupational health concerns among cannabis production workers. The team is looking for employees at CGOs who are interested in taking a short survey to identify health and safety needs for the cannabis production community. This survey will be used to better understand the work that you do, how you do it, and your concerns, so we can help promote safe and healthy workplaces for CGO employees.
Exposures to UV Radiation
One potential hazard of concern is exposure to ultraviolet (UV) radiation, which is generated by the grow lamps used in indoor CGOs. A pilot study undertaken in two small CGOs measured UV intensities that would result in full shift (8-hour) exposures to workers that would exceed the health protective guidelines (TLV) published by the American Conference of Governmental Industrial Hygienists (ACGIH). Building upon these preliminary findings, we are undertaking a study to better understand this potential hazard to worker health, and we are evaluating the effectiveness of a simple intervention to mitigate the hazard. Funding and support for this project has been provided by the State of Washington, Department of Labor & Industries, Safety & Health Investment Projects.
We are currently seeking CGOs who would be interested in participating in this research project. If interested in participating, or for more information, please contact the study director, Chris Simpson.
Services
Field Research and Consultation Group
Workplace Resources
CDPHE "best practices" guide (PDF)
NIOSH HHE (PDF)
L&I Guidance