Nurse Murf is a syndicated column by previous PNASH outreach director Helen Murphy-Robinson, sharing current medical and safety information for those that work in farming. Born in a partnership between the PNASH Center and the Western Farmer-Stockman, Nurse Murf is an exceptional source of health science and best practice solutions. 
Heat Related Illness
Western Farmer Stockman June 2007
"To handle the heat better, remember these seven factors to help prevent a heat-related illness." 
Good Fruit Grower, July 2007
"Working outdoors in hot weather can put yourself and employees at risk for heat exhaustion or heat stoke. Heat exhaustion is a serious health problem, and heat stroke can kill."
Skin Cancers
Western Farmer Stockman, July 2007
"Melanomas are the most dangerous kind of skin cancer and one you need to be able to detect early, because if left untreated, they can spread and be fatal."
Orchard Injuries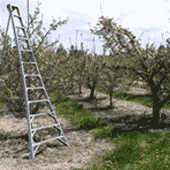 Western Farmer Stockman, August 2007
"Orchard injuries are a major agricultural health and safety issue in Washington state, accounting for 45% to 58% of workers compensation claims."
Children and Pesticides: Risks and Preventing Exposures
Western Farmer Stockman, September 2007
"The long-term consequences of acute OP poisoning are better understood for adults than children. Compared to adults, children's pesticide exposure and absorption is greater, and they are also more sensitive to the health effects for several reasons."
Hearing Loss in Agriculture 
Western Farmer Stockman, October 2007
"Hearing damage comes from a combination of noise intensity and duration: too loud for too long."
The National Tractor Safety Initiative 
Western Farmer Stockman, November 2007
"Many people postpone safety improvements and think accidents only happens to the "other guy". Tractor overturns, runners, entanglements and highway collisions are the leading cause of death and serious injury in farming."
Agriculture Related Respiratory Problems
Western Farmer Stockman, December 2007
"Respiratory problems go with the territory in agriculture. The workplace is filled with irritants ranging from organic and inorganic dusts to chemicals, fumes and animal bacteria."
Pesticides and Cancer: State of the Science to Date
Western Farmer Stockman, January 2008
"Slightly higher rates of prostate cancer occurred with applicators of restricted-use pesticides." 
Making Your Agri-tourism Child Safe
Western Farmer Stockman, February 2008
"Adults and children visiting a farm need to learn the hazards of a farm environment."
Cholinesterase Monitoring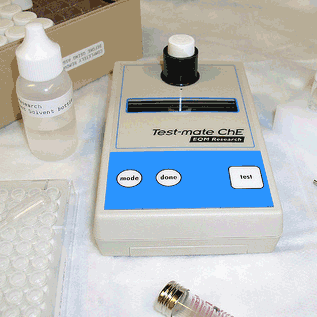 Western Farmer Stockman, March 2008
"With a simple blood test that measures the amount of ChE available to the nervous system, employees can be warned that they have been overexposed before symptoms of poisoning occur." 
Good Fruit Grower, March 2009
"By comparing the work practices and conditions of handlers who had inhibited cholinesterase activity to those who did not, we can begin to confirm which factors are truly associated with pesticide overexposure."
Agriculture Morbidity and Mortality Report
Western Farmer Stockman, April 2008
"Compared to other occupations, agriculture was ranked among the most dangerous." 
Overcoming Health and Safety Communication Barriers with Staff from Different Cultures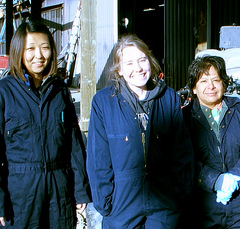 Western Farmer Stockman, July 2008
"When working with new Hispanic workers, here are a few cultural differences for supervisors to keep in mind" 
Good Fruit Grower, November 2008
"Hands-on training is preferred over written materials because the latter may be intimidating for those without reading proficiency in Spanish." 
Zoonotic Pathogen Transmission from Livestock Industries
Western Farmer Stockman, July 2008
"Bacteria may move through the environment as aerosols in the wind, through water, or by hitchhiking"
Worker Stories on Ladder Injuries
Western Farmer Stockman, August 2008
"It was at the end of the day reaching for that last piece of fruit"
Musculoskeletal Injuries
Good Fruit Grower, January 2009
"Musculoskeletal disorders are the leading cause of disability among workers. Between 1997 and 2005, they cost the agriculture industry $136 million and 862,500 lost workdays."
Injuries from Farm Animals
Western Farmer Stockman, Sept 2008
What is the key to preventing injuries from livestock? Knowing what makes your cattle tick. They are motivated by four things: fear, aggression, leaned responses and instinct.
Preventing Grain Bin Entrapment
Western Farmer Stockman, Oct 2008
How many minutes does it take a worker to become engulfed in flowing grain bin with a common augur? What is the minimum number of people needed for a rescue? Learn the answers and survival tactics…