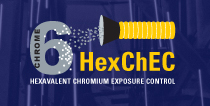 The Hexavalent Chromium Exposure Control (HexChEC) package consists of 6 video segments, a 32 page manual with additional information, and a poster entitled, "Exposure Assessment Tool for Stainless Steel Welders". These components are designed to be used together to assist welders and their supervisors, health and safety professionals, and welding engineers in recognizing:
Conditions that can result in overexposure to hexavalent chromium, and
Appropriate control measures to effectively reduce exposures.
Please download and use all components together:
The exposure assessment tool is a guideline, based on hexavalent chromium exposure monitoring results collected by industrial hygienists at the University of Washington Field Research & Consultation Group, to support weld shops with objective data to evaluate potential hazards. The poster should be used as a guide only and should not be used for regulatory compliance purposes. In accordance with the Federal and State OSHA requirements, employers must provide initial monitoring of their welders.
Funding and support for this project were provided by the Washington State Department of Labor and Industries' Safety & Health Investment Project.

For more information on the training package, please contact:
Marc Beaudreau
University of Washington Field Research and Consultation Group
mbeaudre@u.washington.edu
206-543-9711