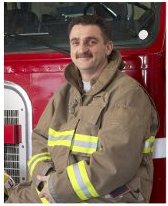 Environmental Sampling for Methicillin-Resistant Staphylococcus Aureus (MRSA) in Fire Stations
Executive Summary:
Methicillin-resistant Staphylococcus aureus (MRSA) is a bacterium that is resistant to common antibiotics. MRSA can cause minor or severe skin infections, surgical wound infections, bloodstream infections, and pneumonia. It can live for weeks or months on surfaces that are not kept clean. MRSA is spread by direct skin-to-skin contact with an active infection or by contact with contaminated shared items and surfaces. Fire service professionals may have a higher likelihood of exposure to MRSA when they come in contact with patients during emergency medical situations. However, for this population, the risk of developing a MRSA-related disease is not known.
The risk of MRSA infections has become an increasingly important concern for firefighters; recent studies have found MRSA on surfaces in fire stations. This service project was coordinated by the University of Washington Field Research and Consultation Group, working in collaboration with Dr. Marilyn C. Roberts, Professor in the Department of Environmental and Occupational Health Sciences (DEOHS). The goal of the project was to collect environmental surface samples from 30 different fire stations across Washington state to better understand the presence and distribution of MRSA and to help reduce exposure risk factors in fire stations.
Thirty-three fire stations with career-based staff participated in this study. Sampling kits containing all supplies needed to conduct environmental surface sampling were mailed to each station. Fire station personnel collected 653 samples. Eight percent of the field samples (52/653) were positive for MRSA, and 19 of 33 stations (58%) had at least one positive MRSA sample. The percentage of MRSA positive samples per station ranged from 5%–35%. Forty-two percent of the stations had two or more positive MRSA samples. Nine stations (27%) had three to seven samples with MRSA. Sixty-two percent of the positive MRSA samples were collected from the living quarters. MRSA was also found on turnout gear, items in aid cars (work benches, seat belts, and medical bag handles), and fire engines/ladders (steering wheels, door handles, mobile data computers, and arm rests). MRSA was not found in samples from 14 stations.
The average fire station call volume was 151 per week, ranging from 5 to 1800. Seventy-six percent of the stations transported patients for medical services.
Stations were classified into two groups according to the presence or absence of MRSA. In general, policies, practices, and cleaning and disinfecting items did not significantly differ between the two groups. Many factors appear to contribute to the presence of MRSA on a surface. This project was designed to give general guidance and strategies to fire stations for reducing the spread of MRSA and other infectious diseases.
Each fire station was provided the results of its sampling, educational materials on how to maintain a clean zone in the fire station, and a fact sheet on tools for improving an infection control program. Special attention to infection control policies, work practices, and cleaning techniques are necessary to reduce the risk potential of MRSA transmission.
American Journal of Infection Control Publication
MRSA Posters:
| | | |
| --- | --- | --- |
| | | |
| Hand Washing Poster | Bandaging Poster | Uniform Washing Poster |
MRSA Prevention Guidance:
Prevent MRSA: Maintain
a "Clean Zone" in the Fire
Station
Microfiber Cloth Use
FOR MORE INFORMATION CONTACT:
Dr. Marilyn Roberts
Professor
University of Washington
Department of Environmental & Occupational Health Sciences
marilynr@uw.edu
206-543-8001