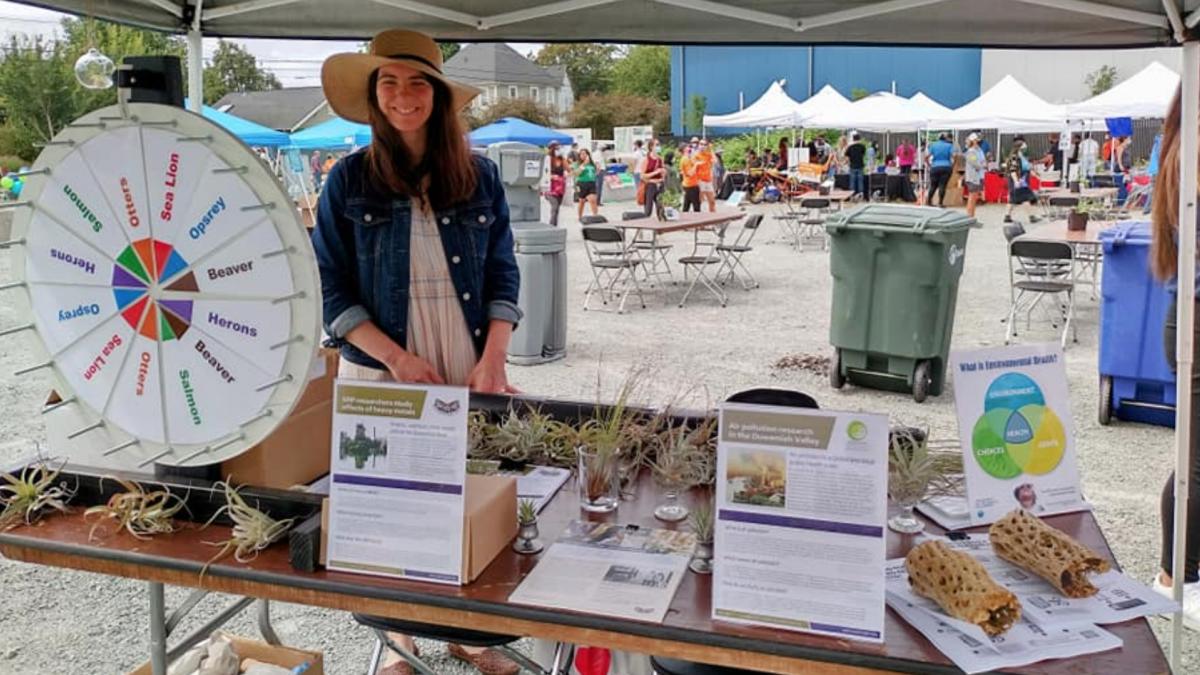 The UW SRP hosted a booth at the 2021 Duwamish River Festival to engage with community members about UW SRP research.  
This year marked the 15th anniversary of the Duwamish River Festival, an outdoor event organized by the Duwamish River Cleanup Coalition (DRCC) to bring together communities in South Park and Georgetown to celebrate the cleanup of the Lower Duwamish Waterway and the revitalization of its adjacent communities.
On a windy Saturday in August, over seven hundred community members convened on the South Park Plaza near the banks of the Duwamish River to take in musical performances, dances, activities for kids, offerings from local vendors, kayak trips, and informational material from booths hosted by groups such as the U.S. Forest Service, Washington Environmental Council, Puget Sound Clean Air Agency, and the African American Health Board.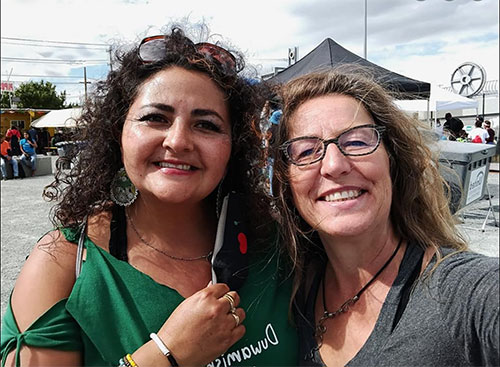 BJ Cummings, Manager of Community Engagement for the University of Washington Superfund Research Program (UW SRP) and Lisa Hayward, UW SRP Manager of Research Translation hosted a UW SRP-sponsored booth, passing out materials summarizing the work of the UW SRP on the health effects of heavy metals, and talking with community members about their concerns.
Through the course of the festival, Cummings and Hayward engaged with well over 150 people, many more than in the past. In part, this is because they passed out air plants for those willing to take a stab at trivia questions about the natural history of the Duwamish River. Cummings and Hayward used the air plants as an opportunity to talk about pollution, explaining that air plants are used to sample for airborne contaminants like metals in South American cities where air plants thrive outside. As low-maintenance houseplants in our part of the world, they do their part to filter the air on a tiny scale.
Much of the community engagement and research translation work of the Superfund Research Program is aimed at serving the communities that live adjacent to the Lower Duwamish Waterway Superfund Site. These communities are known to be made up of a higher percentage of children, immigrants, people of color and people living in poverty. They have access to less green space and are disproportionately burdened by pollution from the industries that have contaminated the Duwamish River. Many are powerful advocates for the restoration and revitalization of their local river and neighborhoods.
Cummings helped found the DRCC twenty years ago to raise support for the restoration of the Duwamish River. Since then, it has become the Technical Advisory Group for affected communities as well as the Community Advisory Group for the U.S. Environmental Protection Agency, the agency that oversees the cleanup of the Lower Duwamish Waterway Superfund Site. Our partners, Paulina Lopez and James Rasmussen, are now at the helm of the DRCC.