Fish consumption in the Lower Duwamish Waterway
UW SRP Community Engagement Core, active through June of 2022, had a long history of partnership with Duwamish River stakeholders working to address concerns about fish consumption within the Lower Duwamish Waterway (LDW) Superfund site.
The SRP Community Engagement Core  collaborated with the US Environmental Protection Agency (EPA) Region 10, the Washington Department of Fish and Wildlife, Public Health–Seattle & King County, Just Health Action (a health-equity non-profit), the Duwamish River Community Coalition (which coordinates EPA's Community Advisory Group for the LDW site), and others to develop culturally appropriate health education tools to inform and empower the Duwamish River's native, immigrant, and low-income fishing communities.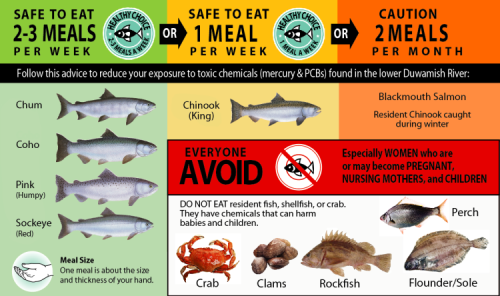 Many people who catch and consume fish from the Duwamish River are low-income recreational and/or subsistence fishers. Many are Native American or first generation immigrants and their families. There is also a tribally-managed commercial salmon fishery on the river.
The Washington Department of Health has issued an advisory against eating any resident fish or shellfish from the Lower Duwamish Waterway. In addition, there is an advisory recommending limits on consumption of salmon throughout Puget Sound, including from the Duwamish River. EPA has developed an Institutional Control Plan to educate the fishing community about the safest ways to consume seafood from the waterway.
Duwamish F.I.S.H.
(Fisher Initiative for Seafood Health)
The UW SRP managed the F.I.S.H. program, a collaboration with community organizations and public agencies on projects to advance healthy fish consumption in and around Seattle's Duwamish River.
Past and Ongoing Projects
---
History of Fish Consumption Work at UW SRP
The UW SRP was involved in many activities related to fish contaminants and fish advisories over two decades, including:
UW SRP produced a series of multilingual videos, Healthy Fishing on the Duwamish: Let's Catch Salmon!, in partnership with U.S. EPA, Public Health–Seattle & King County, Washington Department of Fish and Wildlife, Duwamish Community Health Advocates, and Duwamish River community and non-profit organizations.
The UW SRP reviewed EPA's Draft "Institutional Control Plan" for protecting Duwamish River fishers from exposure to contaminated seafood and provided health and equity recommendations for strengthening the plan.
UW SRP Community Engagement Core Director, Dr. Tom Burbacher, contributed to the 2015 NIEHS report, Advancing Environmental Justice, which highlighted the SRP's work on fish consumption in Washington State. 
UW SRP's home Department of Environmental and Occupational Health Sciences conducted a Health Impact Assessment of EPA's proposed cleanup plan for the Lower Duwamish Waterway Superfund site in 2014. The report included an assessment of and recommendations for improving health outcomes for the river's subsistence fishing communities.
Dr. Burbacher and colleagues from the UW Biostatistics Department conducted an independent review of national and state fish consumption data for the Washington State Department of Ecology in 2012.
UW SRP co-hosted the 2009 Tribal Rights & Fish Consumption Workshop: Issues and Opportunities for the Pacific Northwest.
Dr. Burbacher assisted King County in conducting an 'Environmental Justice Needs Assessment' in 2004 to determine environmental health concerns most relevant to recent immigrants and refugee populations. 
UW SRP worked with local youth groups in 2003 to collect community recipes for a seafood cookbook, Good Food from the Sea, featuring focused messages about how to balance the nutritional benefits of fish with reducing exposure to fish contaminants.
UW SRP helped develop a 2002 conference on 'Community-based Solutions for Environmental Justice,' focused on urban and rural environmental justice concerns, including specific indigenous and ethnic community issues. UW SRP delivered a session on 'Building Effective Community/University Partnerships.
UW SRP co-hosted the Annual Meeting of the National Environmental Justice Advisory Council (NEJAC) in 2001. At EPA's request, the NEJAC meeting addressed the relationship between fish consumption, water quality, and environmental justice and released a report titled 'Fish Consumption and Environmental Justice'.
Dr. Burbacher served as a member of the 2000 National Academy of Sciences (NAS) review panel evaluating proposed changes in the EPA Reference Dose for methylmercury.