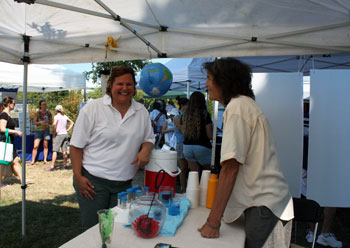 Engaging with community partners from the Duwamish River Cleanup Coalition. Photo by Marilyn Hair
The Community Engagement Core (CEC) is a key integrating element in the University of Washington Superfund Research Program. The core has the major responsibility of assisting UW SRP investigators and other research and core staff in building bi-directional relationships with community organizations and agencies involved in hazardous waste site contamination and cleanup. The primary role of the CEC within the UW SRP is to work with community stakeholders and federal, state and local agencies to develop intervention strategies to reduce community exposures to hazardous substances in order to improve public health. The CEC works with many community partners around EPA Region 10, a list of these community partners with links to each webpage is below.
UW SRP Community Partners:
Northsound Baykeeper - Bellingham Bay and Whatcom Waterway Site
UW SRP CEC Director: Thomas Burbacher, Ph.D.
Professor, Department of Environmental and Occupational Health Sciences
Contact:
Phone: 206-685-1862
Fax: 206-685-3990
Email: tmb@u.washington.edu
Website: http://deohs.washington.edu/faculty/burbacher_thomas
Research Interests:
Children's Environmental Health
Developmental Neurotoxicity
Research Translation
Community Outreach