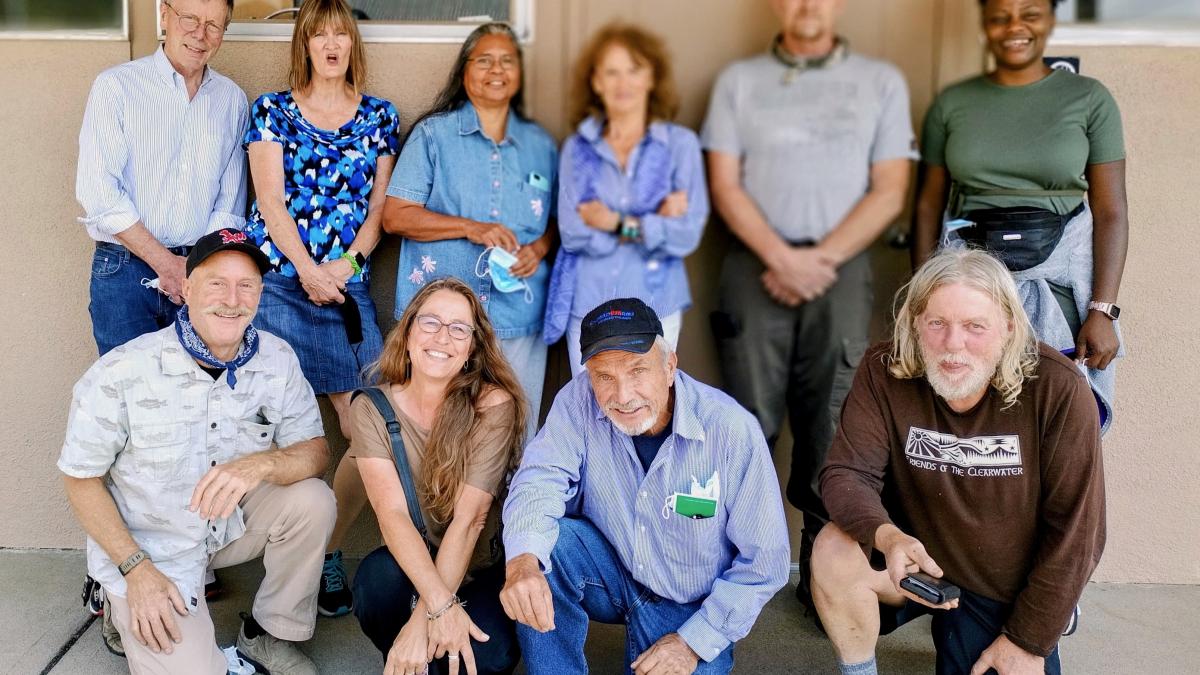 BJ Cummings (front row, second from left) poses with community partners in Idaho. 
This summer, the UW SRP traveled to Kellogg, Idaho to visit with the U.S. Environmental Protection Agency and community partners at the Bunker Hill Superfund Site. Community Engagement Manager BJ Cummings was accompanied by toxicologist Dr. Steve Gilbert from the UW Department of Environmental and Occupational Health Sciences, and UW Communications Leadership Program intern Sukai Gaye. The team toured the epicenter of the Superfund site and several repositories along the Coeur d'Alene River where wastes from the site are stored.
The Bunker Hill Superfund Site spans 1,500 square miles and more than 160 miles of the Coeur d'Alene River. It was listed as a Superfund site in 1983 – one hundred years after mining began in the Coeur d'Alene basin. Disposal of mine tailings in rivers and streams throughout the watershed caused widespread heavy metal contamination along the Coeur d'Alene River, while air deposition from the smelter's smokestacks and accidental releases required the removal of contaminated soil from residential yards and gardens in Kellogg and neighboring Smelterville.
"The highlight of the visit was the opportunity to hear directly from community members impacted by lead contamination from the Bunker Hill mines," says Cummings. Many of the area's residents have suffered from symptoms of lead poisoning linked to their exposure to mining waste. Gaye recorded interviews with the residents, who have been advocating for safer disposal of hazardous waste away from the river's floodplains and for the establishment of a community-based lead health center in the epicenter of the site.
The visit was coordinated by the Silver Valley Community Resource Center, based in Kellogg, Idaho. The organization is part of the Northwest Toxic Communities Coalition, a UW SRP community partner for more than 15 years.