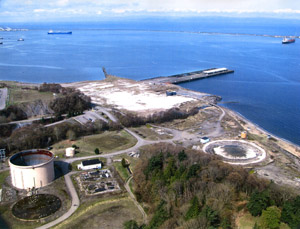 A version of this story was originally published in the Summer 2012 UW SRP eBulletin.
The Olympic Environmental Council (OEC) is a non-profit organization whose work focuses on environmental issues important to North Olympic Peninsula communities in Washington State. In 1997 the OEC worked with thirteen other non-profit organizations and concerned citizens to petition the US EPA to determine if the Rayonier Mill and three associated landfills based in residential neighborhoods in Port Angeles were candidates for Superfund cleanups. After months of investigation, the Rayonier Mill site did receive Superfund clean up status. Two of the landfills are also identified on the Superfund listing but remain under the oversight of Clallam County and the Washington State Department of Ecology.
The OEC continues to play a key role in communicating cleanup progress, educating impacted community members and interfacing with the agencies that control cleanup efforts related to historic pollutants of the Rayonier Mill site. Today the OEC is actively opposing a City of Port Angeles plan to build a combined sewer–storm water pipe conveyance system along its shoreline and at the site. Follow this link to learn about the OEC position on the current plan. 
The OEC and the Washington State Chapter Water Sentinel Committee set up a series of public forums that ran from November 2011 through February 2012 on the subject of storm water overflows. The UW-SRP was able to provide financial support to the OEC for publicity informing the community about these educational forums. The goal of the forums was to educate and encourage community members to be involved and communicate with the City of Port Angeles, the Washington State Department of Ecology and the Puget Sound Partnership, that these decision-makers should be encouraged to actively protect Puget Sound and the waters that empty into it by implementing natural and green technology methods to reuse and recycle storm water. 
Research Translation Outreach Core staff were introduced to the Olympic Environmental Council in 2005 when attending EPA-sponsored Environmental Justice meetings. In the same time period, the Core and the Olympic Environmental Council were at the table during initial discussions by community organizations concerning common interests in regional hazardous waste site issues. It was from these meetings that the Northwest Toxic Communities Coalition began to take shape and define itself.