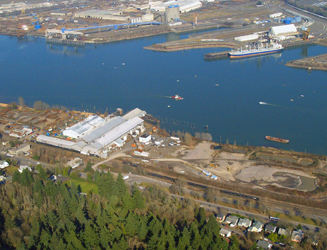 A segment of Portland Harbor. Photo provided by the Linnton Neighborhood Association
A version of this story was originally published in the Fall 2013 UW SRP eBulletin.
The Linnton Neighborhood Association (LNA) offers many services for their community in Portland, Oregon. The LNA was formed to provide a forum to help unify residents and businesses around common interests that impact their quality of life. The LNA supports activities for seniors and youth, and offers tutoring for children. The association also has an environmental watchdog group tasked with monitoring and responding to activities that could negatively impact their community.
In 2000, the 'Portland Harbor Superfund site' was designated by the Environmental Protection Agency. The site includes approximately eleven miles of the Willamette River, an area that stretches past Linnton. Two LNA members are in the Portland Harbor Community Advisory Group (CAG), the 'EPA-recognized' community voice. Darise Weller is the CAG treasurer. John Shaw, who represents the Northwest Toxic Communities Coalition is also a member. Weller and Shaw said that their current focus is on disseminating more information about the effects of the hazardous waste dump at Terminal 4 on the Willamette River. "It appears that EPA is considering methods that will still leave toxics in place that future generations will have to contend with. It is our goal, however, to reach a real cleanup endpoint."
The Portland Harbor site is in a key stage of cleanup with a Feasibility Study being completed that will be followed by a public comment period. Close attention is being paid to human health impacts as ingestion of resident fish poses the greatest risk of adverse human health effects. Findings from the earlier Remedial Investigation illuminated significant and widespread risks from exposure to PCBs, dioxins and furans, DDT and polycyclic aromatic hydrocarbons. 
"In 2011, our neighborhood worked with Oregon Public Health to develop community health priorities called the 'Linnton Action Model,' one of our targeted concerns was the lack of redevelopment of the Linnton Plywood Mill site. Today, it seems that the property will not become usable for our community but be absorbed into the overall remediation process" Shaw said.