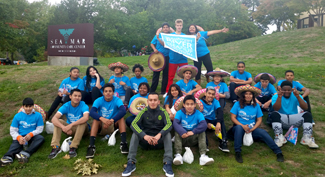 A version of this story was originally published in the Fall 2015 UW SRP eBulletin.
The Duwamish Valley Youth Corps (DVYC) is a program shepherded by the Duwamish River Cleanup Coalition (Technical Advisory Group for the Lower Duwamish Waterway Superfund site). The DVYC engages youth in education and community service, offering them paid training and meaningful work experience. 
Youth participating in the DVYC are all residents of the South Park and Georgetown communities in Seattle. These two neighborhoods sit within the Lower Duwamish Waterway Superfund site and are among the oldest neighborhoods in Seattle. Participants in the program meet three times a week over a period of twelve weeks. The current participants range in ages from 13-18 years old. The Youth Corps educational activities include a cumulative health impacts educational mapping activity and other social and environmental justice curriculum. Their effort is making a difference. 
Carmen Martinez, the leader of the DVYC says, "A central focus of their work is on storm water pollution and learning about a range of solutions". Some of the education and community actions of the youth are: creating rain gardens, composting soils, tree planting, encouraging native habitat and purging non-native plant species." The students receive a stipend upon completion. The DVYC is funded through 2016 by support from the Duwamish River Cleanup Coalition, the US Forest Service, City of Seattle and the Russell Family Foundation. 
Supporting community education has been a foundational component of the Duwamish River Cleanup Coalition since 2003. The University of Washington Superfund Research Program invited the students to campus, where they visited the Department of Environmental and Occupational Health Sciences in the School of Public Health. In past years the youth cohort assisted in river sediment sampling, laboratory titrations and viewing the automated chemical analyzer in process. Perhaps most importantly, students learned from researchers how to interpret results and understand the important role this plays in the context of a long-term waste site cleanup plan.
This fall Community Engagement Core staff is working with Carmen Martinez to engage the DVYC in an upcoming UW Sustainability event focusing on research along the Duwamish River. The event has a poster session that will include a summary of SRP research and SRP CEC collaborations with the Duwamish River Cleanup Coalition.