Project 4: Arsenic in Shallow Unstratified and Seasonally Stratified Urban Lakes: Mobility, Bioaccumulation and Ecological Toxicity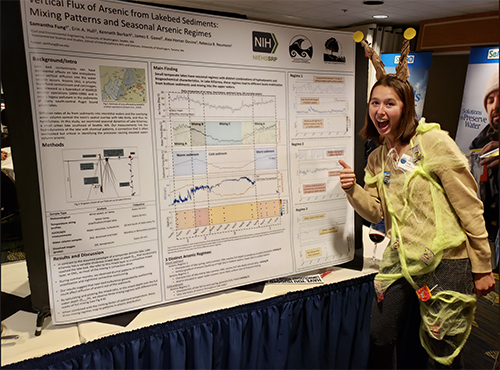 Since the inception of their project, Jim Gawel and Rebecca Neumann, principal investigators on Project 4, have worked to keep affected community members and relevant agencies updated on their research progress and findings. It is in part for this work that Gawel was recognized with the 2016 UW Tacoma Distinguished Community Engagement Award and a 2018 Husky Green Award and Neumann was recognized with a 2018 Charles S. Falkenberg Award by the American Geophysical Union. 
Neumann, Gawel and their trainees routinely engage with multiple Lake Associations identified as key target audiences for their research findings due to the potential health impacts of arsenic contamination on the members. This engagement includes drafting a letter to explain the value of the research for residents concerned about unsightly sampling equipment, writing articles for Lake Association newsletters and presenting at regular Lake Association meetings and conferences. In 2019, Samantha Fung, a trainee on Project 4 won best poster award at the annual conference of the Washington State Lake Protection Association. She also wrote a newsletter article about Project 4 research for the same group.  
In the fall of 2020, Gawel and Neumann hosted a meeting with local agencies to present new findings on levels of arsenic in fish and shellfish in lakes contaminated by the ASARCO smelter in south Puget Sound. Included in the meeting were representatives from the Washington Department of Ecology, Washington Department of Health, EPA Region 10, Washington Department of Fish and Wildlife, and Public Health-Seattle & King County. Gawel and Neumann held the meeting to initiate discussions about how best to present information to local Lake Associations and to the public and what steps to take to best protect human health.
Gawel and Neumann also helped produce a video featuring the work of Project 4. The title of the video is "Diving for Data: Solving the Arsenic Riddle." The video features footage that trainee Ryan Moriarty collected from Lake Killarney in March of 2018. 
Research translation effort for Project 2 are guided by a plan developed using a template from the American Association for the Advancement of Science and a research translation map based on the framework developed by NIEHS.