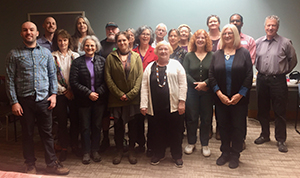 The Northwest U.S. is known for its wealth of natural resources—thriving forests, grasslands, and coastlines, fertile agricultural soils, clean air, abundant clean water, and robust fisheries. These assets are central to our cultural identity, our ecology, and our local economies. But it turns that, in some ways, this seemingly endless supply of natural riches has kept us from prioritizing the protections from pollution that we need to ensure the health of our communities. When innovation and enforcement aren't prioritized by local agencies, it often falls on concerned citizens to advocate for environmental and public health.
That's where the Northwest Toxic Communities Coalition (NWTCC) comes in. NWTCC was formed in 2008 to help ensure that toxic sites are cleaned up adequately. Since then it has worked to locate groups working on toxic clean-ups and empower them by providing a network to share resources, information, and support. Its board is comprised of dedicated volunteers, many of whom have spent decades working on issues like lead contamination from defunct mining sites, industrial toxins dumped on agricultural lands, and the contamination of Puget Sound and Portland Harbor with heavy metals, polycyclic aromatic hydrocarbons, and persistent organic compounds.
On a wet, grey Saturday morning at the end of April, the NWTCC met at the University of Washington for their 14th Summit, greeting each other over coffee and pastries donated by event sponsor, PCC Community Markets. In attendance were summit organizers outgoing Board President, Darlene Schanfald of Sequim, Washington, incoming Board President, Patty Martin of Quincy, Washington, and board members Barbara Miller, Barbara Quinn, Jackie Calder, John Shaw, and Darise Weller. In all, more than 30 people attended the summit over a day and a half, representing diverse groups like Silver Valley Community Resource Center, Duwamish River Cleanup Coalition, Portland Harbor Community Advisory Group, Willamette River Advisory Group, North Willamette Watershed Council, Microsoft-Yes; Toxic-Air Pollution-No, Neighbors for Clear Air, Occupy St. Johns, Linnton Neighborhood, and Hax Geo.
Soon the talks began from invited speakers with expertise in a range of topics from the science of specific pollutants to the policy of local environmental agencies to environmental law and rule-making.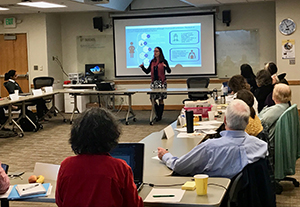 Dr. Diana Rohlman kicked off the day with an introduction to research being done by the Oregon State University Superfund Research Program. Her talk emphasized the complexity of pinning down risks from manmade chemicals like Polycyclic Aromatic Hydrocarbons (which are chemicals released from burning substances or during oil spills and also used in consumer goods like air fresheners) when environments like Portland Harbor are contaminated differently over time and when the effects of a given chemical often depend on which other chemicals are present or on the specific sensitivity of the exposed individual. She also pointed out that bioremediation can be problematic because chemicals are sometimes broken down into even more toxic metabolites. This means that bioremediation may sometimes successfully eliminate one compound from an environment only to replace it with something even more toxic.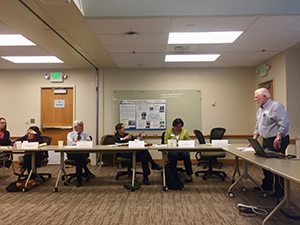 Next up was Tom Fox, a retired Seattle Public Utilities Water Manager and former Reclaimed Water Advisory Committee Member with the Washington Department of Ecology, who spoke about the risks and benefits of using reclaimed wastewater. He spoke about the need for improved efficiency in our water systems—in particular when it comes to, as he put it, "the horrible inefficiencies of water-carried sewage." Coming from Texas before continuing his career in Washington, Fox emphasized his surprise at the lag between Washington's standards and those of the rest of the country. Here we're blessed with abundant sources of clean water and somewhere to dump dirty water (Puget Sound) so we haven't made the same gains in conservation and cleanup as many other parts of the country. "My goodness, the quality of the water we're producing at these plants is abysmal." He explained that at the three King County sewage process plants, permitting allows for treatment that is only about 50% of what is possible.
The NWTCC recognized the lifetime accomplishments of Dr. Steve Gilbert. Over the course of nearly 40 years, Gilbert has advocated for environmental and human health, as a researcher investigating the health effects of lead, mercury and caffeine, and as a board member for numerous Northwest non-profits including Toxic Free Futures, Hanford Challenge, and Washington Physicians for Social Responsibility. He has helped develop school curriculum, introduce legislation, influence City of Seattle policy, and advocate for reducing nuclear weapons.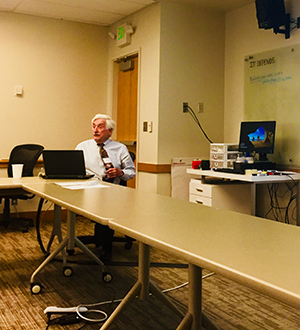 Dr. David Carpenter of the University of Albany's Institute for Health and the Environment traveled from New York's Hudson Valley to speak to the group about what his surprising research results suggest about the role of persistent organic compounds in the development of human disease. Carpenter collected data from residents of Anniston, Alabama, the site of a former Monsanto plant where polychlorinated biphenyls (PCBs) were produced, and found that levels of PCBs in the blood were stronger predictors of hypertension and diabetes than other factors more typically associated with these diseases like body mass index (or obesity), cholesterol levels, exercise, smoking, sex, and race. Even more surprising was the fact that forms of PCBs that are the least persistent in the environment (and have therefore historically gotten the least attention) were the ones most strongly associated with disease.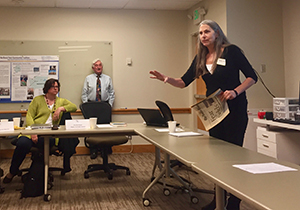 NWTCC incoming board president, Patty Martin, presented next about how and why to get familiar with local and federal environmental regulations. "If you don't know your rights you won't know when they're being abused," she advised. Enforcement tends to be strongest at the local level but understanding regulations can often be an obstacle for members of the public who may not recognize when their rights have been violated. Martin is currently working with the group Microsoft—Yes; Toxic Air Pollution—NO to protect her community in Quincy, Washington from environmental contamination caused by nearby data centers with enormous water and energy demands.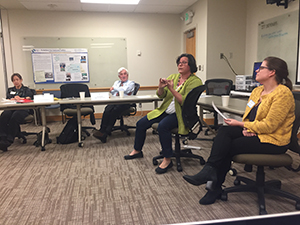 Saturday's program concluded over a dinner of vegetarian Indian food while Laura Knudsen of the Environmental Protection Agency interviewed Dr. Rhonda Kaetzel, Region 10 Director of the Agency for Toxic Substances and Disease Registry. Kaetzel told the story of her own career in toxicology and described the goals of her current organization while describing the structure and constraints of federal and local agencies that work on toxicology. Her presentation took its format from the Liberating Structures model of community engagement.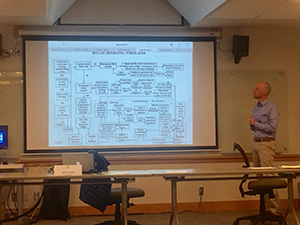 Sunday's agenda included one final presentation from Dr. Todd Wildermuth, Director of the University of Washington's Environmental Law Program. Wildermuth walked the group through the processes of rule-making for Washington State, highlighting opportunities for public involvement in the regulatory process. In particular, he encouraged workshop attendees to consider petitioning for amendment or repeal of existing rules—one way to get a guaranteed response from local agencies. Local regulations tend to be "where the game is played," according to Wildermuth because federal regulations are less frequently updated and harder to enforce.
At the end of the workshop, the NWTCC met to review the overwhelmingly positive feedback from participants and to determine next steps. "The quality of these talks was as high or higher as at many of the national scientific conferences I attend," said Dr. Tom Burbacher of the University of Washington's Superfund Research Program, a sponsor of the event. "I really commend you for putting together an excellent roster of presenters." Other feedback emphasized a desire for more time with each of the speakers, each of whom fielded many questions from an unusually engaged audience. In response, the NWTCC Board is planning to host a series of webinars that will give members more opportunity for interaction with topic experts.