Each September, the American Geophysical Union (AGU) honors people who have made outstanding contributions to its mission of promoting discovery in Earth and space science for the benefit of society. This year AGU honored the University of Washington Superfund Research Program (UW SRP)'s Rebecca Neumann with its 2018 Charles S. Falkenberg Award.
The Charles S. Falkenburg Award is given annually to "an early to middle career scientist who has contributed to the quality of life, economic opportunities and stewardship of the planet through the use of Earth Science information and to the public awareness of the importance of understanding our planet." It was established in 2002 after Falkenburg was killed in the attacks of 9/11 along with his wife and two young daughters.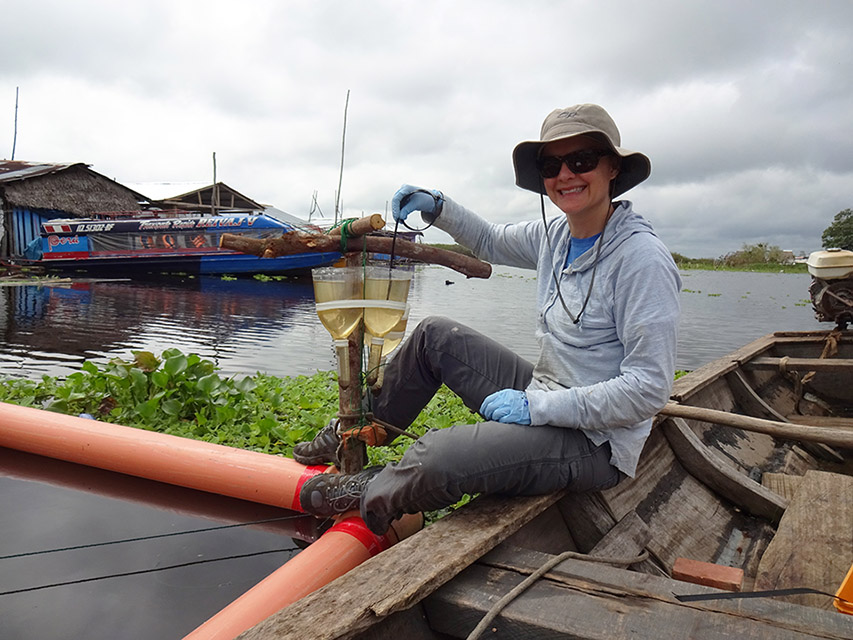 Neumann came to UW in 2011 with a Ph.D. from the Massachusetts Institute of Technology after spending two years as a National Oceanic and Atmospheric Administration's Climate and Global Change postdoctoral fellow at Harvard. Neumann joined the UW SRP in 2015 as Principal Investigator on Project 4 to investigate patterns of arsenic availability in shallow lakes with collaborators James Gawell and Julia Olden. Additionally, she works as part of an interdisciplinary team of researchers to improve the health of a floating community in the Peruvian Amazon.
Neumann's previous awards include the University of Washington's Innovation Award which she received in 2016 and the Department of Energy's Early Career Award which she received in 2013.