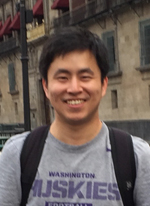 Hao Wong, UW SRP Trainee Project 2
A version of this story was originally published in the Fall 2015 UW SRP eBulletin.
Hao Wang received his Master's Degree in Biochemistry and Molecular Biology from the School of Medicine at Zhejiang University in Hangzhou, China. There his research explored the mechanisms and signal pathways associated with one kind of toxin from algae, Microcystin. Our Department of Environmental and Occupational Health Sciences was lucky to have Hao join the Toxicology Program as a doctoral student in 2012, with Dr. Zhengui Xia. Today, Hao has joined her SRP team addressing "Cellular and Molecular Mechanisms of Cadmium Neurotoxicity." In recent decades brain research has made enormous advances in our understanding of adult neurogenesis (the development of new nerve cells from a stem cell population in the brain) in both animals and in humans. The project that Xia and Wang are working on sheds light upon critical signaling mechanisms that underlie cadmium neurotoxicity. Hao is participating in the SRP Annual Meeting this November where he will share novel research findings on the adverse effect of cadmium on adult neurogenesis. The data gathered in this groundbreaking research suggest that cadmium exposure can impair adult neurogenesis and hippocampus-dependent cognitive function. Hao Wang recognizes the importance of this work that helps us to better understand the neurotoxicity of cadmium. Ultimately, this knowledge will inform safety regulations that protect us from environmental and occupational exposures of cadmium.