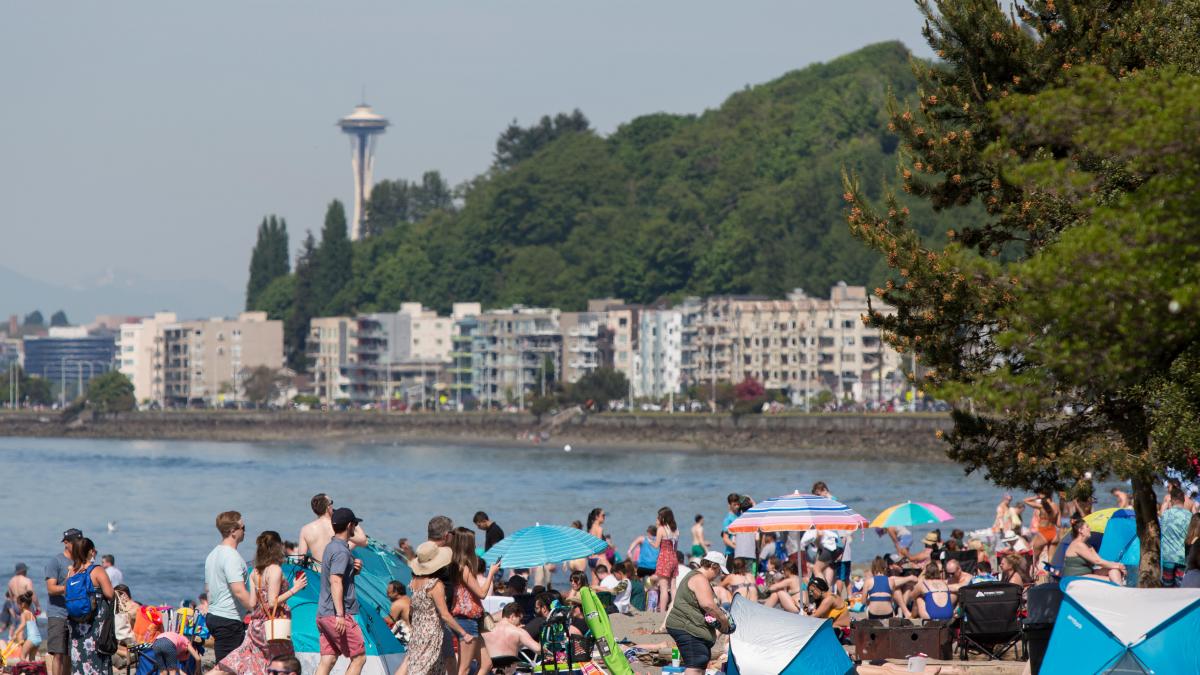 The extreme heat wave that hit the Pacific Northwest region of the United States and Canada this summer made news not only for its record-breaking temperatures, but also for the tragic loss of human life.
"People have recognized that this might happen in theory, but I don't think they expected it to happen," said Dr. Jeremy Hess in an interview with The Guardian. "They certainly didn't expect it to happen now, and they didn't expect it to be this bad."
Dr. Hess is an emergency medical doctor at Seattle's Harborview Medical Center and is the director of the UW Center for Health and the Global Environment (CHanGE).
Extreme heat continues to devastate areas in other regions as well—temperatures in Greece reached 117 degrees Fahrenheit (47 ℃) in early August, followed by Sicily hitting Europe's all-time heat record at 119.8 degrees Fahrenheit (48.7 ℃)
Kristie Ebi, a professor with CHanGE and in the departments of Environmental & Occupational Health Sciences (DEOHS) and Global Health (DGH), has participated in several research projects to better understand how climate change plays a role in this phenomenon.
In July, Ebi and a group of international researchers in the World Weather Attribution Network released a study that found the unprecedented heat event in North America was "virtually impossible without human-caused climate change."
"This study is telling us climate change is killing people," said Ebi to the Associated Press. "It will be many months before a death toll can be calculated from June's blast of heat, but it's likely to be hundreds or thousands."
The scientists analyzed current observational data and computer simulations to compare today's climate with the climate of the past, following peer-reviewed methods. They note two possible explanations for how climate change made the heat more likely to occur.
In both scenarios, as warming continues, extreme and dangerous heat waves will be a lot less rare.
In August, Ebi will be featured in the "Lancet Series on Heat and Health," including two published articles and a global webinar on the papers' findings. This series will "integrate knowledge from a variety of disciplines, including epidemiology, physiology, medicine, climate science, built environment and sustainable development," to help explain how the recent heatwave could impact public health and policy going forward. The two papers include contributions from 15 authors from eight countries spanning four continents. The Lancet series papers will be published on August 19 and the global webinar will be on August 24.
Watch the Lancet Series on Heat and Health webinar now
Ebi and Hess participated in another webinar this month, on August 26, alongside healthcare professionals from UW Medicine as well as Canadian health officials. "Climate and Health Rapid Response: Heatwaves in the Northwest" will discuss emerging health and health system impacts, the climate science behind the event and opportunities for bolstering public health response.
Watch the Climate and Health Rapid Response webinar now
While this summer's weather was both serious and unexpected, there is also good news in the data: As we continue to mitigate the effects of climate change, we also know that we have the tools to adapt.
"In the United States, heat-related mortality is the number one weather-related killer, yet nearly all of those deaths are preventable," said Ebi. "Heat action plans can reduce current and future heat-related morbidity and mortality by increasing preparedness for heat emergencies, including heatwave early warning and response systems, and by prioritizing modifications to our built environment so that a warmer future does not have to be deadly."
Learn More
The Center for Health and the Global Environment is committed to bringing forward the direct and indirect health impacts of climate change through action-oriented research, preparing the next generation of researchers and practitioners and infusing health into decision support.
Twitter & Instagram: @uwglobalchange; Website: globalchange.uw.edu
Read more about climate change and extreme heat in these recent articles featuring Ebi and Hess.
 
How do we manage a hotter reality and deadly heat waves? | July 26, 2021 | The Hill | Featured: Jeremy Hess, Kristie Ebi