By Jennifer M. Gardner, MD
Assistant Professor,
Division of Dermatology University of Washington
At the 2017 American Academy of Dermatology Summer meeting held in New York City, the new forum entitled "Comparative Dermatology: cases at the intersection of human and veterinary dermatology and the One Health Paradigm" featured physician dermatologists, veterinarian dermatologists and dermatopathologists and scientists at the podium and asked how can a collaborative approach across these disciplines help us understand our own skin health better? The forum was conceived through collaboration between Dr. Jennifer Gardner, Assistant Professor of Dermatology at the University of Washington in Seattle and Collaborating Member of the UW Center for One Health Research and Dr. Dan Morris, Professor of Dermatology & Allergy at the University of Pennsylvania School of Veterinary Medicine. Dr. Gardner provided a short introduction defining "One Health" for the audience and described how using the One Health paradigm can reveal connections between human health, animals and the shared environment. Then three pairs of experts explored topics as they related to OH and dermatology.
First up, Dr. Dirk Elston, Chairman of Dermatology at the Medical University of South Carolina, shared an update regarding Demodex, a.k.a. "the follicle mite," in humans, including skin disorders associated with overgrowth of this usually symbiotic ectoparasite. He also discussed treatment of these problems when our mites are behaving badly. His favorite therapy turns out to be an oldie but still goodie: sulfur.
Dr. Kathryn Rook, a veterinary dermatologist at the University of Pennsylvania School of Veterinary Medicine, shared news about a revolution in veterinary clinics regarding treatment of Demodex mites in dogs and cats, which are not zoonotic, meaning demodectic mange doesn't get passed from family pets to their humans. Considering the veterinary world is decades ahead of human medicine with regard to anti-ectoparasitic strategies, it's worth looking to veterinarians to see what might be coming down the pipeline for humans. A new class of drugs currently licensed in the U.S. for flea and tick prevention in dogs and cats, have been practice-changing when used off-label for the treatment of demodicosis in dogs and cats. Isoxazolines are GABA receptor antagonists leading to paralysis and subsequent death of insects. These medications have resulted in quicker resolution of skin symptoms. There has been a rapid rise in the use of these compounds, which means there is a new chemical in the shared environment that could leave a residue, though whether that holds risk for humans or other animals is as of yet, unknown. 
Next up, we explored a powerful but simple tool in One Health: asking the question, "Do dogs get atopic dermatitis?" It turns out, they absolutely do! And, currently, naturally occurring canine atopic dermatitis (AD) is likely the most established large animal model (i.e. non-mouse model) of human disease in dermatology. By identifying these similarities we can ask how looking to "man's best friend" can tell us a lot about our own skin. Dr. Charles Bradley, a veterinary dermatopathologist at the University of Pennsylvania School of Veterinary Medicine and Dr. Elizabeth Grice, a microbiologist in the Department of Dermatology at the University of Pennsylvania, shared results from their collaboration characterizing the skin microbiome (genetic analysis of the microbial species, in this case bacterial communities, present on the skin) of dogs with AD. What they found mirrored the findings in human pediatric AD, previously characterized by Dr. Heidi Kong's group at the NIH. By researching the skin microbiome of dogs, we may learn more about ways we can better predict disease progression and novel treatment strategies that could easily translate to healthier skin for humans. This opens the doors for translational research opportunities that go beyond "the mouse trap." By using large animal models, like dogs, who naturally suffer from similar conditions as humans and who share the same household environment, it's likely we can derive an even better understanding of how a given treatment strategy would perform for our own skin problems. This approach has the power to improve the health of both species: a "win-win."
Last up at the podium, a dermatologist and scientist, Dr. Brian Kim, the Co-Director for the Center for the Study of Itch at Washington University in St. Louis gave us a preview of his lab's recent breakthroughs, accepted for publication in the journal Cell. His lab has identified that classical molecules ascribed to the immune system, IL-4 receptor alpha and JAK1, are also functional in the nervous system and critically mediate itch. Human patients that are on drugs to block these molecules enjoy a dramatic improvement in their symptom of itch. He anticipates by designing drugs that are more selective against these neuronal pathways, the paradigm will change when it comes to treating humans with chronic itch.
Dr. Kim's talk was the perfect segue for Dr. Morris to discuss the veterinary experience using such targeted systemic therapies for the treatment of pruritus and atopic dermatitis in canines. Having patients covered in fur limits the use of topical therapies, first line approaches for treating atopic dermatitis in humans. Thus, veterinarians are 5-6 years ahead of human dermatology in using these treatment strategies. Dr. Morris discussed the JAK-1 inhibitor, oclacitinib, in treating his patients with these conditions. He then told the audience about lokivetmab, a caninized monoclonal antibody against IL-31, a mediator of itch through neuronal pathways. He provided examples of success in dogs who failed therapy with oclacitinib and discussed some limitations of IL-31 inhibitors, namely that they are good at decreasing the symptom of pruritus but do not have a good anti-inflammatory effect and may not be the answer for dogs who suffer from recurrent pyoderma. Future research collaborations between veterinarians and physician scientists to improve the treatment for chronic itch and atopic dermatitis will result in a better understanding of pathophysiology and treatment responses for humans and canines alike. This is truly the spirit of One Health.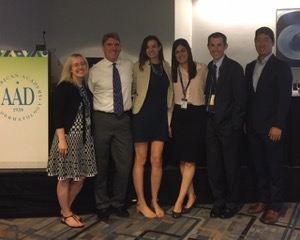 References:
Beugnet F, Halos L, et al. Efficacy of oral afoxolaner for the treatment of canine generalized demodicosis. Parasite (2016) 23:14.
Bradley CW, Morris DO, Rankin SC, Cain CL, Misic AM, Houser T, et al. Longitudinal Evaluation of the Skin Microbiome and Association with Microenvironment and Treatment in Canine Atopic Dermatitis. J Invest Dermatol. 2016;136(6):1182-90.
Cosgrove SB, Cleaver DM, King VL, et al. Long-term compassionate use of oclacitinib in dogs with atopic and allergic skin disease: safety, efficacy and quality of life. Vet Dermatol 2015; 26: 171–e35.
Fourie JJ, Liebenberg JE, et al. Efficacy of orally administered fluralaner (Bravecto™) or topically applied imidacloprid/moxidectin (Advocate®) against generalized demodicosis in dogs. Parasites & Vectors. (2015) 8:187.
Gadeyne C, Little P, King VL, et al. Efficacy of oclacitinib (Apoquel) compared with prednisolone for the control of pruritus and clinical signs associated with allergic dermatitis in client-owned dogs in Australia. Vet Dermatol 2014; 25: 512–e86.
Gassel M, Wolf C, et al. The novel isoxazoline ectoparasiticide fluralaner: Selective inhibition of arthropod  -aminobutyric acid- and l-glutamate-gated chloride channels and insecticidal/acaricidal activity. Insect Biochemistry and Molecular Biology (2014) 45:111.
Gonzales AJ, Humphrey WR, Messamore JE, et al. Interleukin-31: its role in canine pruritus and naturally occurring canine atopic dermatitis. Vet Dermatol 2013;24:48-e12.
Kong HH, Oh J, Deming C, Conlan S, Grice EA, Beatson MA, et al. Temporal shifts in the skin microbiome associated with disease flares and treatment in children with atopic dermatitis. Genome Res. 2012;22(5):850-9.
Little PR, King VL, Davis KR, et al. A blinded, randomized clinical trial comparing the efficacy and safety of oclacitinib and cyclosporine for the control of atopic dermatitis in client-owned dogs.  Vet Dermatol 2015; 26: 23–e8.
Michels GM, Ramsey DS, Walsh KF, et al. A blinded, randomized, placebo-controlled, dose determination trial of lokivetmab (ZTS-00103289), a caninized, anti-canine IL-31 monoclonal antibody in client owned dogs with atopic dermatitis. Vet Dermatol 2016; 27: 478–e129.
Mizuno T, Kanbayashi S, Okawa T, et al. Molecular cloning of canine interleukin-31 and its expression in various tissues. Vet Immunol Immunopathol 2009;131:140-3.
Weber T, Selzer PM. Isoxazolines: A novel chemotype highly effective on ectoparasites. Chem Med Chem 2016;11:270-6.