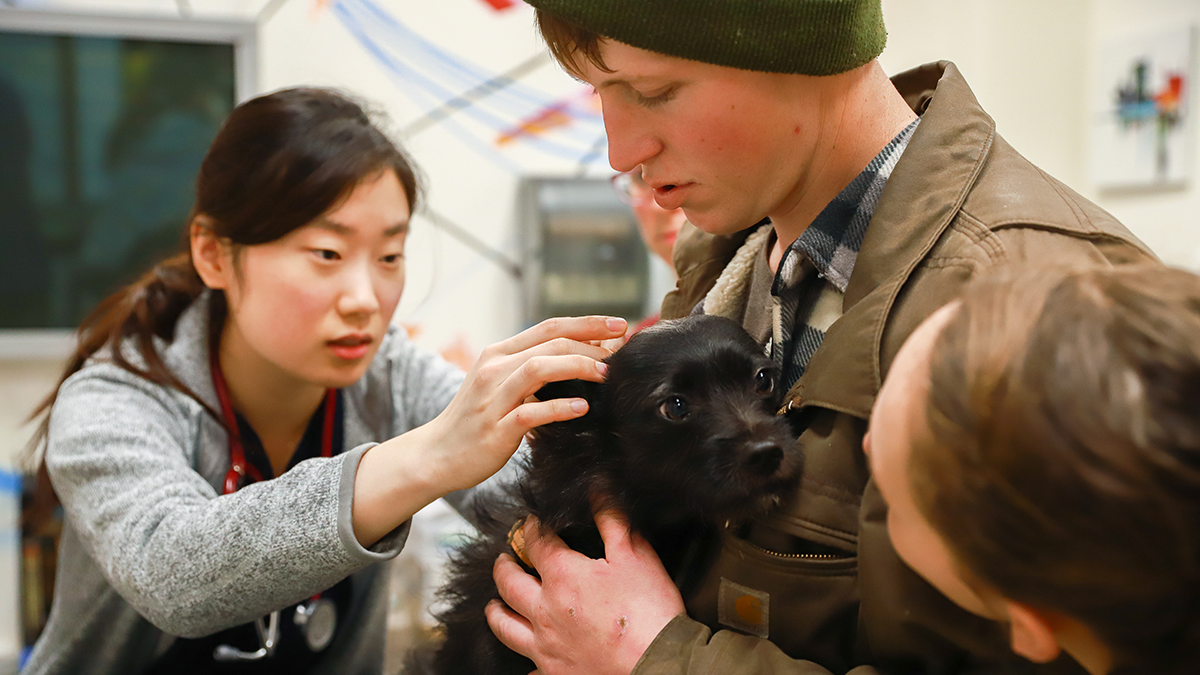 The One Health Clinic started in fall 2018 and is currently based at New Horizons, a shelter/service provider for youth experiencing homelessness in Seattle. To find out when the next clinic will be held, please see our Facebook page @onehealthclinic.
Check out our new Toolkit you can use as a resource to help you create a One Health Clinic in your community! 
---
The One Health Clinic serves patients and their animals twice a month. A nurse practitioner from Neighborcare Health, a federally qualified community health center, provides primary medical care with assistance from University of Washington medical, nursing, social work, public health and pharmacy students from the interdisciplinary student group University District Street Medicine.
Support the One Health Clinic
The UW Center for One Health Research is seeking new funding sources to sustain and expand the clinic. Make a gift: http://giving.uw.edu/OneHealthClinic
Veterinary students and a faculty preceptor from the Washington State University College of Veterinary Medicine provide veterinary care and needs assessment for veterinary care in this community.
The University of Washington Center for One Health Research, directed by Dr. Peter Rabinowitz, coordinates the integration of the human and veterinary medical services and the outreach to the community about the services. The clinic is held during evening drop-in hours at New Horizons. Human and animal health care takes place side-by-side in adjoining rooms in the second floor of the building. Students serve as patient navigators and help facilitate communication between the human and veterinary health team.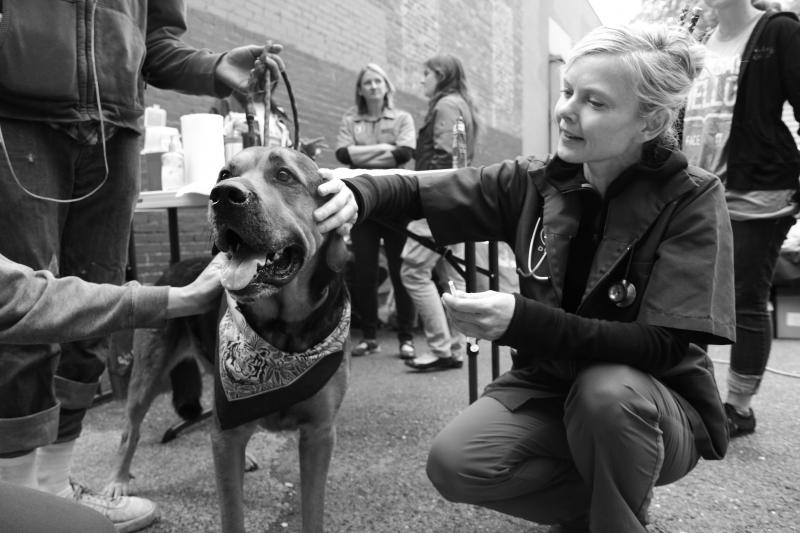 Since 2018, the One Health clinic has treated dozens of youth experiencing homelessness and their animals, including dogs, cats and a ferret. The clinic provides full primary care with an emphasis on trauma-informed care, sexual health, mental health and substance use, including medication-assisted treatment for opioid use disorders and gender-affirming care for transgender patients.
Point-of-care testing is also available on site, as well as laboratory services. Minor procedures, such as placement of long-acting reversible contraceptives, can be performed. Animals receive wellness examinations, vaccinations and any necessary deworming, flea or tick treatments. Referrals are made for free or reduced-cost spay or neuter surgeries. Treatments that cannot be performed at the clinic are referred to other providers.