On July 19th seven students from the National Science Foundation (NSF)-funded SURE-EH program and two interns from the Center for Disease Control (CDC)-funded BRANCH program toured labs in the University of Washington (UW)'s Department of Environmental and Occupational Health Sciences (DEOHS), engaging with a variety of presenters about how to find, apply to, and fund their ideal graduate study experience. Hao Wang, a graduate student with Zhengui Xia, and Margaret Mills and Mitra Geier, two post-doctoral trainees with Evan Gallagher, were among those who presented about their research and graduate experience.
            Almost all of the students who participated on the DEOHS tour were the first in their families to go to college and all were interested in applying to a graduate or professional program after graduation. Many had been raised with the expectation that they would go into medicine and law, but they were also interested in considering careers in environmental and public health. Most identified cost as their biggest barrier to graduate studies.
            Throughout the day, the group met with graduate students and professionals in the UW DEOHS who represented groups like the UW Superfund Program, the Interdisciplinary Center for Exposures, Diseases, Genomics & Environment (EDGE), the Pacific Northwest Agricultural Safety and Health Center (PNASH) and the Center for One Health Research. They also had a frank discussion about the realities of being a graduate student with Vanessa Alvarez, Lindsey Wilson and Louie Levia of the GO-MAP program, a group that supports graduate students of color at the UW.
          At the end of the day, the students and interns rated the experience as very useful, particularly in helping them understand issues that are rarely discussed in other contexts like the etiquette of asking potential advisors about sources of financial support, a step that can go a long way toward opening doors, but may run counter to the culture in which they have been raised.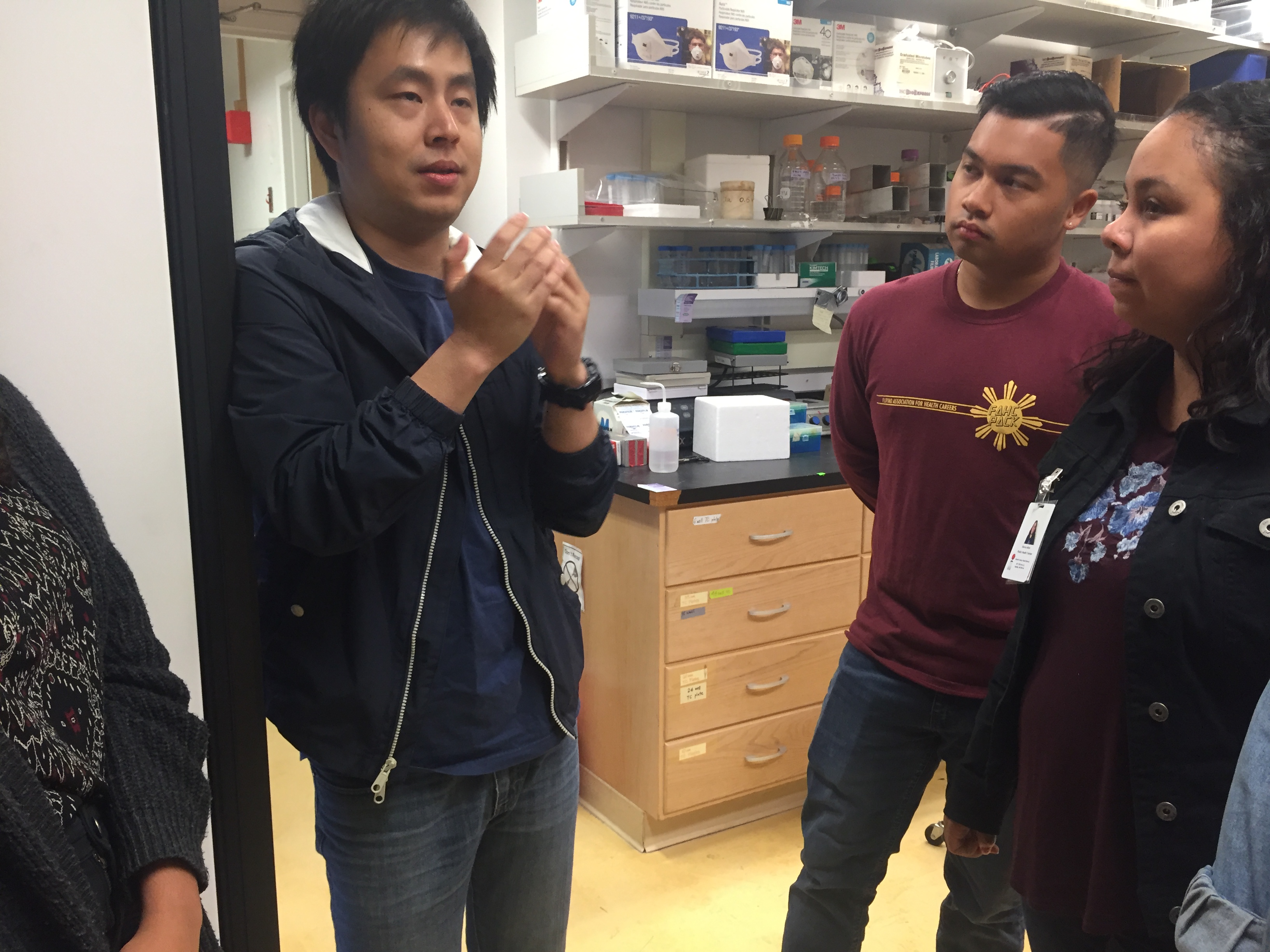 The BRANCH internship is run through the Urban Indian Health Institute of the Seattle Indian Health Board as part of their CDC-funded grant titled "Building Resilience and Action to Nurture Community Health." The five-year grant focuses broadly on building a public health infrastructure across urban Indian country. Each summer it funds two interns who are recent graduates. In 2018 those interns were Sierra Allen and Daysha Gunther.
            For many years, DEOHS has funded research opportunities for underrepresented undergraduates through its Supporting Undergraduate Research Experiences in Environmental Health (SURE-EH) program which is funded by a grant from NSF. Through this program, UW students are paid to do research with DEOHS faculty for 15 hours a week during the school year and 40 hours a week in the summer for up to two years. SURE-EH students who participated in the campus tour were Gabino Abarca, Jannah Amaly, Mae Coker, Divya Naidoo, Matthew Gomez, and Camila Valdebenito Baeza.