Application Instructions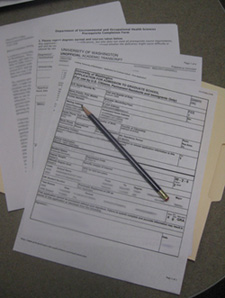 Instructions for Domestic Applicants
Deadline: December 1 of the year prior to intended entry
Applications to the MS, MPH, and PhD programs are reviewed once a year for the following autumn quarter. Course sequencing does not permit entering in other quarters.
Applications completed after the applicable deadline may be reviewed on a space-available basis, but consideration of late applications is not guaranteed. Applicants whose files are completed by Dec. 1 are assured consideration for departmental financial support, if requested.
Step 1: Review Program Prerequisites
Before submitting an application, please review admission prerequisites for the program to which you wish to apply. Admissions decisions are based on a review by the DEOHS Admissions Committee of each applicant's file, which includes transcripts, test scores, goal statement, resume, and letters of recommendation. An applicant with exceptionally strong qualifications who does not meet all of the prerequisites may still be considered for admission.
Step 2: Go to the UW Graduate School Application for Graduate Study page to begin the application process.
Step 3: Prepare and Submit Application Materials
Application Fee(s)
UW: A $85 application fee is required when submitting the online Application for Admission to the Graduate School. A limited number of need-based application fee waivers are available for U.S. citizens, Permanent Residents and Immigrants only. The fee waiver is available by choosing "Fee Waiver (For Qualified Applicants)" in the Pay Fee and Submit Application section. Note: Applicants to the concurrent degree program (MS/MPA or MPH/MPA) must submit two applications, to Environmental and Occupational Health and Public Policy and Governance, therefore requiring two $85 fees.
Departmental Supplemental Application. This form is a link within the UW application. It includes questions not present on the UW application and provides more information to the Admissions Committee.
One set of unofficial transcripts from all undergraduate and graduate institutions you have attended (including community colleges).
We accept unofficial transcripts for the review process, which you will upload into the UW Graduate School Application.
If you are accepted and enroll,  the UW Graduate School will request official transcripts from you at the time you accept the offer of admission.  
A narrative goal statement (1-2 typed pages) describing background information you feel is pertinent.
Your statement is your voice and your introduction to the Admissions Committee. A well written goal statement should convey your reasons for pursuing graduate work in environmental and occupational health sciences, why you feel passionate about the discipline, any particular area of research interests, faculty you would like to work with, and why you want to come to the University of Washington. Spend time writing this statement and make sure that it conveys who you are and what you want. You don't need to know exactly which researcher you wish to work with or what project you wish to work on, but your statement should convey that you have some interests, ideas and goals and have thought about how our program can help you fulfill them.
A poorly written statement can convey that the applicant doesn't understand what environmental and occupational health is or has confused it with another discipline (e.g., thinks it's ecology or environmental sciences). It also indicates that the applicant has not spent time researching our department or faculty. The statement may read like a generic statement that has been used for several graduate school applications in different disciplines or at different universities.
We welcome applicants from culturally diverse backgrounds; if you wish, you may include information concerning cultural and educational opportunities (or lack thereof), social and economic disadvantages that you may have had to overcome, and the ways in which these experiences affected you.
Three letters of reference from people familiar with your academic goals and potential for achieving those goals. There is no form for letters of recommendation, but the letters should discuss your potential for successfully completing your chosen program. Once you name them within the UW Graduate School Application system, your recommenders will be sent detailed instructions for submitting their letter online via email. Note that many email accounts filter out messages from computer systems such as these. Encourage your recommenders to monitor their spam inbox as to not miss the instructions for letter submission.
Resume or Curriculum Vitae
Step 4: Request Official Test Score Report(s)
Request official test scores be sent from the
Educational Testing Service
directly to the University of Washington. Scores are accepted in to a centralized database departments access, so no department code is necessary to report scores. The University of Washington is under
institution code 4854
. Consult the ETS website for information on available methods of submission to the University.
Graduate Record Examination (GRE) Scores: All applicants besides those with doctoral degrees from an accredited US institution must submit valid GRE scores (less than five years old). All applicants are required to submit official GRE scores with the exception of applicants holding a Doctor of Medicine (MD), Doctor of Veterinary Medicine (DVM), Doctor of Osteopathic Medicine (DO) or Doctor of Philosophy (PhD) from an accredited U.S. institution, who are exempted from the GRE requirement.

Test of English as a Foreign Language (TOEFL) Applicants who are non native speakers of English must demonstrate English proficiency. The TOEFL test is one of 5 options for demonstrating proficiency. For information on the minimum scores required and other options for meeting this requirement,  please see Graduate School Memorandum 8.
For students applying to the MPH in Occupational and Environmental Medicine
Please see the application Instructions for UW Occupational Medicine Residency Program:
UW Occupational and Environmental Medicine Residency