Clean Air
About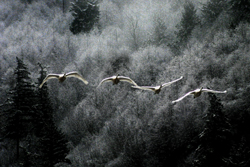 The average adult breathes over 3,000 gallons of air every day. Children breathe even more air per pound of body weight and are more susceptible to air pollution.
Millions of people live in areas where urban smog, very small particles, and toxic pollutants pose serious health concerns. People exposed to high enough levels of certain air pollutants may experience burning in their eyes, an irritated throat, or breathing difficulties. Long-term exposure to air pollution can cause cancer and long-term damage to the immune, neurological, reproductive, and respiratory systems. In extreme cases, it can even cause death.
For a simple explanation about cleaning up air pollution, see the EPA's Plain English Guide to the Clean Air Act
Our Involvement
The Department of Environmental and Occupational Health Sciences has been studying the association of air pollution with human health for many years.
For six years the department hosted the the Northwest Center for Particulate Air Pollution and Health, one of five centers around the country funded by the US Environmental Protection Agency to study the effects of particulate air pollution on human health.
Our department's 60-year history with air quality is reviewed in "The Clearest Skies: A history of Seattle's air pollution control efforts."
Faculty
Courses
Centers, Institutes and Studies
Other Resources