Why choose a career in environmental and occupational health sciences?
With more than 1,200 graduates over the past 70 years, the UW Department of Environmental & Occupational Health Sciences (DEOHS) is building a highly skilled workforce of health and safety professionals and researchers. They work at the local, national and global levels as leaders in government, academia and the corporate and nonprofit sectors.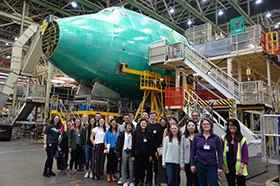 Our graduates combine their scientific expertise and passion for improving health to create sustainable communities where everyone has access to clean air, clean water, safe food and safe workplaces.
DEOHS graduates are sought after by major employers and earn highly competitive salaries. They can be found in a wide range of companies and workplaces, including:
Managing workplace and food safety at private companies such as Amazon, Starbucks and Boeing.
Teaching and conducting research at the University of Washington, Harvard University and the US Centers for Disease Control and Prevention.
Treating patients in hospitals and clinics.
Leading policy and regulatory efforts for government agencies, including the US Environmental Protection Agency, the US Food and Drug Administration, the Washington State Department of Labor & Industries and health departments across Washington state and beyond.
Learn more about our graduates and their careers.
Our students are supported by a dedicated career counselor and have access to professional development programming. We offer structured internship programs, prospective employer visits, networking opportunities with alumni and skill-building workshops.