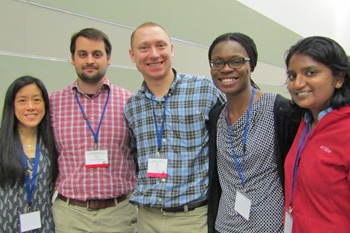 Applicants to the MPH in Occupational and Environmental Medicine must first be accepted into the UW Occupational and Environmental Medicine Residency Program, or the Madigan Preventative Medicine Residency Program.
Occupational and Environmental Medicine (OEM) is a wide-ranging preventive medicine specialty focused on the evaluation, treatment, and prevention of disease related to environmental and occupational exposures. OEM physicians treat work-related injuries and diseases, recognize and resolve workplace and environmental hazards, conduct research to understand and prevent illnesses and injuries related to the workplace and the environment, and guide occupational and environmental health public policy. The MPH in Occupational & Environmental Medicine (MPH-OEM) degree is geared towards physicians and is typically offered in conjunction with an Accreditation Council for Graduate Medical Education (ACGME) accredited two-year residency, including the University of Washington OEM residency and Madigan Army Medical Center Public Health residency. Upon successful completion of the MPH-OEM degree and a residency in either OEM or Public Health, participants are eligible for board certification by the American Board of Preventive Medicine. The MPH-OEM degree combines broad training in public health with specific training in occupational and environmental medicine. The program of study includes core courses in occupational and environmental medicine, environmental health, epidemiology, biostatistics, health services administration, and social and behavioral health sciences. In addition, students are required to conduct a research-based master's thesis. OEM and Public Health residency training counts toward the public health practicum, another requirement of the MPH-OEM degree.
Physicians who have undergone a minimum of one year of postgraduate training in an ACGME-approved program are eligible for consideration for the OEM Residency. Experience in clinical medicine, military medicine, research, policy, or public health practice strengthens an application. Please refer to the Residency/Fellowship How to apply page.
Career paths of recent graduates
This degree is designed for individuals who anticipate careers in occupational and environmental medicine, whether in clinical practice, academics, or public health practice. Alumni of this degree and concurrent residency program are leaders in the field who influence public policy to improve occupational and environmental health. Recent graduates from this degree option are currently working as:
An Associate Medical Director for Occupational Diseases at Washington State Department of Labor & Industries (Class of 2016)
An Occupational Medicine Physician at the Everett Clinic (Class of 2015)
A Clinical Instructor in the University of Washington Department of Medicine, Division of General Internal Medicine, and the Department of Environmental & Occupational Health Sciences, and core Occupational and Environmental Medicine faculty member (Class of 2017)