Growing up in the Middle East, Hamzah El-Himri experienced firsthand what can happen to communities when health and safety regulations are lacking.
"I grew up hearing stories about extremely hazardous work environments, where people I knew died from workplace accidents," said El-Himri, a 2015 BS graduate of the UW Department of Environmental & Occupational Health Sciences (DEOHS).
El-Himri, now a site safety manager at Amazon, was part of a DEOHS alumni panel this month that met with UW students to share their experiences as young professionals in environmental and workplace health and safety.
While El-Himri knew from a young age that he wanted to help improve workplace safety, other panelists said they took a less direct route before discovering their career paths.
Exploring career options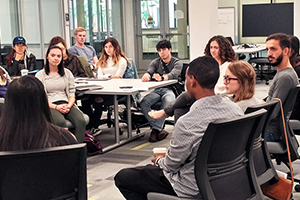 "One of the reasons I chose environmental health is that you don't have to sit at a desk all day," said Emily Zamzow, a 2017 MS graduate who is now an industrial hygienist for Boeing. "You are out in the field working with people every day, which makes (environmental and occupational health) a unique major."
The panel, open to current and prospective DEOHS students, was hosted by Hayley Leventhal, DEOHS internship and career services manager, as part of an internship preparation and career exploration course she teaches for undergraduates.
Zamzow and El-Himri were joined on the panel by Grace Fisk, health and environmental investigator for the King County Local Hazardous Waste Management Program; and Fanny Silverio Gonzales and Shume Merid, environmental health specialists for the Snohomish Health District.
Zamzow and Merid, a 2016 BS graduate, both started as engineering majors and switched because they were drawn to the department's science-based programs. Gonzales, a 2015 BS graduate, started as a history major, then switched because she saw more job opportunities in environmental and occupational health.
"I think something that is really special about environmental health is that you get to interact with a lot of people, and in fact those interactions help you succeed in your job," said Fisk, who earned her BS in 2013 and her MS in 2015 from DEOHS.
Teamwork in the private sector
 El-Himri and Zamzow, both employed in the private sector, described their jobs as more team-oriented.
El-Himri said he loves Amazon's fast-paced environment and working as part of a safety team. When he sees a safety issue developing, he can quickly implement a procedure or plan to counter the problem.
"We have a board at my site where people can write any issue they are facing, and our promise is we will provide a solution within 48 hours when possible," El-Himri said. "Having someone tell you their work experience improved because of something you did is very rewarding."
Educating the public
The other three panelists are employed in the public sector and said they typically work alone. Merid, who inspects septic systems in remote areas, said he spends a lot of his day in the car or conducting inspections.
Still, he interacts with homeowners, real estate agents and contractors and enjoys the opportunity to learn something new every day. "Just educating someone on the proper care of a septic system can change their lives," Merid said. "The people I help are thankful, and that makes the job fulfilling."
Required internships open doors to careers
All DEOHS undergraduate students complete a 400-hour internship before graduation. Panelists agreed their internship experiences proved essential in helping them decide what kind of career to pursue.
Flexibility and a little ingenuity are key when applying for jobs in the private sector, El-Himri said. He said he applied to Amazon four times with no response. When he learned Amazon recruiters were going to be on the UW campus at another school, he tracked them down and approached them directly.
"DEOHS equipped me to enter the workplace by providing me with knowledge, technical skills and capabilities," El-Himri said. "It has also given me a valuable network of professionals that I can reach out to."