Zoonotic Diseases at the Animal Interface
Development of exposure and risk-based approaches to prevent transmission of infections between animals and humans (zoonotic diseases) in agricultural and other animal work environments as well as community settings.
Occupational Health of Animal Workers
Animal workers are often at greatest risk of zoonotic disease, and globally, swine workers and poultry workers are at greatest risk for zoonotic diseases such as MRSA and Avian Influenza.  Yet despite this, effective programs to promote occupational health of such workers are lacking.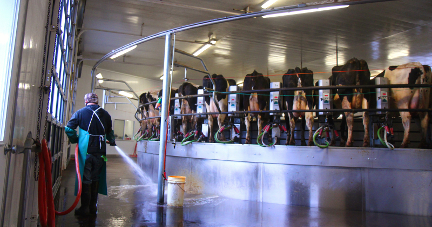 Studies in this area that we have in progress or proposed include:
MRSA in Swine Workers
Influenza Infection risk in poultry workers
Zoonotic disease risk in wildlife surveillance workers
Swine influenza exposure risk in swine facilities
Using microbiome and metagenomic techniques to assess human-animal transfer of pathogens and antibiotic genes in Dairy Agriculture
Animals as "Sentinels"
Developing ways to better understand and use animal and human disease "sentinel" events in order to detect and control shared health threats from biological, chemical, and physical hazards in the environment.
Human and Animal Sentinels of Natural Gas Extraction Activities (Hydrofracking)
The Center for One Health Research has done extensive research in Southwest Pennsylvania to investigate the health effects of fracking on those living in the area. Read our paper published in Environmental Health Perspectives.
Surveillance of Emerging Diseases
Developing informatics tools for linking human and animal disease surveillance for better mapping and prediction of emerging disease threats.
PREDICT Project
The Center for One Health Research is proud to be a part of USAID's PREDICT project to build a global early warning system for emerging zoonotic diseases. PREDICT is part of USAID's Emerging Pandemic Threats Program, which "seeks to pre-empt or combat diseases that could spark future pandemics." PREDICT will monitor geographic "hot spots" to identify new zoonotic disease threats in wildlife through a SMART surveillance method. With early warning the hope is the future zoonotic pandemics may be avoided or contained.
Developing models for clinical collaboration and communication between physicians, veterinarians, and other animal, human, and environmental/public health professionals at the primary care level.
Human-Animal Medicine is an innovative reference exploring the unprecedented convergence of human, animal, and environmental health, triggering global pandemics and requiring new clinical paradigms. The "One Health" approach calls for greater communication and cooperation between human health care providers, public health professionals, and veterinarians to better address vital issues of emerging diseases and environmental change. This incredibly timely book provides, for the first time, practical guidelines for "One Health" collaborations in a wide range of clinical human-animal health issues, including the H1N1 virus, zoonotic diseases, the human-animal bond, animal allergy, bites and stings, and animals as "sentinels" for toxic environmental health hazards.
The One Health clinical concept recognizes that the health care of humans and animals in a community benefits when there is collaboration and communication between human and animal health professionals. The Center for One Health Research supports the One Health Initiative (OHI), which seeks to promote this collaboration. The OHI has developed a one page brief to inform clinicians about the One Health Initiative and its importance in patient care.