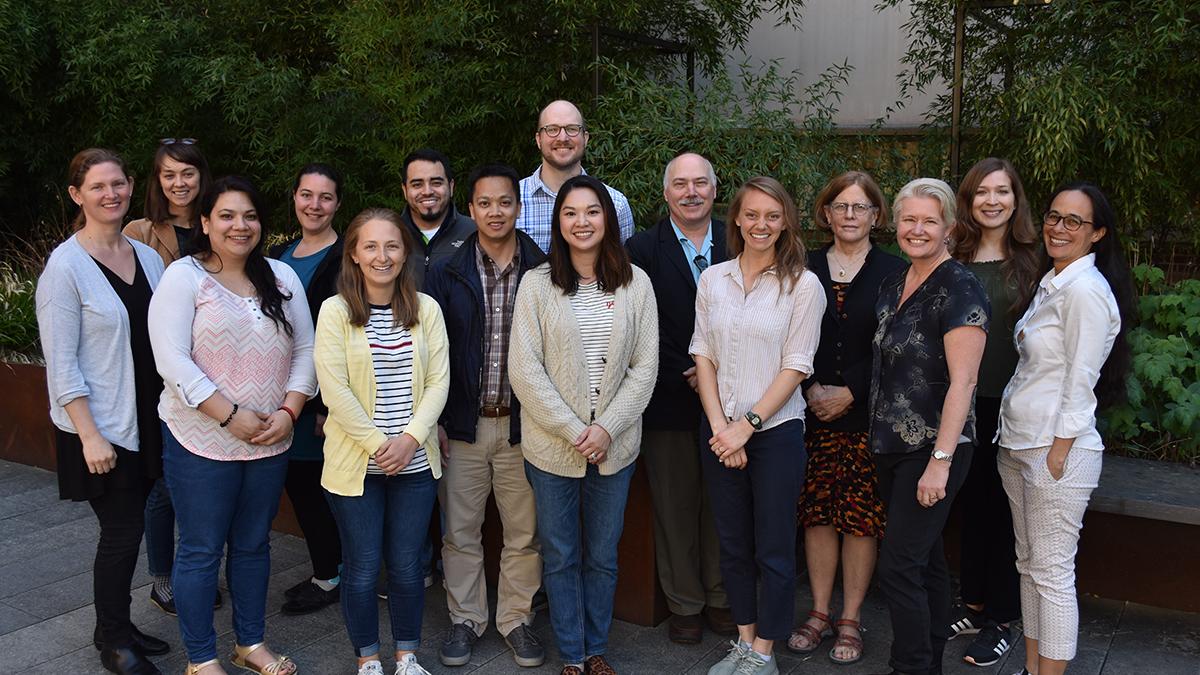 One of the primary goals of the PNASH Center is to provide opportunities for student research and mentorship. Every year, the PNASH Center is fortunate to have talented and passionate students involved in our research.
Erica Chavez-Santos, PhD Student, Health Services
Award: Harry Bridges, LERA-Bassett Scholarship in Labor Relations & ERC Trainee, Occupational Health Services Research Program
Beyond Ethnicity: Using an Intersectional Lens to Understand Factors Affecting US Latinx Farmworker's Utilization of Health Care
The purpose of my research is to further understand further our understanding of how factors such as ethnicity, gender, language, and indigenous background, are associated with access to health services for LatinX communities. 
"By highlighting the existing inequities in farmworker access to health services, I hope this work can improve health for farmworkers and other underserved, low-income communities, and communities of color." 
Marine de Marken, MPH Student, One Health
Award: Frank H. Netter MD Scholarship
Occupational Dairy Farm Exposure and the Risk of Allergic Disease
This study explores the relationship between occupational dairy farm exposure and risk of allergic disease for workers in the Yakima Valley, as measured by serum immunoglobulin E (IgE) levels. 
"The findings will hopefully shed light on the health benefits and risks of working on dairy farms, which could guide new best practice tools and interventions targeting the long-term immune health of workers." 
Solaiman Doza (Abeer), PhD Student, Environmental and Occupational Health, Oregon State University
Award: Ruth Gill-Hammond Scholarship
Risk Information System for Commercial Fishing
In this study,  existing datasets are used to estimate injury risk and risk factors in commercial fishing in the Pacific Northwest.
"The RISC project has given me the opportunity to build skills in data analysis and hazard assessment while also informing stakeholders about safety gaps to guide future prevention efforts."
Dennise Drury, MPH Student, Environmental and Occupational Health
Sexual Harassment Prevention for Farmworkers
This project developed an assessment to evaluate the effectiveness of the ¡Basta! Prevent Sexual Harassment in Agriculture training video and curriculum. 
"I'm grateful for the opportunity to learn from and work alongside researchers and agricultural community members who are committed to making a difference."
Kaitlyn Kelly, MPH Student, Environmental and Occupational Health
Award: DEOHS Outstanding Master's Student of 2020
Informing the Use of N95 Respirators and their Relative Training Materials as a Public Health Intervention for Wildfire Smoke
This study quantified the transference of knowledge from different training materials into N95 respirator fit in a convenience sample of untrained individuals to inform the communication and recommendation of N95 respirator use to reduce wildfire smoke exposure.
"This project inspired me to pursue a career in improving public health capacity to respond to wildfire smoke through evidence-based interventions and risk communication."
Shraddha Malla, BS Student, Public Health, Global Health
PNASH Northwest Contact Mapping
The purpose of this project is to visualize PNASH stakeholders and categorize them into their different specialties by mapping their address.
"This project will help the PNASH Center visualize geographic regions where more partnerships are needed to improve the health and safety of agricultural workers." 
Diana Marquez, BS Student, Public Health, Environmental Health
Evaluating the Effectiveness of Heat Stress Prevention Education on Agricultural Worker Knowledge
This study investigates the effects of a multi-level Heat Education and Awareness Tools (HEAT) educational intervention on outdoor agricultural workers' knowledge using a parallel, comparison, group intervention design.
"Working in agriculture along with my family, this study has allowed me to engage with the community I was raised in while providing education, prevention, and awareness that can increase the overall health of my community".
Pauline Trinh, PhD Student, Environmental and Occupational Hygiene
Awards: Occupational Health at the Human-Animal Interface ERC Training Fund 2020-21
Biostatistics, Epidemiology, and Bioinformatics Training in Environmental Health training grant 2017-2020
Microbiome Differences Between Dairy Workers and Community Members 
This study seeks to assess microbiome differences between dairy workers and community members to see whether working on a dairy farm is associated with microbiome changes linked to positive health outcomes such as improved respiratory function or reduced allergic inflammation. 
"This study has given me the opportunity to further develop my knowledge and skills in bioinformatics, biostatistics, and epidemiology to answer an interesting question that will shed light on whether there are positive health benefits associated with working on a dairy farm."
Eloise Zimbelman, PhD Student, Forest, Rangeland and Fire Sciences, University of Idaho
Award: ISASH Research Paper Award, Hazards in motion: Development of mobile geofences for use in logging safety. Sensors 17(4), 822. Zimbelman, E.G., Keefe, R.F., Strand, E.K., Kolden, C.A., and Wempe, A.M. (2017).
Evaluation of Wearable-based Activity Recognition Modeling Applications for Logging Safety
This project used time and motion studies to develop and evaluate smartwatch-based activity recognition models of rigging crew work activities on cable logging operations in order to improve health and safety through increased jobsite situational awareness.
"This research contributes to our long-term goal of creating activity recognition models for forestry work activities that empower workers at remote logging sites by informing real-time accident avoidance, detection and response."