We are excited to share our 'Partnership for Dairy Safety and Health' video that was released at the 2019 Washington Dairy Conference. Dairy owners and managers: please consider partnering with us in this work!
Posted by Pacific Northwest Agricultural Safety and Health Center on Thursday, December 12, 2019
Projects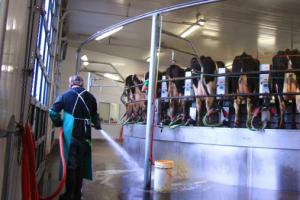 The Dairy Safety Study
The Injury and Illness Prevention in the Pacific Northwest for the Dairy Industry project will evaluate the effectiveness of different safety formats and training approaches targeted to dairy workers. The ultimate goal of the safety project is to determine which types of dairy cattle training programs have the greatest impact on dairy employee learning and safety, so we can then design dairy cattle training programs that are not only educational, but are also practical and easily accessible.
The Dairy Health Study
The Healthy Dairy Worker Study intends to measure differences in gut bacteria between dairy workers and non-dairy workers. We hypothesize that spending time on a dairy will increase the diversity of bacteria in the gut, potentially providing health benefits to workers. There is some evidence that moving away from a farm environment may have a negative impact on human health and gut microbiome diversity. Understanding how working and living on a farm positively impacts health in not currently well understood and one of the focal aspects of this initiative.
We are currently inviting interested dairy owners to learn more about cooperating on these projects with our research team. Contact us to learn more about the project.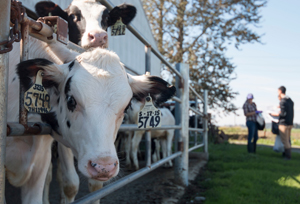 Partnership
This research represents a joint partnership between the UW Pacific Northwest Agricultural Safety and Health Center (PNASH), the UW Center for One Health Research and the WSU Department of Animal Sciences. The five-year, joint WSU-University of Washington effort.
Motivation
The need to reduce injury and provide training to dairy workers has been recognized on a national level. Various safety programs and training models (videos, novellas, and written materials) have been produced in efforts to train workers and reduce dairy injuries. However, no comprehensive data exists on adoption rates of these approaches and concerns exists from within the dairy industry that current practices do not provide the necessary training and work environment to reduce injury risk.
Previous Research in Dairies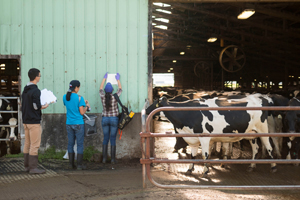 Alternative Integrated Pest Management (IPM) Strategies
In partnership with WSU Extension, we determined the effectiveness of various IPM strategies in managing flies and reducing exposure to pyrethroid insecticides. | download pdf
Dairy Farming Hygiene & Health
Created evidence based instructional brochures and training resources. | download pdf
Resources
Our list of selected resources for training dairy workers | download pdf
Workplace Safety & Health Videos for Agriculture
The best agricultural safety videos are one click away on the new YouTube channel, U.S. Agricultural Safety and Health Centers, www.youtube.com/USagCenters
Contact
Dairy Safety Study
Michael Yost, Principal Investigator 
Elena Austin, Assistant Professor
Dairy Health Study
Peter Rabinowitz, Principal Investigator
Jose Carmona, Project Coordinator