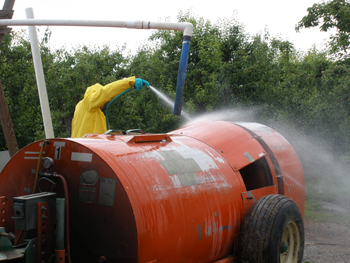 Handler cleans spray application equipment. Photo by PNASH
In the United States, the U.S. Environmental Protection Agency (EPA) estimates around 10,000 and 20,000 annual agricultural-related poisoning and injury incidents occur through skin exposure and absorption. The research on pesticide safety and health at the Pacific Northwest Agricultural Safety and Health Center (PNASH) works to address pesticide exposure for those who are most vulnerable:
Pesticide handlers (mixers, loaders, and applicators) 
Children who have an enhanced susceptibility to the uptake and toxicity of pesticides
Overall, acute poisonings in the U.S. have declined due to improved products, application practices, and case reporting; yet common poisonings still occur. Some of these common exposures happen through the off-target movement of pesticides or splashes to the eye. A growing body of evidence reveals that long-term exposure can lead to more serious health effects including neurological diseases and cancers. 
PNASH Pesticide Research
Pesticide Resources & Tools from PNASH & PEHSU
Free CME online course, Understanding Pediatric Outcomes from Pesticides and Nitrates. Through the Nortwest Pediatric Environmental Health Specialty Units (PEHSU), Dr. Catherine Karr offers information needed to understand potential risks to pediatric patients and inform clinical problem solving regarding pesticide exposure.
Practical Solutions for Pesticide Safety (Spanish and English) is a training guide for pesticide handlers and educators. It offers a collection of 24 solutions or ideas to improve safety when working with pesticides. Solutions were identified on farms and developed in partnership with farmers, educators, and researchers in Washington State.

Fluorescent Tracer Training (Spanish and English) is a tool developed for pesticide applicator safety education, training, and self-evaluation. The FT technique is a powerful method for showing pesticide contamination and for helping workers evaluate their practices and protective equipment. Quick demos and hands-on activities make learning fun and memorable.

The Pesticide Health Effects Medical Education Database assembles a diverse collection of materials useful in the training of physicians, nurses, physician assistants, and nurse practitioners. Designed to provide clinical insight into the health effects of pesticides, the core content is focused on case-based trainings covering modern day environmental health hazards, exposure scenarios, signs and symptoms, and directives for treatment of exposed populations. 

Cholinesterase Inhibition, Good Fruit Grower Magazine, 2009

Pesticide Handler Health Risks, Practical Solutions and a Safety Climate - Lessons from Washington State. Streamline, Migrant Clinicians Network, 2010 
Key Resources
Other Recommended Educational Materials
Aunque Cerca...Sano (Spanish) is a comic book on children's risks to pesticide exposure and ways to minimize these risks. Migrant Clinician's Network 
COSECHA Radio Novelas (Spanish) 6 short radionovelas intended to teach mothers living in agricultural communities how to protect themselves and their children from pesticide exposure. Center for Environmental and Children's Health
La Loteria de los Pesticides (Spanish) is a popular educational bingo game.  University of California IPM Program
Poco Veneno...¿No Mata? (Spanish) is a pesticide related comic book. Migrant Clinician's Network
Protect Yourself from Pesticides - Guide for Agricultural Workers (Spanish and English) is a worker's educational guide on the Worker Protection Standard (WPS). U.S. Environmental Protection Agency
WPS Jeopardy is a bilingual game (Spanish and English) is an easy and fun way to reinforce pesticide safety training. Washington State University's Pesticide Education Program. 
Download and create your own copy: