Marcy Harrington, MPA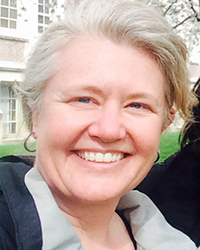 Program Manager, Co-Evaluation Lead
PNASH Center
Marcy Harrington is a founding member and manager of the Pacific Northwest Agricultural Safety and Health (PNASH) Center, based at the University of Washington School of Public Health. Ms. Harrington holds a B.S. in Forestry and Masters in Public Affairs and brings her passion for forestry and rural communities to PNASH Center's injury prevention research and communications. 
Ms. Harrington has worked across Northwest farming, fishing, and forestry industries to identify and respond to regional safety priorities. she has worked on projects spanning issues of logging safety, forestry services, pesticide exposure, heat illness, and ladder injuries. PNASH's mission holds special meaning to her coming from a family that landed in the NW as migrant farmworkers and found their later careers in forestry.  
As Center Manager, Ms. Harrington is responsible for center operations including grant and fiscal management, strategic planning, program monitoring, and communications.She has a special interest in participatory processes, evaluation and the translation and transfer of research. She has worked across the national NIOSH funded Agricultural Centers in the dissemination and evaluation of multi-center iniatives. She also works on projects to identify regional stakeholder issues and priorities, and as a product of these efforts, developed research agendas that have guided safey and health research for farming, fishing and forestry.
Department of Environmental and Occupational Health Sciences
Address
UW Box 351618
Seattle, WA  98195-7234
Telephone
(206) 685-8962
Email
marcyw@uw.edu
Projects
Administrative and Planning Core
Education
Outreach Program
Evaluation Program
Safety and Health of Latino Immigrant
Forestry Services Workers in the Pacific Northwest
Education
MPA, Public Affairs, University of Washington 2001
BA Forestry and Wildlife, University of Washington 1995