Marcy Harrington, MPA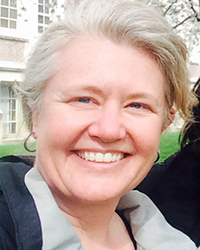 Program Manager, Co-Evaluation Lead
PNASH Center
For the past 19 years Ms. Harrington has administered the Pacific Northwest Agricultural Safety and Health Center. Her responsibilities include all aspects of center operations including grant and fiscal management, strategic planning, program monitoring, and communication activities and media production. She currently sits on the PNASH Internal Advisory Committee, and is a member of the NIOSH NORA Forestry Council (affiliate), member of the NIOSH Agricultural Center Evaluation Team, and the Outreach Committee for the UW Department of Environmental and Occupational Health Sciences. Ms. Harrington also is the editor of the Northwest Forest Worker Safety Update.
Ms. Harrington has a special interest in participatory processes, evaluation and the translation and transfer of research. She has worked across the national NIOSH funded Agricultural Centers in the disseimation and evaluaiton of multi-center iniatives. She also works on projects and  with the Northwest farming, fishing and forestry industries to identify regional stakeholder issues and priorities, and as a product of these efforts, developed the Occupational Research Agenda for Northwest Farming and the Occupational Research Agenda for Northwest Forestlands.
She has served as the lead coordinator for the academic and stakeholder events: the University of British Columbia and University of Washington Environmental and Occupational Health Conference in 1998, the Farm Summit in 1998, Pacific Northwest Agricultural Safety and Health Center's investigator forums and stakeholder meetings in 1999, 2003, 2006, 2010, the Forest Safety Workshop in 2000, farm and pesticide safety continuing education courses from 2002-2007, and Western Regional Agricultural Safety and Health Conferences in 2002, 2004, and 2008.
Projects
Administrative and Planning Core, Education, Outreach Program, Evaluation Program, Safety and Health of Latino Immigrant Forestry Services Workers in the Pacific Northwest
Education
MPA, Public Affairs, University of Washington 2001 BA Forestry and Wildlife, University of Washington 1995
Department of Environmental and Occupational Health Sciences
Phone Number
(206) 685-8962
Address
UW Box 357234
Seattle, WA 98195-7234