The Academy for Teaching About Health and Environment Associations (ATHENA)
Go to: Project Background | First Cohort 2011-12 | Second Cohort 2012-13 | Third Cohort 2013-14 | Fourth Cohort 2016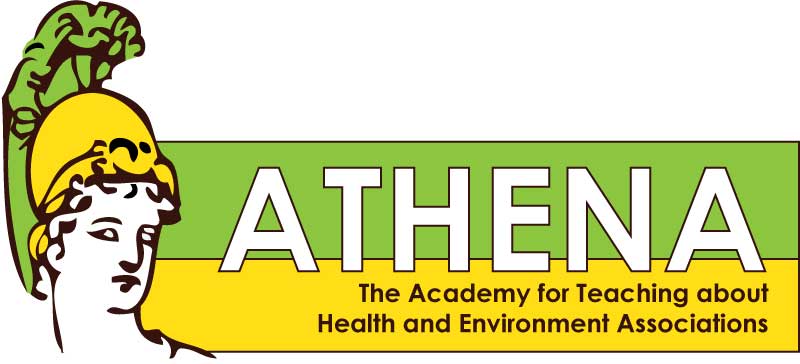 Project Background
The ATHENA project is funded and managed by the National Institute of Environmental Health Sciences UW Center for Exposures, Diseases, Genomics, and Environment (EDGE). The overarching purpose of the ATHENA project is to improve secondary education across Washington State by infusing the curriculum that is currently presented in high schools with environmental and occupational health sciences (EOHS) related concepts and content. Central to ATHENA's success (which includes conceptualization, teacher recruitment, training and communication support) are veteran teachers Jay Young and Nancy Sedlacek who have worked with the EDGE teacher education efforts since 1998.
With support from the UW Department of Environmental and Occupational Health Sciences (DEOHS), EDGE outreach staff hosted a workshop in the summer of 2010 that trained high school science, health, and career and technical education teachers in the core concepts of EOHS. Participating teachers attended workshops to gain the necessary knowledge and skills for helping their students better understand the health risks posed by environmental hazards, including those found in the workplace. We also gave teachers the skills and resources to empower students to make individual and collective behavior changes to protect themselves and their communities from environmental hazards. By the start of the 2014-15 school year the Academy had worked with three distinct cohorts of educators on environmental health science. Environmental Health lessons are being taught in high schools across Washington State. In 2015, teachers from the second cohort (described below) presented their ATHENA and environmental health classroom activities at the SHAPE America National Convention and Expo for Health and Physical Educators.
The ATHENA project directly responds to the Washington state legislature's mandate for universities to serve the community and supports the goals of the UW School of Public Health to promote population health through education and service.
First Cohort  2011-12
This in-depth workshop series immersed high school teachers in the fascinating and highly relevant field of environmental and occupational health sciences. It was not intended to promote any particular curriculum, but rather to stimulate participants' thinking, deepen their content knowledge, and promote creative scientific inquiry.
Our first cohort of 23 teachers from around Washington State completed the two-part workshop in May of 2011. Part 1 took place over three days in August of 2010, then the teachers returned to their classrooms and designed and implemented new units based on what they had learned. In May 2012, they returned for a follow-up session to share their successes with one another and UW faculty and staff. For the May session, the program provided support for travel, lodging, some meals, a modest stipend, and reimbursement for substitute teachers. Clock hours or UW credit were available upon completion of the workshop. The ATHENA pilot project was supported in part through a two-year, one-time award from the UW Department of Environmental and Occupational Health Sciences.
The 2010-11 Teacher's Guide is available for free! (View/Download the PDF, 1.43 MB).
Second Cohort  2012-13
During the 2012-13 academic year, we partnered with the Bellevue School District's high school health teachers. This dedicated group of educators is in the process of revising their curriculum and generously agreed to participate in ATHENA in order to include more environmental health related content in their teaching. In order to tailor the experience to their unique needs as health teachers, we worked with Laughing Crow Curriculum to revise the workshop materials and align them with the Essential Academic Learning Requirements for health. This resulted in the development of a series of five modules that introduce core concepts of environmental health through three main health tracks: nutrition, drugs, and family and societal issues.
The 2012-13 workshop agenda is available for free download:  View/Download the PDF
Third Cohort  2013-14
During During the 2013-14 school year ATHENA high school health teachers in the Bellevue School District continued their partnership with the EDGE Community Outreach Ethics Core staff, creating, improving, and testing classroom activities. Departmental graduate students visited Bellevue health teacher's classes to lead a classroom activity. Portions of the district teacher planning days were dedicated to creating a district–wide vision that included core concepts of environmental health sciences. To support the goals of this partnership, the EDGE provided funding for a two-day intensive Environmental Health (EH) Unit Development Workshop held in June 2014. This workshop included collaborative curriculum mapping and working with DEOHS professors on specific areas of science content areas. The Bellevue School District team developed and adapted existing health lessons in: Food and Nutrition; New Technologies; and Personal Care Products. The ATHENA staff and Bellevue teachers finalized the educational materials the teachers would introduce to their Bellevue students during the 2014-15 school year.
This Bellevue cohort also worked with ATHENA staff and departmental faculty to train a new group of health teachers in August at the ATHENA-2014 workshop, becoming the third ATHENA cohort. The ATHENA-2014 workshop modeled a train-the-trainer methodology. Six health teachers from Central Washington high schools worked with EDGE veteran teachers Jay Young and Nancy Sedlecek, UW environmental health researchers, mentor teachers from the Bellevue District, and EDGE graduate students and staff. The new cohort was introduced to environmental health sciences concepts and explored the health lessons co-developed by the Bellevue health teachers. In the 2014-15 school year, students from six new schools from Central Washington were introduced to environmental health sciences concepts. In addition, an environmental health curriculum developed as part of the ATHENA program was piloted in Bellevue classrooms and is being presented for adoption in the Bellevue School District health curriculum.
Two one-page handouts, the Story of ATHENA and Participate in ATHENA, summarize the ATHENA project.
The ATHENA Environmental Health lessons for Health classes are available for free download under Engagement: Educator Resources.
Fourth Cohort 2016 
The 2016 ATHENA summer teacher workshop was held August 2-3, 2016 at the University of Washington. Twenty Health and Career and Technical Education (CTE) teachers from Washington state learned some ways our environment affects our health, how to better protect ourselves from environmental exposures, and how to teach students ways to better protect themselves. The workshop provided curriculum and resources to use in the classroom. Content and resources in the ATHENA Teacher Workshop supported Secondary Health Grade Level Standard 3.0, The student analyzes and evaluates the impact of real life influences on health, and Standard 3.1, Understands how family, culture and environmental factors affect personal health.
For more information contact Marilyn Hair at 206 685-8244 or marhair@uw.edu. The ATHENA curriculum can be downloaded here: ATHENA Educator Resources
Schedule

 for August 2-3, 2016 ATHENA Teacher Workshop