New art installation in Washington features trusted community members sharing how wildfire smoke affects their health—and how they cope
In Washington's Methow Valley, summer also goes by another name.
Some locals call it the "fifth season," when smoke from wildfires blankets North Central Washington for weeks or even months at a time.
A new multimedia art installation in Winthrop aims to build awareness of the health impacts of wildfire smoke, especially among vulnerable people including children, elders, pregnant people and people with pre-existing conditions.
The Fifth Season project features seven life-sized portraits of community members paired with a listening station where visitors can hear each person tell the story of their experiences with wildfire smoke.
Installation at the Winthrop Public Library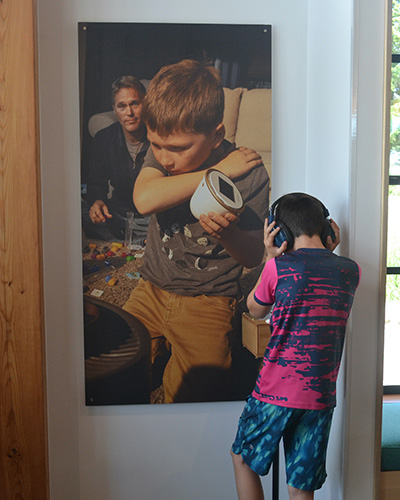 There's a portrait of the Godwin family, who developed strategies to reduce their family's smoke exposure to protect Colm (age 8), diagnosed with asthma when he was a baby.
Another features Kathy Moses, public information officer with the Confederated Tribes of the Colville Reservation. Moses's job often puts her outside during wildfire events, updating community boards to keep firefighters safe as cell phone towers go down. Her health has suffered as a result, but she sees this as part of her service to community.
The art installation inside Winthrop's new public library is a collaboration between Clean Air Methow (CAM) and the UW Interdisciplinary Center for Exposures, Diseases, Genomics & Environment (EDGE). EDGE is part of the UW Department of Environmental & Occupational Health Sciences (DEOHS).
CAM Director Liz Walker and Nicole Errett, DEOHS assistant professor and EDGE's director of community engagement, developed the idea to communicate public health messages about the effects of wildfire smoke and methods for reducing exposure.
Encouraging new behaviors to reduce exposure
Breathing in tiny pollution particles can lead to a range of serious health issues. For those with underlying health conditions, it can lead to increased hospitalizations and deaths.
Some local residents are distrustful of messaging that comes from governments and academic institutions. Walker and Errett hatched the idea to feature the voices of diverse community members to relay those public health messages.
A key goal is to promote the adoption of behaviors that reduce smoke exposure, such as shutting doors and windows and using an air purifier indoors as well as checking outdoor air quality by using the Purple Air monitoring network.
Telling their stories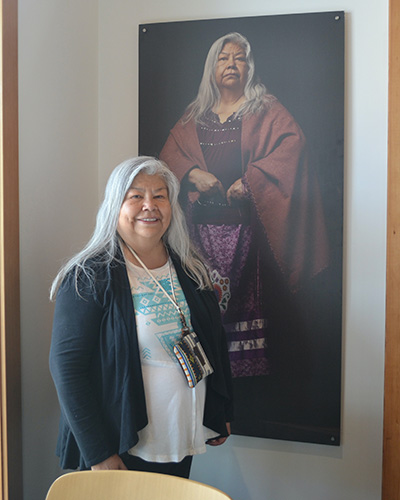 Other community members featured are:
Laura Rivera and Alma Chacon with the Community for the Advancement of Family Education (CAFÉ) in Wenatchee. Rivera and Chacon teach community members about the risks of wildfire smoke exposure and advocate for environmental justice.
Tom Venable, the superintendent of the Methow Valley School District. It's his responsibility to protect students from the harmful health effects of wildfire smoke while they are at school or are playing school sports.
Soo Ing Moody, mayor of Twisp. She learned the basics of coping with wildfire while on the job during the huge Carlton Complex Fire of 2014. Since then, she has developed a strategy that is, as she puts it, "part prevention and part preparedness."
Dr. James Wallace, a family doctor who serves people across Okanogan County. He sees a range of physical and mental health concerns during wildfire and smoke events and has suggestions for protective interventions.
Cody Desautel, natural resources division director with the Confederated Tribes of the Colville Reservation. Desautel has a long career in fire management and forestry in North Central Washington. He understands the historical context of fire in the region dating back to a time when there were significantly more Indigenous inhabitants in the area.
Albert Isensee, Okanogan County resident. A small plaque at the installation commemorates Isensee, who was interviewed for the project in 2021 but died before his portrait could be taken. Isensee suffered from multiple cardiovascular and respiratory conditions that increased his vulnerability to smoke, but he had no plan to leave Okanogan County, where he had lived since childhood.
Lisa Hayward Watts, EDGE's community engagement manager, worked with Errett, Walker, community members, local artists and others to develop the project.
The portraits were made by photographer and Winthrop resident Ryan Bell. The listening stations were created by Robb Kuntz of Seattle. Audio stories for the project were created by Rachel Miller-Howard, a graduate of the UW Communication Leadership Program. The project was supported by funding from the National Institute of Environmental Health Sciences (Grant #: P30ES007033), the Washington Department of Ecology, the UW Population Health Initiative and UW EarthLab.