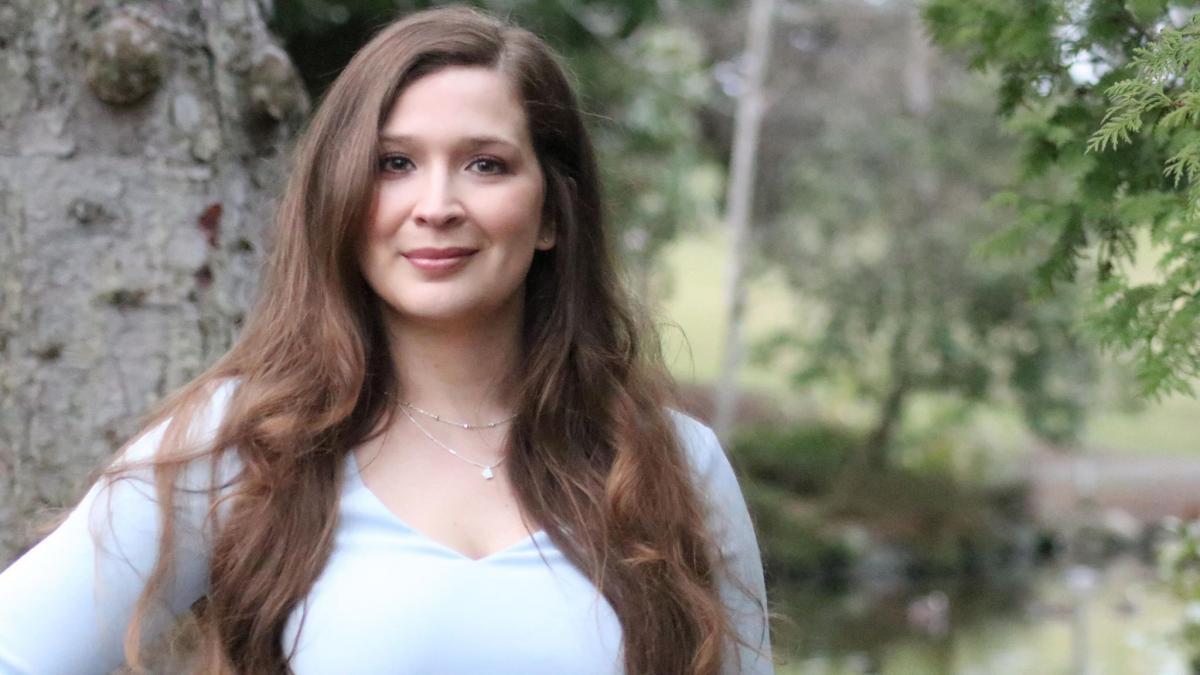 DEOHS MPH student and outreach specialist Dennise Drury tackles sexual harassment in agriculture
In her free time, Dennise Drury loves playing volleyball, basketball and soccer. She's just as multifaceted when it comes to public health pursuits.
As outreach and education specialist for the Pacific Northwest Agricultural Safety and Health (PNASH) Center in the UW Department of Environmental & Occupational Health (DEOHS), Drury develops resources for farmworker health and safety. Meanwhile, as an MPH student in the department, she is advancing a key program to combat sexual harassment in agriculture and evaluating its impact in workplaces.
Drury, a Latina who grew up in El Paso, Texas, began studying environmental science in college at the University of Texas at El Paso. But something was missing: she didn't feel a strong connection between her research and its impact on people's lives.
After graduation, she worked as a substitute teacher and at a nonprofit, but it was only when she moved to Seattle in 2017 and began working at PNASH that found her passion.
"I love public health: it's like problem solving for the public good," Drury said. "I was immediately drawn to PNASH, because they were working with communities who have historically been underserved and marginalized, and who need a lot more systemic solutions to address environmental and occupational health disparities."
Stopping sexual harassment in the fields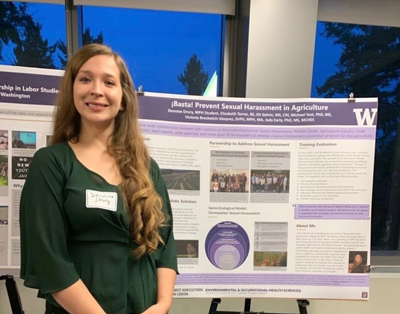 Drury was inspired by PNASH researchers' partnership with farmers, growers and others to address sexual harassment in agricultural workplaces. The team has developed a free toolkit in English and Spanish called ¡Basta! Prevent Sexual Harassment in Agriculture, including training videos, posters and other materials. She began contributing to the ¡Basta! outreach campaign by developing promotional materials including posters and social media.
"One thing I really love about working for PNASH is that they have always given me room to do what I am passionate about," she said.
The path to an MPH
As her involvement in the project grew, Drury decided to pursue an MPH in DEOHS, with strong encouragement from Michael Yost, DEOHS professor and chair and director of PNASH, who is now her advisor.
"We had some great conversations about how environmental and occupational determinants of health are huge—in terms of quality and length of life," she said. "I realized that by getting this education I could help get information into the hands of people who can make better decisions for communities that need to be protected."
"Dennise provides an important bridge between our researchers and our community partners," Yost said. "During the pandemic her skills as a communicator, translator and visual designer have helped propel our efforts to provide accurate and timely information to our partners."
Crafting authentic resources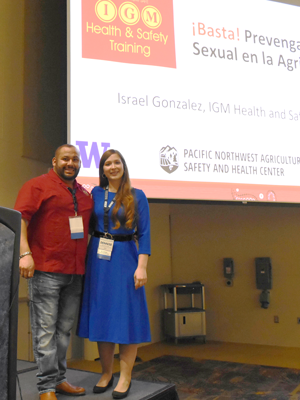 As part of her MPH, Drury developed training guides for ¡Basta! and helped deliver a training in collaboration with a health and safety trainer. She recently worked with UW Associate Professor Jody Early and artist Myra Lara to develop comics in English and Spanish to add to the toolkit.
To create an authentic portrait of workplace harassment for the comic, she and collaborators met regularly with a group of Latina women farmworkers from the community-based research project El Proyecto Bienestar, who shared their experiences.
"We wanted people to see themselves or their coworkers in these stories—for them to say, 'Okay, this is what actually happens to me and now I concretely know that it's wrong, and these are the avenues in the workplace and community I can turn to for support,'" Drury said.
Evaluating the ¡Basta! training
For her MPH thesis, Drury evaluated the ¡Basta! program by surveying workers before and after they received the training to divine what they had learned about sexual harassment.
She found that overall, workers' understanding of harassment and how to address it significantly improved after completing the program. However, there were still critical knowledge gaps, indicating that workers may need more in-depth support and training.
"Dennise has balanced her work on the PNASH outreach staff with her research interests in addressing a key training need for agricultural workplaces," Yost said. He praised her systematic, multifaceted approach to evaluating the training and her efforts to deliver effective interventions.
Life-changing benefits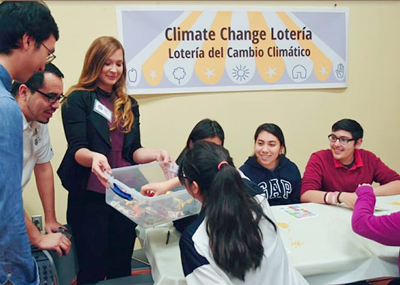 As the first in her family to attend a university, Drury credits her mother, who worked at the University of Texas, with helping to demystify the academic landscape. In particular, her mother encouraged her to pursue the tuition exemption program offered to staff members at UW, which helped make Drury's dream of graduate school a reality.
"I feel honored to be able to use that resource," she said. "It's a life-changing benefit." Drury also values guidance from DEOHS advisers Trina Sterry and Christine Tran on navigating the nuances of graduate school, and the supportive, collaborative environment of the PNASH Center.
"I think that's why I've learned a lot, a lot sooner than I thought I would—because I've been able to stand on the shoulders of giants," she said.
Community-empowering research
After she graduates this spring, Drury plans to continue her work for the PNASH Center. She's excited about developing new resources for farmworkers and working with public health and community advocates to improve agricultural workplace policies.
"I'm inspired by how the culture of academia is changing to include communities more and center them, with more equal partnerships," she said. "It makes me feel like, this is the work I need to be doing right now."
Author byline: Deirdre Lockwood is a communications specialist for DEOHS