NWCOHS occupational medicine trainee attends the 2022 Northwest Association of Occupational and Environmental Medicine annual conference
December 15, 2022
Dr. Britt Millard-Hasting recently attended the annual conference of the Northwest Association of Occupational and Environmental Medicine (NAOEM) in Vancouver, British Columbia at the end of October.  Millard-Hasting is a second year Occupational and Environmental Medicine Masters of Public Health student and a trainee in Occupational Medicine Residency program, supported by the Northwest Center for Occupational Health and Safety.
NAOEM, comprised of clinical and academic members from the United States and Canada, organized a robust schedule with focused sessions on musculoskeletal examinations and administrative controls. The conference also included a site visit to the Richmond Steel Recycling facility in Vancouver.
Connecting the conference and the classroom
During the site visit to Richmond Steel, Millard-Hasting recalled her experience last year in Department of Environment and Occupational Health Sciences (DEOHS) Teaching Professor Martin Cohen's recognition of health and safety problems in industry course. As part of the course, students visited work sites, including a steel foundry, to apply the skills of hazard identification and assessing controls.
"The course introduced me to the fundamental patterns of the field," Millard-Hasting explains. "The pattern by which a small foundry in Seattle would receive recycled steel from Canada, create the parts that would become the light rail, which will carry workers back to that foundry where the excess and erroneous cast steel would be sent back to Richmond Steel for reintroduction to the system of work."
Millard-Hasting appreciates how attending conferences such as NAOEM improve her understanding of the complexity of hazards that workers face and reinforces the responsibility society has to mitigate those risks. "Experiences like these are invaluable to understand the state of inquiry in the field," she reflects, "and to build connections between academic work and real-world application."  
She says that participating in conferences and building connections with others provides her more tools to improve outcomes for workers. "I cannot forge the steel, but I can help the steel forger learn how to heal after injury."
Path to worker health and safety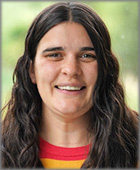 Millard-Hasting grew up in Portland, Oregon and studied primatology and sign language at the University of Oregon. She later returned to Portland for medical school at Oregon Health and Science University and then spent 8 years in the military. She choose to pursue occupational and environmental medicine "because it encourages thinking about a person in context, not defined by their symptoms."
Current research
Millard-Hasting is currently working on public health response planning for Ukraine. The team is evaluating existing public health emergency response plans to identify gaps, priority items for local stakeholders, and necessary resources.
Her specific role is to develop sexual violence response guidelines, including medical and psychological interventions. She is also focusing on the role of evidence collection, storage and prosecution of sexual assaults as war crimes.
In 1998, Article 7 of the Rome Statute established sexual violence as criminal in International Criminal Court (ICC). However, the ICC has prosecuted very few cases and limited legal precedence is available. As of 2021, the ICC has only procured a single final conviction for sexual crimes in conflict areas.
Cover photo: Adobe Stock DedMityay, #430692253.