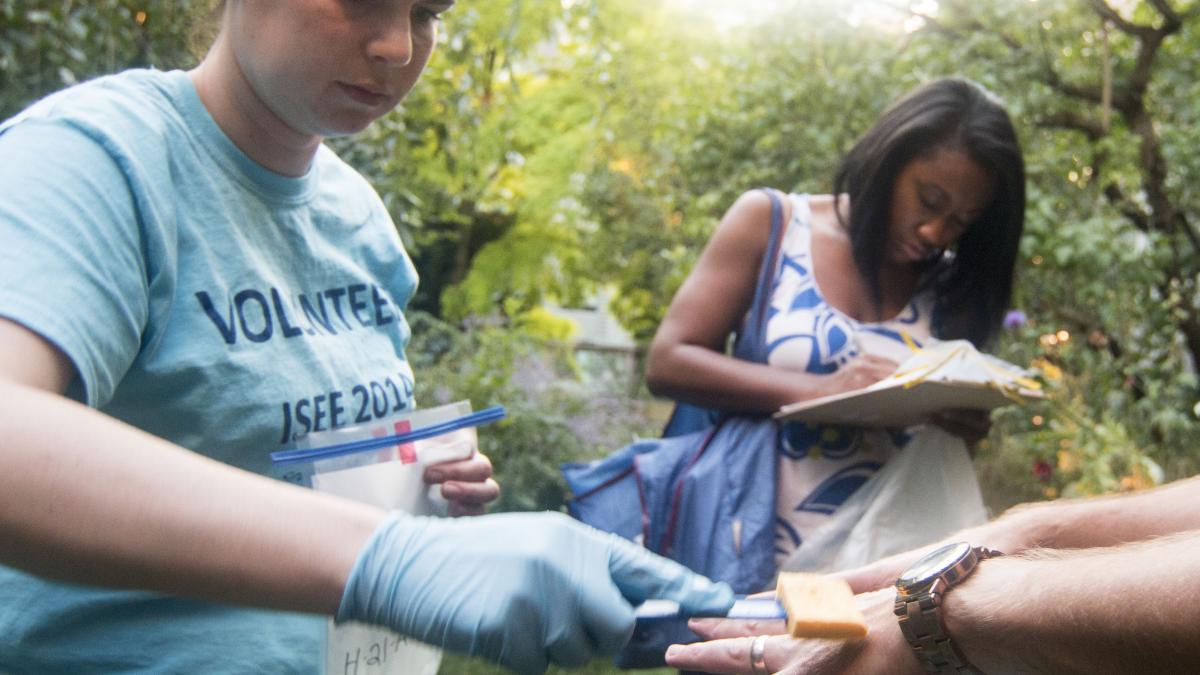 Grants for research on worker health and safety
We are now accepting applications for 2021-22 awards. Please review the Request for Applications (RFA) and submit your application online by August 23, 2021 11:59pm. 
The Professional Training Opportunities Program (PTOP) through the Northwest Center for Occupational Health and Safety offers small grants for research projects and activities that address worker health or safety.
Applicants are welcome from any discipline or field of study, including students earning associate's degrees as well as undergraduate, graduate or post-doctorate degrees. Applications are also welcome from nonprofit staff and employees at organizations interested in developing expertise in occupational health and safety.
Grants of no more than $10,000 (including direct and indirect costs) will be made to support:
(1) A research project or demonstration.
(2) An internship or other learning experience.
(3) An activity or program.
All proposals must address health and/or safety issues in the workplace or for working populations.
2020-2021 Projects
Sex Differences in Acute Pesticide Poisoning Among Agricultural Workers in the Pacific Northwest
Boise State University
Awardee: Meredith Spivak
Mentor: Dr. Cynthia Curl
Enhancing Vital Practice in a School of Nursing
University of Portland School of Nursing
Awardee: Amber Vermeesch
Mentor: Dr. Barb Braband
A Qualitative Analysis of Decision Making and Research Utilization Among Firefighters
Oregon Health & Science University
Awardee: Shelby Watkins
Mentor: Dr. Nicole Bowles
Seattle COVID-19 Oral History Project
University of Washington
Awardee: Wendi Zhou
Mentor: Dr. Yasmin Ahmed
2019-2020 Projects
Assessing Worker Satisfaction with PFDs in the Bristol Bay Salmon Gillnet Fishery
Alaska Marine Safety Education Association
Awardee: Heather Brandon
Mentor: Jerry Dzugan
This project will distribute a survey to 71 Bristol Bay gillnet salmon fishermen who were provided with two novel, wearable types of Personal Flotation Devices (PFDs) to utilize during the 2019 fishery season. The survey will ask whether the PFDs were worn during work and what factors contributed to that decision as a step to determine successful elements of a potential larger program in the future. 
Vocational Health Internships at Iḷisaġvik College
Iḷisaġvik College
Awardee: Caitlin Walls
Mentor: Emily Gueco
Iḷisaġvik College proposes to expand its vocational student internships in health and safety via this project, supporting 2-3 interns in health and safety fields.
Policy Analysis of Worker Health and Safety: Best Practices for Public Sector Employees Exposed to Wildfire Smoke During Work
University of Washington
Awardee: Alexa Yadama
Mentor: Dr. Tania Busch Isaksen
The goal of this study is to collect and analyze existing public sector policies for outdoor work conducted during wildfire smoke events; conduct key informant interviews to inform gaps in existing policies at the local and state level; and develop a policy template for municipalities to use to protect outdoor public sector workers during wildfire smoke and poor air quality events.
Examining Psychological Health Among Oregon Migrant & Seasonal Farm Workers
Portland State University
Awardee: Megan Snoeyink
Mentor: Dr. Larry Martinez
The proposed research aims to identify the work and health outcomes among migrant and seasonal farmworkers (MSFW). Semi-structured interviews will be conducted in collaboration with a local community partner to determine mental health outcomes resulting from working in a dangerous occupation. Results are expected to benefit the target population and a local organization, and inform future research efforts.
2018-2019 Projects
Characterizing and Communicating Lessons Learned from Agricultural Pesticide Misuse Investigations in Idaho
Boise State University
Student: Rachel Phinney
Mentor: Dr. Cynthia Curl
Assessment of Whole-Body Vibration and Work-Related Injury Burden Within a Public Works Department
Oregon State University
Student: Stephanie Fitch
Mentor: Dr. Jay Kim
Rural Alaska Native Utility and Construction Worker Injury Prevention Project
Alaska Native Tribal Health Consortium
Student: Chris Fish
Mentor: Dr. Noah Seixas
Rethinking Rural: Seed. Root. Work
Rural American Digital Lab (RADLab)
Student: Aurora Martin
Mentor: Nancy Simcox, MS
Check out the video developed for this project: Seed. Root. Work. 
Strategies for Addressing Occupational Health Hazards at the Workplace for Formerly Incarcerated Workers
FIGHT (Formerly Incarcerated Group Health Together)
Student: Jamie Wong
Mentor: Dr. Bill Daniell