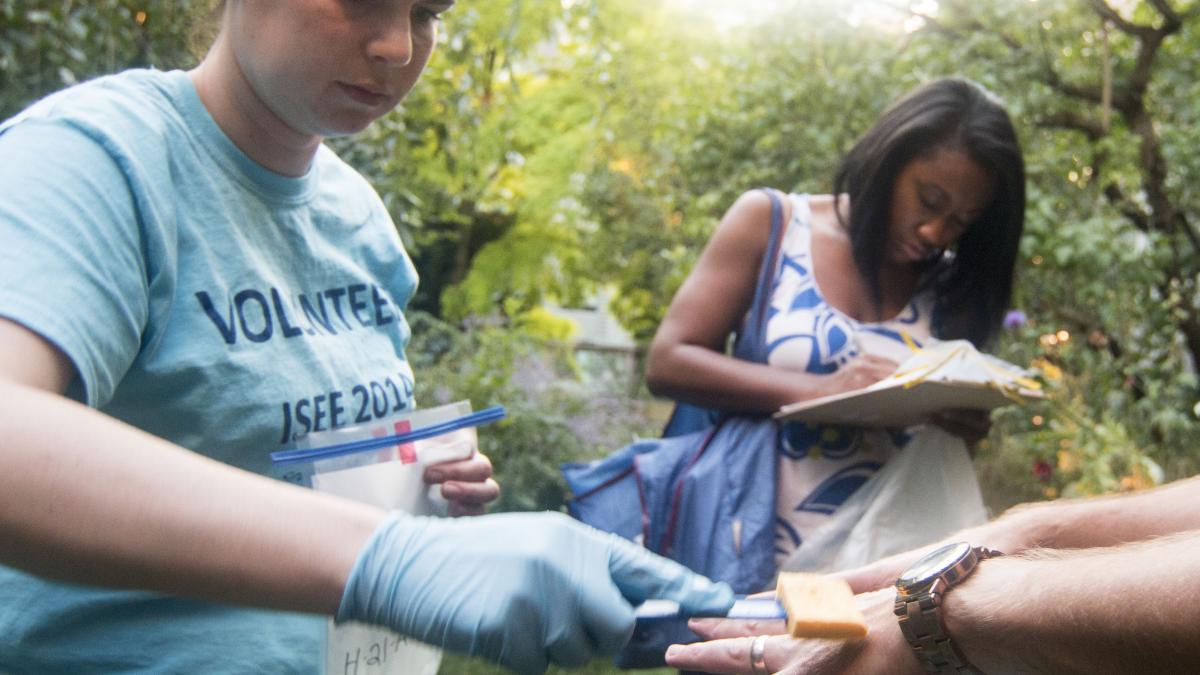 Grants for research on worker health and safety
Applications for 2022-2023 Professional Training Opportunities Program (PTOP) funding are now closed. Applications for 2023-2024 funding will open in May/June 2023 for the August 2023 deadline. 
The Professional Training Opportunities Program (PTOP) through the Northwest Center for Occupational Health and Safety offers small grants for research projects and activities that address worker health or safety.
Applicants are welcome from any discipline or field of study, including students earning associate's degrees as well as undergraduate, graduate or post-doctorate degrees. Applications are also welcome from nonprofit staff and employees at organizations interested in developing expertise in occupational health and safety.
Grants of no more than $10,000 (including direct and indirect costs) will be made to support:
(1) A research project or demonstration.
(2) An internship or other learning experience.
(3) An activity or program.
All proposals must address health and/or safety issues in the workplace or for working populations.
2022-2023 Projects
Examination of a firefighter's work schedule on sleep regularity and performance
Oregon Health & Sciences University
Awardee: Aanuoluwakiitan (Aanu) Ayeni
Mentor: Dr. Nicole Bowles
This project aims to examine Portland Fire and Rescue (PF&R) firefighters' sleep-wake rhythms on two different work schedules - 24h on and 48h off (24/48) and 1 day on/3 days off/2 days on/3 days off (1/3/2/3) - and determine how measures of sleep regularity and vigilance vary by schedule design. The results from this study will be used to assist Portland Firefighters Association and PF&R bureau in making an informed decision regarding shift schedule choice for their firefighters, as well as station- or call volume-specific schedule decisions in 2023.
Evaluating work-associated injuries among self-employed and wage-salaried agriculture, forestry, and fishing workers to identify injury burden and prevention opportunities
Oregon State University
Awardee: Solaiman Doza
Mentor: Dr. Viktor Bovbjerg
Self-employment may pose a high nonfatal injury burden in the agriculture, forestry, and fishing (AgFF) industry and should be explored to inform prevention efforts. Our proposed research will compare the nonfatal injury burden between self-employed and wage or salaried AgFF workers. The findings will underscore the potential contributing factors and dominant injury types affecting the two AgFF worker groups. 
Measuring Safety and Health Risks at Yakima Valley Packing Houses
Fair Work Center
Awardee: Gabriel Gutierrez
Mentor: Julia Coburn
This project will study health and safety issues experienced by Yakima packing house workers as well as related gaps in enforcement, post-injury care and workers' ability to report hazards.
Examination of Glyphosate Exposure Among Latinx Farmworkers in Idaho 
Boise State University
Awardee: Dr. Carly Hyland
Mentor: Dr. Cynthia Curl
Farmworkers face numerous occupational threats to their health, including exposure to  synthetic pesticides such as glyphosate, a broad-spectrum herbicide that has been linked  to adverse health outcomes such as cancer and pre-term birth. The goal of this proposal is  to investigate how factors such as pesticide risk perceptions, workplace conditions, and  pesticide safety training influence glyphosate concentrations in urine samples collected  from 62 Latinx farmworkers in Idaho, and whether these factors vary by gender. This  study would minimize data gaps regarding occupational determinants of glyphosate exposure, information that is necessary to protect and advance worker health.
Employer Perspectives on Wildfire Smoke Hazards in the Agricultural Workplace 
Washington State University
Awardee: Molly Parker
Mentor: Dr. Julie Postma
Using mixed methods this research activity addresses climate change, worker health, and environmental justice by exploring employer perspectives on monitoring air quality and communicating hazards in the agricultural workplace. Interviews with employers and stakeholders inform the development of a survey tool to evaluate understanding and implementation of emergency health and safety rules. Survey results will characterize factors associated with the likelihood of agricultural employers taking actions to protect workers from wildfire smoke exposure and inform employer/employee training and permanent rulemaking.
2021-2022 Projects
Increasing High School Teachers Understanding of Pain, Substance Addiction, and Healthy Self-Care
Sol4ce
Awardee: Dr. Winston Kennedy
Mentor: Sharna Prasad
The purpose of the project was to support teachers who may need additional support, knowledge, or resources and to begin to disrupt the trend of increased substance misuse that has been exacerbated by COVID-19 in Oregon. To address this purpose, the project's goal was to implement a curriculum for teachers in Oregon that educates them on pain, substance misuse and healthy self-care, while gaining feedback on how to improve the training.
Reducing Burn Injuries Among Student Food Service Employees at Oregon State University
Oregon State University
Awardee: Pemika Kruearat
Mentor: Dr. Sarah Rothenberg
This project investigated preferences between heat-resistant sleeves among Oregon State University dining hall workers. 
Promoting Compassion Fatigue Resiliency in Animal Research Facilities The North American 3Rs Collaborative
The North American 3Rs Collaborative
Awardee: Megan LaFollette
Mentor: Dr. Sally Thompson-Iritani
The North American 3Rs Collaborative developed a compassion fatigue resiliency start pack for animal research institutions that includes interactive webinars, informational packets, physical poster, advice on committee formation/budgets/timelines, and virtual research hub. This starter pack is currently being piloted by 7 diverse institutions and formally evaluated via a longitudinal survey. Results from initial surveys indicate that beyond compassion fatigue specific resources, changing institutional culture, and providing general mental health resources are important to employees. 
Experienced and Witnessed Sexual Harassment in the Restaurant Industry Portland State University
Portland State University
Awardee: Fernanda Wolburg Martinez
Mentor: Dr. Charlotte Fritz
This study aims to examine the impact of sexual harassment on female employees in a restaurant setting. Specifically, this study will explore: the changes in the mental health of food servers due to experienced or witnessed sexual harassment, how a supportive organizational climate can buffer the effects of sexual harassment on the server's mental health, and whether the coping strategies implemented as a response to harassment are effective in improving the employee's mental health. 
Promoting On-Farm Dairy Safety Through Deployment of Worker Training Resources in Washington and Oregon
Washington State Dairy Federation
Awardees: Scott Dilley and Tami Kerr
Mentor: Dr. Elena Austin
Animal agriculture includes inherent safety risks, and the best way of approaching and mitigating for these risks is through proper employee training and awareness. Compensable claims data from L&I suggest room for improvement, especially for livestock-handling injuries, back and eye injuries, and slips and falls. Our objective is to launch a convenient, proven, on-farm training opportunity for dairy workers.  
2020-2021 Projects
Sex Differences in Acute Pesticide Poisoning Among Agricultural Workers in the Pacific Northwest
Boise State University
Awardee: Meredith Spivak
Mentor: Dr. Cynthia Curl
This study investigated if women farmworkers in Idaho and one state participating in the NIOSH Sentinel Event Notification System for Occupational Risks (SENSOR)-Pesticides program are at an increased risk of acute occupational pesticide poisonings compared to men farmworkers. 
Enhancing Vital Practice in a School of Nursing
University of Portland School of Nursing
Awardee: Amber Vermeesch
Mentor: Dr. Barb Braband
A Qualitative Analysis of Decision Making and Research Utilization Among Firefighters
Oregon Health & Science University
Awardee: Shelby Watkins
Mentor: Dr. Nicole Bowles
Seattle COVID-19 Oral History Project
University of Washington
Awardee: Wendi Zhou
Mentor: Dr. Kim England, Yasmin Ahmed
The Seattle COVID-19 Oral History Project (SCOHP) is a collaborative research project dedicated to collecting the stories of frontline workers and labor organizers whose lives have been impacted by COVID-19. The project's end result is the creation of a publicly accessible oral history archive featuring various narrated accounts of the effects of the pandemic on individuals and communities. Interview recordings and transcripts can be accessed at the Labor Archives of Washington's online archive.
2019-2020 Projects
Assessing Worker Satisfaction with PFDs in the Bristol Bay Salmon Gillnet Fishery
Alaska Marine Safety Education Association
Awardee: Heather Brandon
Mentor: Jerry Dzugan
Vocational Health Internships at Iḷisaġvik College
Iḷisaġvik College
Awardee: Caitlin Walls
Mentor: Emily Gueco
Policy Analysis of Worker Health and Safety: Best Practices for Public Sector Employees Exposed to Wildfire Smoke During Work
University of Washington
Awardee: Alexa Yadama
Mentor: Dr. Tania Busch Isaksen
Examining Psychological Health Among Oregon Migrant & Seasonal Farm Workers
Portland State University
Awardee: Megan Snoeyink
Mentor: Dr. Larry Martinez
This project aimed to identify work and health outcomes among migrant and seasonal
farmworkers (MSFWs) in Oregon. We conducted 41 semi-structured interviews with MSFWs to
better understand their work experiences, specifically their work motivations, safety
experiences, and job resources. Our results suggest that MSFWs are required to complete
physically demanding tasks and are exposed to a number of workplace hazards including
exposure to climate hazards, dangerous chemicals, and contagious disease. Participants noted
that injuries and exposure at work led to chronic illness and long-term disability. Our participants
reported motivations for work, specifically in order to provide for their families and selves.
Similarly, participants described receiving social support from their families and community
members. Results from this study emphasize the need to implement workplace protections for
MSFWs.
2018-2019 Projects
Characterizing and Communicating Lessons Learned from Agricultural Pesticide Misuse Investigations in Idaho
Boise State University
Student: Rachel Phinney
Mentor: Dr. Cynthia Curl
Assessment of Whole-Body Vibration and Work-Related Injury Burden Within a Public Works Department
Oregon State University
Student: Stephanie Fitch
Mentor: Dr. Jay Kim
Rural Alaska Native Utility and Construction Worker Injury Prevention Project
Alaska Native Tribal Health Consortium
Student: Chris Fish
Mentor: Dr. Noah Seixas
Rethinking Rural: Seed. Root. Work
Rural American Digital Lab (RADLab)
Student: Aurora Martin
Mentor: Nancy Simcox, MS
Check out the video developed for this project: Seed. Root. Work. 
Strategies for Addressing Occupational Health Hazards at the Workplace for Formerly Incarcerated Workers
FIGHT (Formerly Incarcerated Group Health Together)
Student: JM Wong
Mentor: Dr. Bill Daniell