NWCOHS Work & Health Certificate trainee supports program evaluation with Washington State Department of Health
March 24, 2022
Prior to starting DEOHS MPH program, Inna Antonchuk worked as a nurse providing care to critically ill patients. She chose to pursue an MPH because of a desire to use her nursing skills to address population health on a larger scale. Inna developed an interest in occupational and environmental health after experiencing workplace injuries and seeing her co-workers, friends, and family experience preventable work-related health issues.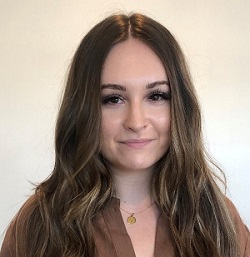 For her NWCOHS Work and Health Graduate Certificate Capstone Project Inna worked with occupational health nurses (OHNs) at the Washington State Department of Health (DOH) on a program evaluation of the OHN outreach efforts. DOH is one of the first state health departments to utilize OHNs for outreach programs in long-term care (LTC) facilities. Since 2020, the OHN team has worked on a project focused on respiratory protection for LTC facilities, including respirator fit testing, developing respiratory protection educational materials, and providing guidance and expertise on various occupational health issues. The DOH program evaluation focused on Adult Family Homes (AFHs) that received OHN consultation services in 2021. Of interest, DOH wanted to know where facilities were in their development of their respiratory protection programs, and how DOH could improve services in the future.
In collaboration with the OHN team, Inna created a list of survey questions, a data collection tool in REDCap, piloted the survey questions, and conducted telephone interviews with facilities. As a team, they reviewed the responses for ways to better assist AFHs in the future. Overall, the feedback from AFHs was positive regarding the OHN outreach services and AFHs would like to continue to receive information and assistance going forward.
Inna's DOH OHN mentorship team was comprised of UW occupational health nursing program and NWCOHS alumni, Catherine Connon, PhD, RN, COHN-S, Stella Daniels, MPH, RN, COHN-S, and Mikkie Nakamura, MPH, RN, COHN-S.  The DOH OHN team had a wonderful experience mentoring Inna and contributing to the development of future OHNs.
Inna appreciated the amazing opportunity to network with and learn from other OHNs that are alums of UW and NWCOHS.  As a nurse, she notes that occupational health and safety is a new field and she is grateful for the opportunity to learn from her DOH OHN mentorship team. Inna is excited to find different ways she can apply her nursing and public health skills to investigate questions to promote public health and worker health.  She would like to give a special thanks to Dr. Butch de Castro and Dr. Jenny Tsai for providing guidance and connecting her to learning opportunities.  Inna credits this experience as instrumental for her professional development and academic career.
Cover photo credit: AdobeStock/BillionPhotos