A safe and clean school environment is essential for learning, but the cleaning products we use can pose an often overlooked hazard – exposure to polluted indoor air.
Each school day, millions of students and staff spend their days in schools across the United States; behind the scenes janitors and maintenance professionals work tirelessly to maintain safe and clean classroom environments. While a safe and clean school environment is essential for learning, the cleaning products we use can pose an often overlooked hazard – exposure to polluted indoor air.
Pollutants commonly found in indoor air include lead, asbestos, chemical fumes, pesticides, molds and other toxins. Poor indoor air quality is known to exacerbate asthma – a health condition that is responsible for 14,000,000 missed school days each year.
Recent research conducted by DEOHS faculty has shown that cleaning agents and solvents continue to be a major source of chemical exposure to workers in building and grounds cleaning and maintenance operations.1 Six out of every 100 custodians have a lost-time injury every year due to exposures to harmful chemicals in the workplace. Common injuries include eye irritation or burns, skin irritation, and negative health effects from breathing chemical fumes.  Medical costs average $375.00 per incident while lost time for the worker is estimated at $240.00 per incident.2
A green cleaning program can help reduce these harmful exposures—and it can do so much more, too.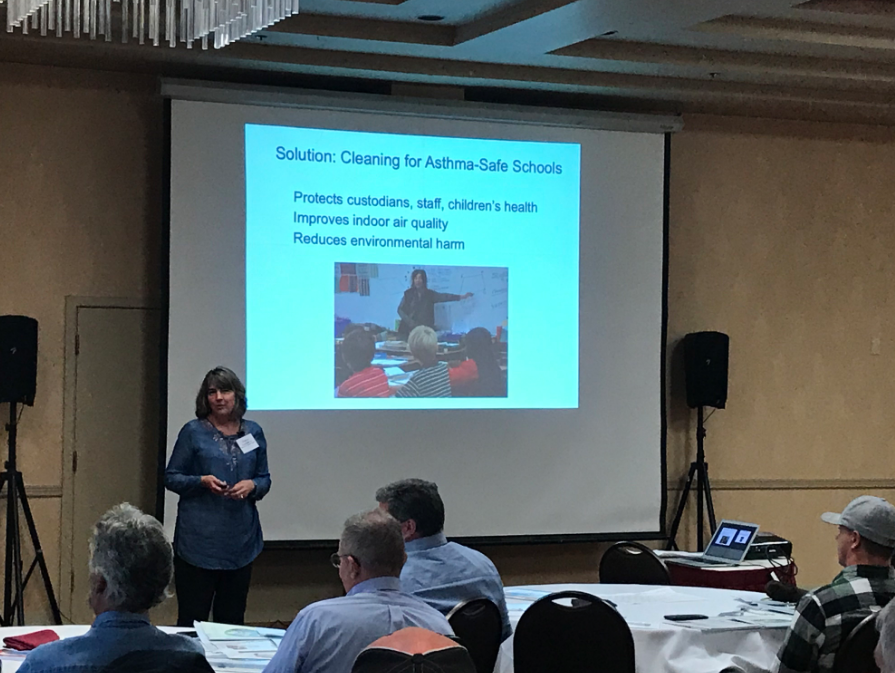 Nancy Simcox, Director of the UW Environmental and Occupational Health Sciences Continuing Education Program (UW DEOHS CE), and Kate Durand, UW DEOHS CE Manager and Outreach Specialist, recently traveled to Anchorage, Alaska to attend the Association of Alaska School Board's School District Maintenance Employees Conference, where they spoke to maintenance employees about transitioning to safer cleaning chemicals in schools.
About 40 maintenance employees were in attendance from School Districts across the state, including Anchorage and small villages. Nancy Simcox gave an overview of the health impacts of toxic cleaning products, and of her involvement in the green chemistry movement. She also described tools and resources available for transitioning to safer alternatives. Nancy has previously visited Alaska to educate families in remote villages about safer cleaning practices in their homes, such as using microfiber cloths and selecting products with the EPA Safer Choice Label.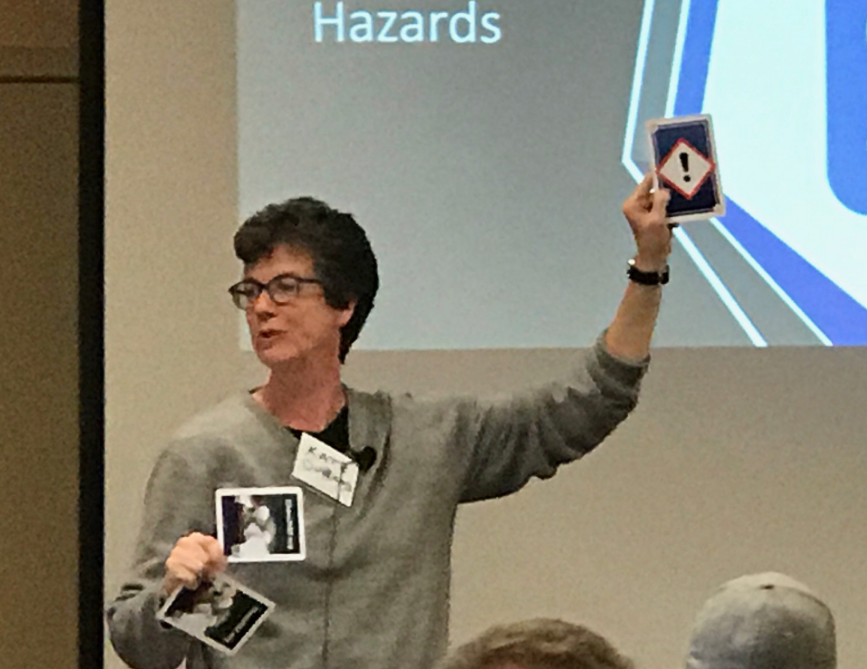 Kate Durand led the group in an activity using Safety Data Sheets and ChemHat - an online database developed by workers for workers as a resource in evaluating health risks of chemicals. The participants assessed the risks associated with a floor stripper used by one of the districts, and discussed the steps involved in considering safer alternatives.
Some of the unique challenges in Alaska communities were discussed, such as transportation difficulties that limit the products available, and unreliable internet services in some of the remote areas making online research difficult. The workshop was quite well received, and was successful in empowering these workers to go back to their districts and become involved in making positive changes in their workplace exposures.
Not only is Green Cleaning beneficial for student, and staff health and safety, but reducing or eliminating the use of hazardous chemicals helps to minimize environmental impacts and can even reduce costs for schools but introducing more efficient and effective cleaning processes.
Through a variety of grant opportunities and special initiatives, The UW DEOHS Continuing Education Programs offer many courses and curriculum to assist safety professionals in Region X to transition to safer chemicals. For example, the DEOHS CE program assisted Gerry Croteau, and others from the local industrial hygiene community, with the Spring Symposium of the PNS-AHIA to hold a full-day workshop, "Convincing Our Companies and Clients to Use Safer, Alternative Products". Several ongoing courses offered each year including an online Green Chemistry and Chemical Stewardship Certificate Program, and OSHA 7225: Transitioning to Safer Chemicals. 
_______

1. Doubleday, A., Baker, M., Lavoué, J., Siemiatycki, J., Seixas, N. Estimating the population prevalence of traditional and novel occupational exposures in Federal Region X. Am J Ind Med 2019; 62:111-122.
2. "The Right to Know: School Custodial Maintenance Workers ." American Federation of Teachers Health and Safety Program, American Federation of Teachers – Paraprofessional and School Related Personnel, http://ms.aft.org/files/psrp-custodialrights_0.pdf.