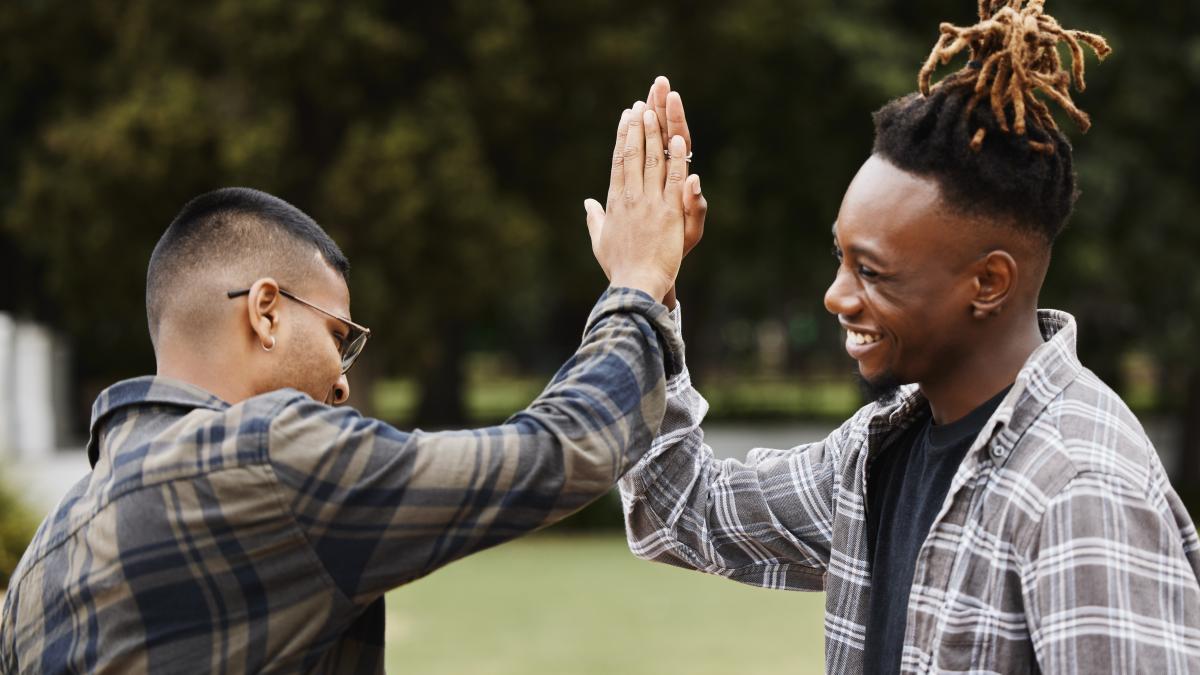 NWCOHS and the Brotherhood Initiative partner in support of underrepresented men of color
September 12, 2022
In the fall of 2021 the Northwest Center for Occupational Health and Safety (NWCOHS) partnered with the Brotherhood Initiative, a program for underrepresented men of color at the University of Washington (UW), to introduce these young men to academic and career opportunities in the field of occupational health and safety. This outreach and recruitment effort builds on NWCOHS's anti-racism efforts and aligns with the Brotherhood Initiative's positive social change initiative.
Fostering community 
The Brotherhood Initiative is a cohort-based recruitment and retention program at UW that supports undergraduate males of color. When 2015 survey data showed that Black, Latino, Southeast Asian, Pacific Islander and Native American undergraduate males were dropping out at higher rates than their white counterparts, the Brotherhood Initiative formed to address barriers these young men face and to support their success at the UW.  
These Brotherhood Initiative scholars participate in a year-long 2-credit seminar in their freshman and sophomore years that focuses on academic preparation, social, emotional, and mental health, and post-graduate planning. The Brotherhood Initiative provides scholars the space to process barriers to their success, be that interpersonal microaggressions or challenges with UW policies and procedures, and to hear from and be supported by people who look like them. Paul Metellus, Brotherhood Initiative Student Success Coordinator, explains that the program supports scholars from "the moment they step foot on campus to the moment they leave campus."
As part of their positive social change framework, the Brotherhood Initiative was interested in exposing scholars to careers where they could have a positive impact on lives of people in their communities. They invited Jose Carmona, a Department of Environmental and Occupational Health Sciences (DEOHS) and NWCOHS alum, to speak to scholars about his work as a Safety and Health Compliance Officer for Washington State Department of Labor and Industries based in Yakima, Washington. Carmona discussed how environmental and occupational health issues are societal problems, and introduced the concept of One Health[1]. Unbeknownst to Carmona, but fittingly, NWCOHS was simultaneously in conversation with the Brotherhood Initiative to find ways to partner in order to create awareness of worker health and safety as a field emblematic of positive social change.   
Creating connections  
In spring 2022 NWCOHS supporting faculty, Dr. Marty Cohen, and DEOHS Research Industrial Hygienist Marc Beaudreau, presented to freshmen and sophomore scholars about careers in occupational health and safety (OH&S) and highlighted the DEOHS Bachelor of Environmental Health degree. In May 2022 Dr. Cohen, together with NWCOHS Industrial Hygiene Program Director, Dr. Marissa Baker, facilitated tours of Boeing's Everett and Renton sites for the scholars. In close collaboration with DEOHS and NWCOHS alumni, scholars received an in-depth, behind the scenes look at the day-to-day work of careers in worker health and safety. Metellus said the scholars really enjoyed the first-hand experience and appreciated learning about a career path that directly supports workers. Metellus explained that many scholars only see one career if they would like to work at companies like Boeing – as an engineer. NWCOHS offered scholars the opportunity to ponder other career paths where there are competitively paid, professional positions that can positively impact the lives of others.
Going forward NWCOHS and the Brotherhood Initiative hope to continue their partnership to introduce more scholars to the Environmental Health degree and OHS careers, and to connect scholars with undergraduate research opportunities. 
Acknowledgements: Special thank you to Paul Metellus and Jose Carmona for their contributions to this story.
[1] "One Health is a collaborative, multisectoral, and transdisciplinary approach — working at the local, regional, national, and global levels — with the goal of achieving optimal health outcomes recognizing the interconnection between people, animals, plants, and their shared environment." Source: https://www.cdc.gov/onehealth/basics/index.html
Cover photo credit: Adobe Images peopleimages.com file #498098188.