A cross-sectional survey explores changes in veterinary offices during the COVID-19 pandemic
March 10, 2022
Members of the veterinary profession are at risk for a number of occupational health hazards including zoonotic disease. Adherence to infection prevention controls (IPC) and routine usage of personal protective equipment (PPE) is critical for prevention of zoonotic disease transmission. Multiple studies in the U.S. and abroad have shown that perception of occupational health risk and adherence to IPC practices among veterinarians is generally low.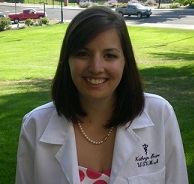 Katy Burr, DVM, a second-year MPH student focusing on One Health, is researching if the COVID-19 pandemic has shifted practices and beliefs among veterinary personnel leading to increased usage of PPE and uptake of other IPC protocols. Katy received her Doctorate of Veterinary Medicine (DVM) in 2014. Her background in veterinary medicine led her to One Health, which is an interdisciplinary field dedicated to considering public health issues from a perspective incorporating animal, human, and environmental health systems. Katy is a NWCOHS trainee in the Occupational Health at the Human Animal Interface (OHHAI) program.
To evaluate the role of the COVID-19 pandemic on PPE and IPC practices and beliefs, and to investigate potential opportunities for more sustainable facilitation of these practices in the veterinary profession, researchers initiated a cross-sectional survey among Washington State veterinary professionals. The survey investigates perceptions and habits related to PPE use, zoonotic disease awareness, and IPC practices within hospitals and clinics. The researchers are still analyzing the data and will compare their results with a similar survey conducted in 2019 prior to the start of the COVID-19 pandemic. As her MPH thesis project, Katy is responsible for survey design and distribution, as well as collection and analysis of survey responses.
Katy loves working her faculty advisor, Dr. Peter Rabinowitz. Dr. Rabinowitz has supported Katy through every step of her degree program and has worked with her to individually tailor her experience at UW to meet her personal education goals. In the future, Katy hopes to work in state or local government conducting disease surveillance and outbreak detection and response with a focus on infectious disease epidemiology. With Dr. Rabinowitz's guidance, Katy selected courses, employment opportunities, and thesis and practicum projects that build her skillset with this goal in mind. Dr. Rabinowitz recommended Katy for the CDC Epidemic Intelligence Service program where she was accepted and starts in July 2022. 
Cover image photo credit: AdobeStock/mico_images