NWCOHS trainees reflect on recent field trip to SR3
October 18, 2022
Last week NWCOHS trainees toured SR3 (Sealife Response, Rehab, and Research), a marine mammal hospital in Des Moines, WA. SR3 is a working environment where students from all NWCOHS training disciplines could see how their specific discipline's skills and training apply. Trainees from the Occupational Health at the Human-Animal Interface, Occupational Health Nursing and Industrial Hygiene programs participated in the tour.
It was a busy time of the year at SR3 with 18 seal pups in various stages of rehabilitation. Trainees observed the pups and learned about the complexities of maintaining the treatment pools, from both the animal health and the human public health perspectives. Trainees also visited the surgery/medical care room and learned how providers care for the various marine mammals that come to SR3.  
The breadth of occupational health hazards
"As an Industrial Hygienist, it was illuminating to see examples of all six types of hazards (biological, chemical, physical, safety, ergonomic, and psychosocial) in one facility," notes Asheton Gilbertson, a second year MS Occupational Hygiene student. "Often, facilities face one or two primary hazard risks (e.g., physical and safety risks at a foundry)."
"It was interesting to see how they have risks that you see at a lot of workplaces such as ergonomic concerns and issues with trips, slips, and falls while at the same time having unique health concerns that come from working with animals," reflects Hilary McLeland-Wieser, PhD student in Occupational Hygiene.  "For example, I hadn't considered that when working with seals, bites are a concern or that the concerns can vary based on both the type of animal and the age of the animal."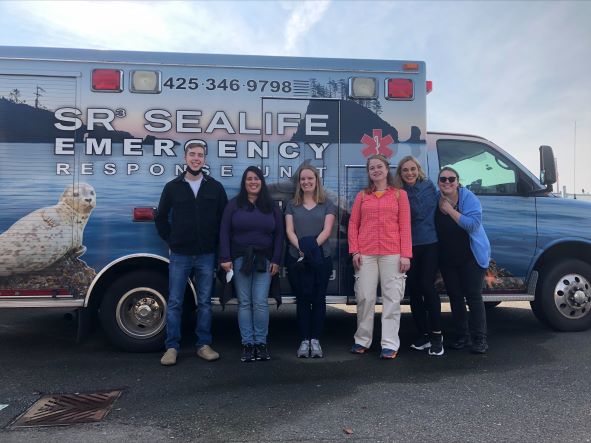 Interdisciplinary interaction
Gilbertson also reflected on the interdisciplinary nature of the work at SR3: "Given the array of activities that occur at SR3, worker health and safety risks are quite complex. Health and safety is so much more than ventilation calculations or corrective action plans. It is working across disciplines to fully understand and address workers' needs. Seeking out new perspectives, actively listening, and asking questions is essential to promoting collaboration and coordination. In having interdisciplinary conversations, seemingly disparate issues can become ones with shared solutions."
Vickie Ramirez, Center Manager and Senior Research Coordinator, Center for One Health Research, facilitated the tour. She commented that on the drive back to campus that "…the industrial hygiene students were talking to nursing students about different aspects of what they saw at the Center [SR3] from their perspectives…the experience gave them the opportunity to see how they can work together!"
Data resources and research opportunities
What impressed Natalie Rejto, Occupational Health Nursing PhD student, was "the discussion of data collection at the site and national databases [which] illustrated resources available in worker safety and health research." Rejto reflected, "…the SR3 visit surprised me with their attitude of inquiry, openness to student experiences, and eagerness to support research." She expressed appreciation for the field trip noting, "…this event provided an opportunity for rich dialogue and insights from varied professional and academic experiences."
Continuing connection with SR3
This is not the first time NWCOHS trainees have explored the unique environment at SR3.  NWCOHS and MS Occupational Hygiene alum, Lily Myer, interned at SR3. Learn about her experience in our previous blog post.
Cover photo credit: Adobe Images, Iwona, file #352967930.