Trainees in the Occupational and Environmental Medicine Residency program attend the annual NAOEM Conference.
The annual Northwest Association of Occupational and Environmental Medicine (NAOEM) Conference draws together occupational medicine professionals from across the Northwest to discuss emerging topics in occupational and environmental medicine, best clinical practices, and tools for better patient care.
This year, several trainees in the Occupational and Environmental Medicine Residency program had the opportunity to attend the NAOEM conference.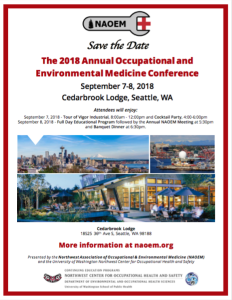 Supported through the Northwest Center ERC, the Occupational and Environmental Medicine Residency at the University of Washington is a two-year, Accreditation Council for Graduate Medical Education (ACGME) certified training program for physicians, leading to board eligibility in Occupational Medicine (certification through the American Board of Preventive Medicine). The OEM Residency provides training of physicians specializing in the prevention and management of workplace illness and injuries; promotion of health and productivity of workers; and environmental health of individuals as well as communities. An emphasis is placed on training physicians to serve in leadership roles in the specialty. The overall goal of the OEM program is to provide world-class academic, clinical, and practicum training, producing leaders in Occupational and Environmental Medicine.
OEM Residents Richard Taing, Jessica Chuang, and Elizabeth Friedman attended this year's NAOEM conference, held at the Cedarbrook Lodge in Seattle, WA. The conference kicked off with a worksite tour of Vigor Industries Shipyard, located at the Port of Seattle. Vigor Shipyards is a Seattle-based leading provider of shipbuilding, ship repair and complex fabrication. The tour began with an overview presentation by Dr. Bert Berney, a local occupational medicine physician with experience in this industry. The residents and fellow conference attendees were then led through the active worksite, where they experienced first-hand the safety and occupational disease risks associated with activities such as sandblasting, welding and acetylene cutting, spray paint operations, asbestos and lead exposure control, and other occupational safety and disease issues of shipbuilding and shipbreaking.
The second day of the conference featured a full-day educational program, during which select residents presented cases. Dr. Friedman presented "Cabinet finisher with a cough," Dr. Chuang presented "Welding after a kidney transplant," and Dr. De presented "Contact dermatitis in a nurse."
The NAOEM conference attendees this year comprised of 85 occupational health practitioners in the Northwest region, most of whom are in clinical practice. Other conference presentations included innovations in the field, information about the workers' compensation system and WA Department of Labor & Industries, and common industrial injury cases.