As the economy continues to boom, more employers are supplementing their workforce with temporary workers, hired through staffing agencies. In fact, these workers represented 3.8 percent of U.S employment in 2017.
Who is responsible for a worker's safety when they are hired to work for a company on a temporary basis through a staffing agency? The answer is, it depends on the case - an answer that has led to high rates of work-related fatalities and injuries among temporary workers, as the nature of work in America shifts towards a growing "gig economy".  More and more employers in the US are supplementing their workforce with temporary workers, hired through staffing agencies. In fact, these workers represented 3.8 percent of US employment in 2017.1 While staffing agencies and host employers are jointly responsible for a temporary worker's health and safety on the job, the extent of responsibility under the law for each employer is dependent on the specific facts of each case.
When shared responsibility sometimes means limited accountability 
The ambiguity of each employer's role in workplace health and safety between a staffing agency and a host employer, far too often leads to an unsafe work environment, and an increased risk of work-related injury and illness for temporary workers.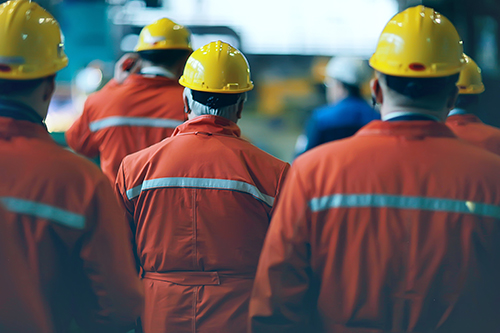 Of the 5,190 workplace fatalities that occurred in 2016, 856 or - 16.5 percent - involved "contracted" employees, according to the U.S Bureau Labor of Statistics.2 
OSHA has also expressed concerns that some employers are using temporary workers as a loophole, in order to avoid meeting all of their compliance obligations under the OSH Act, and other worker protection laws. The argument of "they are not our employees" vs. "it is not our worksite" often leads to temporary workers falling through the cracks when it comes to proper safety training. When fatalities or injuries do occur, the blurred lines of responsibility make it difficult to hold either employer accountable. 
Day Davis, a 20-year-old temporary worker at the Bacardi bottling facility in Florida, is one such worker who suffered the consequences of an unsafe work environment enabled by the current culture of temporary work. On August 16, 2012, his first day on the job, Day was crushed to death by a piece of heavy equipment. He was instructed to clean glass from under the hoist of a palletizing machine, when another employee restarted it, not realizing Day was underneath. The facility had failed to train Day and other temporary staff on lock-out-tag-out, a standard safety procedure designed to prevent the accidental start-up of machinery. 
"A worker's first day at work shouldn't be his last day on earth," said Dr. David Michaels, the Assistant Secretary of Labor for Occupational Safety and Health at the time of the tragic incident. OSHA initially cited Bacardi for 12 safety violations, including 2 willful violations, and proposed $192,000 in fines against the company. The fine for the multibillion dollar company was eventually reduced to $110,000, and the staffing agency was never cited. 
Rise of the gig economy may mean the decline of overall worker wellbeing  
A recent study conducted by researchers at the University of Washington Department of Environmental and Occupational Health Sciences (DEOHS), including DEOHS Doctoral student Trevor Peckham, found that the terms and conditions of employment can influence a worker's overall health and safety both at work, and in their personal life.
The team used data from the General Social Survey collected between 2002 to 2014 to measure how self-reported health, mental health, and occupational injury were associated with employment quality. Among their findings, "precarious" job holders were more likely to report poor general and mental health, as well as occupational injury compared to people with more traditional forms of employment. Precarious work can be defined as any unstable or insecure work, with limited benefits or protections. Workers who are employed on a temporary basis, or who work contract-to-contract often receive lower wages and less job training, coupled with the instability of "non-standard" employment.
Taking action for temporary worker safety and health
Because temporary workers are more likely to experience poor mental health and injury compared to traditional workers, it's crucial that employers take the necessary steps to ensure their safety and well-being. 
According to OSHA, "while the extent of responsibility under the law of staffing agencies and host employers is dependent on the specific facts of each case, staffing agencies and host employers are jointly responsible for maintaining a safe work environment for temporary workers - including, for example, ensuring that OSHA's training, hazard communication, and recordkeeping requirements are fulfilled."
So what can host employers and staffing agencies do to protect temporary workers?
Clearly define tasks:

Employers should be responsible for communicating the temporary workers' responsibilities and clarify safety duties. 

Provide necessary training before and during work:

Host employers must provide training tailored to particular tasks at the worksite, and staffing agencies should provide generalized safety and other training prior to the beginning of the work. 

Communicate regularly:

Staffing agencies should inquire about the conditions and hazards associated with worksites and tasks. Host employers should request, and staffing agencies should provide, documents to show what training the temporary workers have had. 

Record and report injuries:

Under OSHA regulations, companies must record injuries sustained by temporary workers. 

Take the time for a risk assessment:

Employers should take the time to see if there are any preventable hazards in their organization.

Treat workers fairly:

Host employers should treat temporary workers just like their regular workers in terms of training, safety, and health protections.

Obtain feedback:

Employers should obtain feedback to ensure employees understand their expectations and demands presented by the work environment.

Attend trainings:

Host employers and staffing agencies should attend trainings to learn about their roles and responsibilities in ensuring worker health and safety.
Interested in taking action for the safety and health of your temporary workers? The UW DEOHS Continuing Education Programs have partnered with the UC Berkeley Labor Occupational Health Program to make complimentary training for host employers and staffing agencies available in the Pacific Northwest!
Taking Action for Safety and Health: Training for Staffing Agencies & Employers That Use Temporary Workers
January 30, 2020 - Portland, OR
February 6, 2020 - Seattle, WA
March 6, 2020 - Seattle, WA
---
1.https://www.bls.gov/spotlight/2018/contingent-workers/pdf/contingent-workers.htm
2.https://www.safetyandhealthmagazine.com/articles/18095-protecting-temp-workers