Occupational Health Services Research trainee explores disparities in treatment services for uterine fibroids among women veterans
January 10, 2022
Uterine fibroids (UF) are benign tumors that often cause debilitating symptoms that can impact quality of life and result in other serious health conditions such as severe anemia. UF will impact approximately 90% of Black and 70% of White people with a uterus. UF are one of the leading reasons for a hysterectomy within the Veteran's Health Administration (VA).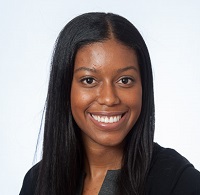 Shanise Owens, PhD trainee in Occupational Health Services Research (OHSR), is a research assistant for Understanding Racial Inequities in Fibroid Care for Veterans (U-RISE), an ongoing study examining treatment experiences for Black veterans with a UF diagnosis. U-RISE is led by researchers from the VA/UW Women's Health Services Team. The aim of the study is to understand the treatment pathways, as well as potential barriers to timely treatment and quality of care. Shanise is involved with developing the participant interview guide, conducting interviews with veterans, and continues to work alongside the U-RISE research study team to analyze qualitative data and refine thematic codes.
Recent research shows that fibroid management and treatment happens in a broad context involving both a patient's health providers as well as their social network. Focusing patient care on understanding Black veteran's concerns and priority for treatment is a way to improve health care experiences with gynecologic care services. 
Preliminary themes emerging from U-RISE show that women do not feel able to address their reproductive health issues while in the workplace. Many Black veterans hid their fibroid symptoms while they are on active duty. Further analysis is needed to understand the specific challenges enlisted women face while handling a reproductive health issue.
More broadly, we need to better understand how to create a workplace environment where women dealing with reproductive health challenges, such as uterine fibroids, can feel comfortable and safe addressing their health needs.  Shanise reflects on her experience: "As a black woman who has also dealt with uterine fibroids, it is empowering to contribute to research that can potentially improve veteran's experiences with the VA healthcare system for the treatment of uterine fibroids." 
AdobeStock: mie; ajr_iages; New Africa